Archived News
Shaeffer recognized for service to Sylva
Thursday, February 28, 2019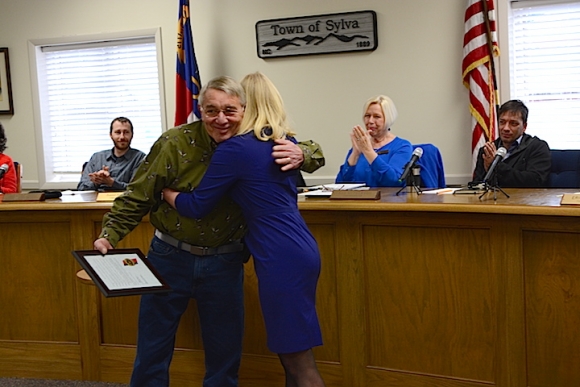 Town Manager Paige Dowling and outgoing Public Works Director Dan Shaeffer embrace following Dowling's presentation of an award of recognition. Holly Kays photo
The Sylva Board of Commissioners recognized longtime public works director Dan Shaeffer for his nearly 20 years of service to the town during its regular meeting today. The board presented Shaeffer with a resolution honoring his contribution to the town as well as the jokingly named "Order of the Short Leaf Pine Award," a title that plays on the governor-awarded Order of the Long Leaf Pine.
"You've meant a lot to us, and we appreciate all that you've done for our town," said Vice Mayor Barbara Hamilton. "It's not going to be exactly the same, but we want you not to be a stranger."
Shaeffer expressed his appreciation for his time with the town.
"We had a lot of fun. I hope you continue with Jake (Scott, the new public works director)," said Shaeffer. "I think he's going to do a great job."
"I appreciate you putting up with my antics," Shaeffer added.