Archived News
Franklin business rarely out of public view
Wednesday, February 27, 2019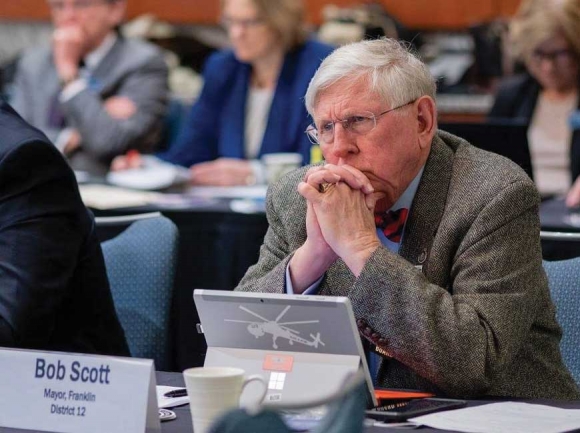 Franklin Mayor Bob Scott, a former journalist and open government proponent, says there has to be a compelling reason for the town council to go into closed meetings. Donated photo
Of all the town and county governments in The Smoky Mountain News coverage area, the Franklin Town Council had the fewest closed meetings in 2018.
Last year the town board only went into closed session three times — and those three times were to discuss potential economic development incentives for a business project looking to expand in Franklin. However, the board hasn't made a decision on the issue and the closed session minutes haven't yet been released, according to Town Attorney John Henning Jr.
"Because this matter has not been concluded, and the nature of the incentives requires that the Town keep the specifics of the matters under consideration confidential until it is permitted by law and regulation to reveal them, they fall within the provision of G.S. § 143-318.10(e), pursuant to which they 'may be withheld from public inspection so long as public inspection would frustrate the purpose of [the] closed session,'" Henning wrote in his response to SMN.
Franklin Mayor Bob Scott, a former newspaper reporter and photographer, takes great pride in keeping the town's business in the public eye and having a transparent local government.
"I think it's because we don't have anything to hide," Scott said when asked why the town board doesn't go into many closed sessions. "We feel the public has a right to know and unless there is a compelling reason to do so, there's no reason to go behind closed doors to conduct the public's business."
While the law does allow governing bodies to go into closed sessions for certain reasons, Scott says it's important to know the language says "may" and not "shall." There have been several issues where the town council could have gone into closed session to discuss something, but Scott and the board tends to keep it open. As for personnel matters, Scott said those should be handled by the manager and human resources staff and not by the board unless it's a position hired by the board like the town manager or town attorney.
"I've learned over the years as a newspaper reporter that if you want to create suspicion the best way to do it is to close the door," he said. "I feel very strongly and I think council agrees, so we look for ways not to go into closed session."
New councilmembers often attend ethics training after being elected, which educates them about the state's open meeting and open records laws.
SMN sent the request for closed session minutes to the town on Nov. 28 and received a response by Dec. 4. Overall the town of Franklin is very transparent. Their agendas are sent out to the media and include all backup documentation and the drafted minutes from the last meeting. Those minutes and documents are also available on the town's website.