Archived Opinion
Great schools, staff are community assets
Wednesday, February 27, 2019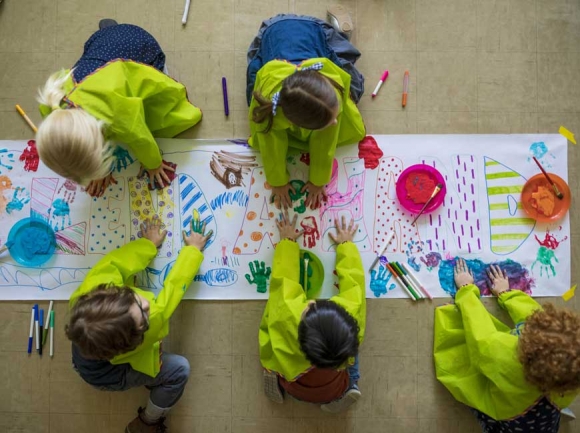 Both my parents were teachers. My earliest memories are of my dad sitting at our dining room table grading papers or writing grants. Once I started school, my afternoon routine was to hang out in the media center at my mom's school, munching on snacks from the vending machine, while she wrapped up for the day.
Mom was a high school business teacher and then a long-time librarian with Buncombe County Schools while Dad worked first in Buncombe County then with Asheville City Schools as a classroom teacher and ISS coordinator, back when ISS was a new, innovative program meant to instruct and remediate.
Fast-forward many years when I was deciding where to attend college and what discipline to major in. I was offered the North Carolina Teaching Fellows Scholarship by N.C. State University, and even though I wasn't positive if I actually wanted to be a teacher, I accepted the scholarship.
As a Fellow, we could major in affiliated fields. My focus was school psychology. I earned my undergrad degree at N.C. State in psychology, then later earned master's and specialist degrees in school psychology from Appalachian State University.
After several years as a school psychologist, I realized I'd rather be in the trenches of a classroom, so I obtained the necessary licensures to teach middle and high school English/Language Arts. I was hired at Waynesville Middle School where I spent the rest of my career as an educator.
I worked as a classroom teacher, reading teacher, instructional coach and lead teacher. I knew Waynesville Middle intimately and loved both the staff and students. I sometimes hear chatter in the community about the school being "too big" or "too wild" but that's just not true. It does feel large and probably a little scary to parents who are accustomed to smaller, warm-and-fuzzy elementary schools, but WMS is a great school and I loved working there.
While I enjoyed my time in the classroom, I ultimately felt teaching wasn't really for me. I adored the students and the content, but as opposed to teaching kids how to explore literature and write, I wanted to be writing myself, which took me on another adventure to obtain a journalism degree and begin a career in writing and online content creation.
Unlike my parents who were traditional career educators, I spent only a short time in the sector, but even my relatively brief stint taught me a lot.
Teaching is one of the most challenging jobs in the world. Every day I had 105 seventh-graders staring at me, waiting for me to teach them something and let me tell you, the BS radar on adolescents is on point. They could tell in a heartbeat if their teachers didn't know the content or didn't have a clear agenda. I learned quickly that if I didn't plan, the students would plan for me and believe me, no teacher wants a bunch of hormonal, bored seventh-graders planning a 55-minute class. With that being said, teaching is both very rewarding but also very exhausting.
Having worked in marketing and journalism now for six years, I feel a bit detached from the world of education and the wonderful community that is Haywood County Schools.
But while I'm no longer connected as a teacher, I am connected as a parent. My two little boys both attend Junaluska Elementary. Over the past three years, they've dealt with the death of their beloved grandmother and the divorce of their parents. Their sweet, little school has been a village for them. The teachers, support staff and administrators at Junaluska have truly been an extended family when they needed one the most. And I will forever be grateful for that.
Last weekend, I attended the 2019 Mardi Gras Ball. My boyfriend is the vice president of the foundation and one of my colleagues here at the paper is the president. The two of them, along with the rest of the board, do a phenomenal job running this incredible foundation and raising significant amounts of money for students and staff of Haywood County Schools.
Budget-wise, small town school systems simply can't compete with larger systems. While our school system may not have as much funding as systems like Buncombe or Charlotte-Mecklenburg, we have one of the strongest foundations in the state of North Carolina, which picks up the slack in the form of grants, teacher gift cards, student scholarships and more.
Whether it's memories from my parents' time as educators, reflections from my own days at the chalkboard or gratitude toward Junaluska Elementary, public education has meant and means very much to me, and I am ever so thankful to be part of a wonderful school system such as the one we have here in Haywood County.
(Susanna Barbee is a writer, editor and digital media specialist for The Smoky Mountain News, Smoky Mountain Living, and Mountain South Media. This email address is being protected from spambots. You need JavaScript enabled to view it.)