Archived Outdoors
Statewide wildfire response drill comes to Haywood
Wednesday, February 27, 2019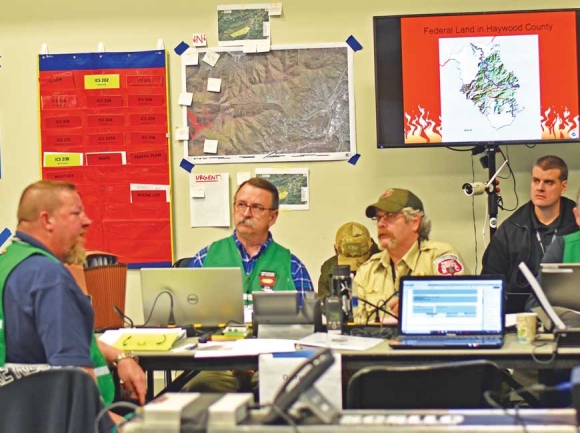 The green team strategizes in the command room. Holly Kays photo
In the midst of an exceptionally warm, dry winter, a wildfire erupted on Mount Lyn Lowry. About 170 acres when first reported to 911 at 10 a.m. Monday, Feb. 18, within two days the fire had destroyed roughly 60 homes and ballooned to an estimated 2,500 acres — and growing.
"We're planning for this drought condition to continue, the low humidity to continue," said Karyn Yaussy, public information officer for the incident. "The temperature is going to be 80 degrees today, which is incredibly warm for this time of year. Fifteen percent humidity is not helping us at all and there is no rain in sight."
Preparing for the worst
As Yaussy uttered those words inside The Terrace at Lake Junaluska, it was 30-something degrees and rainy outdoors — in what has in many places been the wettest year on record, rain seems to be the rule rather than the exception. There was no wildfire, in Haywood County or anywhere remotely nearby. The scenario was made up, an exercise for the 100 or so emergency management professionals that came to Lake Junaluska last week to train.
But that's a reality that could easily change, as anybody who lived through the legendary 2016 wildfire season knows. In October and November of that year, extremely dry conditions resulted in tens of thousands of acres burning all across Western North Carolina and eastern Tennessee. The season culminated with a deadly firestorm that escaped the Great Smoky Mountains National Park to engulf much of Gatlinburg, killing 14 people.
"We're not going to use that word," Zach Koonce, operations manager for Haywood County Emergency Services, said of the name "Gatlinburg." "We don't want to refer to that or anything, but we definitely want to plan to prevent anything of that nature happening."
Working with Haywood County Emergency Services Director Greg Shuping, Koonce helped plan the fourth installment in what is now the annual N.C. All-Hazard Incident Management Team Academy. The four-day training focused on an extended disaster simulation that challenged participants to manage personnel, order up supplies and decide on strategies to respond to the disaster. It was funded through a $45,000 grant from N.C. Emergency Management, funded by the U.S. Department of Homeland Security — the county didn't pay anything to host the drill or put its people through the training.
It's the fourth year running the training has been offered — Shuping's office spearheaded its inaugural year, also held in Haywood County — but previously the simulations have focused on hurricane and landslide scenarios. This year, Haywood County took its second turn hosting and decided to try out a wildfire scenario.
"In our world, we're used to the U.S. Forest Service and the National Park Service managing their own fires, and we just kind of come help them and represent the local government we work for," said Shuping, "but thanks to the 2016 fires, we learned from those bigger fires in Western North Carolina that we have to take a more aggressive role in working with the Forest Service and the National Park Service to make this thing the most efficient and safe operation that it can be."
Participants examine the chain of command. Holly Kays photo
Into the pressure cooker
Participants arrived at Lake Junaluska Sunday evening and Monday morning, Feb. 17-18, with most of Monday devoted to classroom-style learning and the exercise truly getting started Tuesday morning. They were divided into three teams — a green team, a red team and a black team — each of which was charged with managing the exact same incident. Teams were a mishmash of people from different counties and different agencies, including the Forest Service and Park Service. Roles were assigned according to an organizational chart with positions including incident commander, safety officer, logistics chief and planning section chief, among others.
"It's a pressure cooker in those rooms," said Koonce. "These guys are working 12 to 18 hours a day to order up these resources. For this they're working 8 to 5, but typically if you're deployed as an incident manager you work 12-hour shifts, but you end up working 18 hours. It's very mentally taxing, it's fast-paced, because the conditions are always constantly changing."
As an incident manager, you might have the plan of attack for the next shift typed out and ready to go — but then the wind changes, or the forecast shifts, or those reinforcements you thought were almost there get delayed. Or maybe the power goes out, or the fire starts threatening headquarters, or the press wants an interview.
The scenario attempted to mimic those real-life unforeseeables. Participants had to deal with a simulated power outage, an hour or so when lights went off and devices without battery power were rendered useless. Local media representatives were invited out to take press releases from the scenario's public information officers and then pepper those PIOs with questions during a mock press conference.
It was clear that participants took the training quite seriously. The fire at Mount Lyn Lowry, the burned-up homes, the scorching forecast — it was all made up. But the mock press conference certainly didn't feel like a mock. It felt real, with the questions and the answers both within a couple degrees of the urgency they'd take on in a real emergency.
"This is really tough terrain for firefighters," said Tom Hegley, public information officer for the black team. "The number one focus is going to be on saving lives. That's why we need people to heed the advice and warnings and get out of the area now. Don't wait till they see the fire coming over the ridge or coming over the line toward them. Get out of the area now."
In the command rooms, teams were hustling, clustered around tables bearing all manner of documents, laptops and charts, examining the blown-up tables and maps pinned to the wall and gesturing intensely as they discussed what should be done and how it should be accomplished.
Red team members cluster to discuss strategy. Holly Kays photo
Invaluable realism
Most of the four-day drill took place in those windowless rooms, but not all of it. Teams visited the supposed ignition site, met with local government employees to learn how to access GIS information, evacuate the town and handle financials, and scoped out sites under consideration as possible staging areas for the response.
"That kind of stuff is just so invaluable, and that's the realism we put into it here in Haywood for this statewide team that really made it worthwhile to them, so that's the biggest thing I'm proud of," said Shuping.
Participant Greg Hardee, a member of the Greenville Fire and Rescue Squad in Pitt County, backed that up.
"This is building some capabilities that we don't normally deal with on a regular basis," said Hardee. "We're trying to shore up our response so when we go back home we can better serve our community."
Graduates of the academy will leave not only with an improved ability to serve their own community in case of a wildfire but with enhanced skills to assist other communities should such an incident arise. That, combined with improved relationships between employees at the various agencies that would partner to fight such a fire will hopefully mean that the next time sparks fly in WNC, first responders will be even better prepared to meet the challenge.
Already, said Shuping, skills gained from the last three years of the academy were evident as he watched participants perform.
"Thank goodness, there's not as many of these large-scale disasters to make you proficient without setting up an exercise like this that's focused on those kinds of skill sets," said Shuping. "The first year we did it, it was great but it was kind of rocky. Some tough lessons were learned that first year, and now I'm seeing that those lessons are being learned."