Archived News
Shining Rock head of school fired
Thursday, February 21, 2019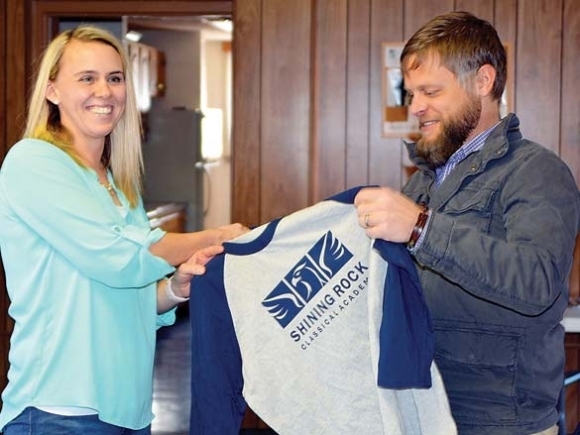 Shining Rock Classical Academy Board Chair Anna Eason (left) welcomes Nathan Duncan to the head of school job Jan. 23, 2018.
Cory Vaillancourt photo
Barely a year after he was hired, Nathan Duncan is out at Shining Rock Classical Academy.
"Effective today (February 21, 2019) SRCA board has decided to terminate Mr. Duncan as head of school for SRCA," reads an email sent by SRCA Board Chair Anna Eason to parents of students at the school. "The board feels this is in the best interest of the school at this point in time."
The Waynesville charter school, which is publicly funded, has seen academic performance decline each school year since it opened in 2015. Last year, SRCA fell below the award-winning Haywood County public school system's average ranking, and this year while also being ranked the lowest-performing school in the county, SRCA slid below the state average.
When reached for comment, Eason wouldn't elaborate on the reason for the firing and instead repeated language used in the email.
"We ask for your patience, understanding and trust during this time of transition," said Eason in the email. "In everyone's best interest and the good of SRCA, we also urge that you not engage in or foster unfounded speculation or rumor."
With a master's in educational leadership from Queens University and a master's in International Relations from Boston University, Duncan served as the founder, academic director and head of school for the Academy at Trails Carolina in Hendersonville for five years, as a principal intern for two years, as American and World History teacher for three years, a member of the Peace Corps Togo for one and one-half years, and a member of the Peace Corps Guinea for two years. He served as a wilderness therapy guide for two summers and attended the Aspiring Principals Institute held by WRESA [Western Region Education Service Alliance] in Enka, the AP summer Institute in Asheville, and Expeditionary Learning Institutes in Boston and Richmond.
Duncan's ousting means the school will begin its search for its third head of school in less than four years.
In late 2017, the school's first director, Ben Butler, unexpectedly resigned in an unusual 6 p.m. Sunday evening special called meeting that did not meet the 48-hour requirement for public meeting notice.
Months later, a Smoky Mountain News reporter was kicked out of a community meet-and-greet for new director candidates. Once that search process concluded, Duncan was eventually named as head of school by Eason and the board on Jan 23.
The email sent by Eason says that SRCA Director of Instruction Joshua Morgan will serve as interim head of school and that a new search by SRCA's consulting firm, Leaders Building Leaders, would begin.