Archived Outdoors
Living soil: Waynesville woman digs into worm farming
Wednesday, February 20, 2019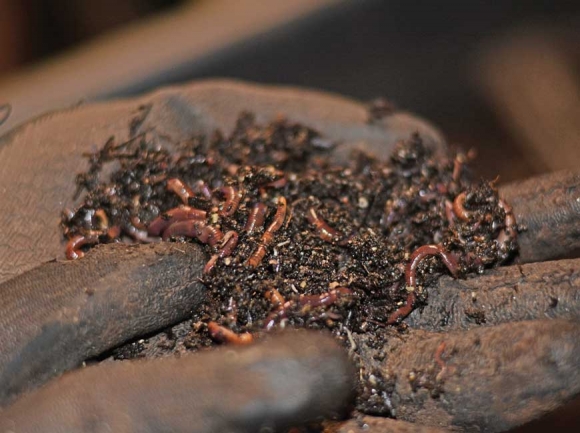 Valley View Farm is home to about 100,000 red wigglers. Holly Kays photo
Valley View Worms has an origin story that's about as unusual as the vermiculture business itself, with plotlines hinging on a Facebook post, a felony conviction and 60 pounds of red wiggler composting worms.
In 2014, Mary Ann Smith was newly retired from Tuscola High School after 20 years as a math teacher. She was looking for an enjoyable part-time pursuit and stumbled on an ad for a Concord-based worm business, which for a start-up fee of $5,000 would supply worms, bins, bedding, food, technical support and the promise that the company would buy back all the compost the worms produced. Smith, a gardener, thought it sounded like the perfect opportunity.
Unfortunately, it was also a scam. The company, Wormz Organic, never bought back any of the compost and its owner Jim Albert Lawhorne wound up in prison.
"I kind of made lemonade out of lemons," said Smith. "I got my worms, I got my information. I learned how to take care of them, and when the business fell through I just thought, 'Well, OK, next step is find my own marketing.'"
Smith rose to the challenge. Five years later, Valley View Farm is typically home to between 80,000 and 120,000 worms, as well as to Smith, her husband Don and their 15-year-old dog.
"It's so addictive," she said. "Anybody who starts with worms, most people just go, 'Oh, my worms. I love my worms.'"
Mary Ann Smith has been growing worms from her Waynesville home since 2014. Holly Kays photo
Worm tea and prized poop
Smith is no exception. She thinks of the worms as something between livestock and pets — she doesn't think too hard about leaving them unattended during out-of-town trips, but she also she loves going to check on them and does all she can to keep them happy. Though in truth, it's not that hard to keep a worm happy.
"You're trying to create a good environment for the worms, and the rest is just easy," she said. "Once you provide suitable bedding and give them some food stock, they eat and they poop and they reproduce and they're really happy."
It's that worm poop that's the prized commodity of the whole operation. Composting worms nibble through food waste like coffee grounds, apple peels and strawberry tops to excrete nutrient-rich castings with harmful toxins and pathogens removed. It's good stuff, proven effective to improve the growth and health of plants.
In fact, Smith did her own informal study to see how adding worm castings affected the growth of seedlings for her garden, planting cucumber seeds in potting soil that included 0, 5, 10 or 20 percent worm castings by volume. Sixteen days later, the seeds planted in 20 percent castings were markedly larger than any of the others.
"It's really fun to be part of that education and to take my kale to market," said Smith, who sells produce as well as worm products at the Historic Haywood Farmers Market in Waynesville. "People go, 'I love your kale. It's so good,' and I say, 'Thank you. It's because I grow it this way.' You get all these benefits (from worm castings) and taste is one of them. When a plant is healthy and growing properly, you get some wonderful flavors."
In addition to selling worm and vegetable products at the Haywood market, Smith sells her worms at the North Asheville Tailgate Market, through Fifth Season Gardening in Asheville, and fills direct orders locally. Smith's worm products include worms by the pound — a wet pound of worms contains about 1,000 individuals — worm castings and a concoction she calls worm tea.
"I tell people that it's great with honey," she said jokingly.
In reality worm tea is a drink for plants, not people. To make it she puts compost in a strainer bag along with supplements like trace minerals, azomite, kelp, comfrey and soft rock phosphate, then allows the contents to soak in aerated water overnight in order to distribute and multiply the microbes.
"It's the microbes that are the beneficial thing about worm castings," said Smith. "So the worm tea is just a way you can spray it on. The plants can take in those microbes foliarly or through the roots, either one, and it's amazing stuff — just amazing."
Smith credits the worm tea with eradicating aphids, cabbage worms, Mexican bean beetles and powdery mildew from her garden.
Stalks of kale that managed to survive the winter grow in rich soil boosted by castings from Smith's worms. Holly Kays photo
Learning your worms
To most people, worms are worms are worms, but vermiculturists like Smith know better. Sources vary on the exact number, but it's safe to say that there are thousands of earthworm species worldwide, and they're all different. Some like to dig deep into the ground, while others stay on the surface. Some slither slowly while some move incredibly fast. Some love saturated soil while others like it drier.
Smith's farm grows red wigglers — the scientific name is Eisenia fetida — the most common species used for composting. Originally from Europe, red wigglers chomp through food quickly, prefer to live near the surface in areas rich in organic materials and do not tolerate the cold very well. They self-regulate their growth, growing and procreating faster the more surface area their bin contains.
"If you put them in a bin with a lot of surface area, within a week they'll go from small worms to big worms," Smith said. "It's fascinating to watch."
Smith does her best to remove the worms from the compost before harvesting it. For some people, the natural inclination is to look for a way to release composting worms into the garden itself, but that doesn't tend to work so well. Red wigglers like to live near the surface in areas with plenty of cover that are rich in organic matter — garden beds really aren't their scene.
"If you just throw them in a garden, they might go find another place to live," she said.
The better bet is to create the best bin environment possible for the worms, producing as much compost as possible to mix into the garden's soil. That's good for the plants, and for the worms too. Red wigglers don't do too well in the cold and often die when left outside in the winter, though they can sometimes be found in manure piles and other warm, organic-rich areas.
While red wigglers aren't native to the U.S., they haven't been found to be problematic in the Southern Appalachians. The same can't be said for all nonnative worms, however. The Asian jumping worm, for example, has caused significant issues in the Smokies despite its usefulness as fishing bait and voracious appetite for compost. This species eats organic matter much more quickly than natives and European species like the red wiggler. According to Cornell University Cooperative Extension, Asian jumping worms grow twice as fast, reproduce more quickly and can infest soils at higher densities than other species, with heavy infestations capable of causing declines in native plants, soil invertebrates, salamanders, birds and other animals.
The bottom line, then, is that you've got to know your worms. Fortunately, Smith definitely does. She regularly goes to the N.C. State Vermiculture Conference — the only world's only annual training on commercial vermiculture — and does plenty of her own research, offering worm-related education through library presentations, workshops, trainings and other forums to teach as many people as possible about the importance of maintaining "living soil."
"It's an ecosystem that you need to work on in order for your plants to thrive," she said.
The land is important to Smith, and it's been important to her family throughout a history that's played out on the same piece of land for nearly 200 years. Smith and her husband live on acres once owned by Smith's great-great grandfather, Ruben Eldridge, who purchased it in the 1840s. Her grandparents built the home the Smiths now live in, and the worms reside in the basement of a building originally constructed as a chicken house in the 1930s and later converted into apartments for summer tourists — the business was called Valley View Farm.
"This land goes back to the mid-1800s, so I'm thankful that we have a real sense of heritage, that we're kind of continuing that," said Smith. "We've got roots here for sure."
Make your own worm bin
Assembling a worm bin is a quick and easy process, and the worms do their job well — they eat quickly, and there's no bad smell. With a few simple materials and minimal effort, anybody can become an amateur vermiculturist.
• Gather a large plastic tote, about 18-20 gallons, and make sure it's dark rather than see-through. Using a drill with a ¼-inch bit, make about 20 evenly spaced holes in the bottom of the bin as well as two rows of ventilation holes on each side near the top edge, spacing the holes about an inch apart.
• Shred newspaper or cardboard to use as bedding. Cover the bottom of the bin with 6 to 8 inches of fluffed-up bedding, making sure that the paper is moist but not soggy before adding it. Try soaking it in water and then squeezing out the excess liquid to achieve this.
• Wait a day, and then add the worms. A pound — roughly 1,000 worms — should do it. Worms double in population every 60 to 90 days as long as they have enough surface area available.
• Cover the bedding with cardboard or black plastic.
• Place the bin in a well-ventilated area where it will avoid freezing temperatures. Prop it up on blocks or bricks to allow for drainage, and use the lid as a tray to catch drips.
• Bury food in different sections of the bin each week, under the cover and bedding. Feed the worms slowly at first, avoiding overfeeding. As the worms multiply, they'll be able to handle more food. Ensure the bin remains moist.
• Worms should be allowed two to three months to make good compost out of food. To harvest the compost, push it over to one side of the bin and fill the other side with moist bedding materials containing some worm-friendly food. The worms will move out of the compost and into the bedding.
For more worm-related tips and information, visit www.valleyviewworms.com.
Leave a comment
1

comment
I have been looking for a place to buy some red singlets,I need to start off small. If you could let me know if you sell them. Thanks

Thursday, 07/15/2021