Archived News
Spate of new downtown Waynesville businesses emerges
Wednesday, February 20, 2019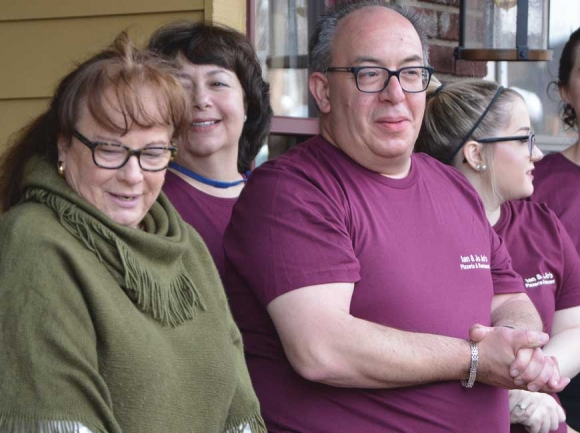 DWA Executive Director Buffy Phillips (left) joins pizzeria owner Danny Mannlein for the opening of his new Main Street restaurant. Cory Vaillancourt photo
With his thick Brooklyn accent, Danny Mannlein isn't exactly the type of "local" most Haywood County residents are used to seeing, but as Waynesville's downtown business district continues to boom, more and more people like him are making Main Street their commercial home.
"I've been in the South for about 10 years now," said Mannlein Feb. 16. "Me and my partner have been looking for a business for approximately seven months. We were looking in the Raleigh-Durham area, and we didn't really find anything. I saw something in Waynesville, and I said to my partner, 'Where is Waynesville?'"
His business partner, Erik Sandborg, lives in Asheville and knew the answer, which is how Ian & Jo Jo's Restaurant and Pizzeria came to locate in the Main Street space formerly occupied by a coffee shop/bakery.
"I have been in the restaurant business all my life, since I'm 11 years old," said Mannlein. "I owned my own pizzeria in Brooklyn, New York, and I have run the food courts in the VA hospitals for the last 17 years."
Mannlein says he's going to provide "the fastest lunch in Waynesville," and may also have dibs on the cheapest — a slice of New York-style cheese costs less than three bucks.
"I think it's a beautiful area, the mountains are gorgeous, the people are fantastic, and the town has been very receptive to us," he said.
He's not alone in those sentiments — turnover isn't exactly rare on Main Street, but longstanding vacancies are.
"There's a lot of interest in some of the buildings that still appear to be vacant, so I know that [prospective business owners] are talking with property owners," said Buffy Phillips, executive director of the Downtown Waynesville Association. "Some haven't yet signed on the dotted line, and I'm not really able to say, but in time they'll all be full again."
Philips said the owner of the building directed Mannlein and Sandborg to the DWA, which helped them navigate the permitting and paperwork process.
"They came to us in the early stages, and like any other business, we can guide them to the right people, from planning to signage," she said. "I think even though there are some businesses in the downtown area that have pizza, working with energetic folks like these guys, and the excitement they have brought into the community, you can feel it just by talking to them."
Right now, the pizzeria is flanked by two empty storefronts, but they'll probably house new businesses soon. Phillips said that a home décor and gift shop will soon open just north of the pizzeria, at 26 North Main Street. Just north of that, a women's clothing resale shop called Flawsome recently opened.
Just to the south of the pizzeria, Phillips said she hopes something will happen with the space at the corner of Church and Main streets, just to the south.
But perhaps the tastiest new addition to the existing mix of Main Street merchants will soon occupy the iconic rock building — next to Birchwood Hall — that was once home to a year-round Christmas shop.
Southern Belle Chocolates hopes to open this spring, possibly by April, and will serve up handmade chocolates, coffee and other sweets.
Dillsboro Chocolate Factory also recently opened in the shop formerly occupied by Chocolate Bear.