Archived News
Room price, capacity drive TDA revenues
Wednesday, February 20, 2019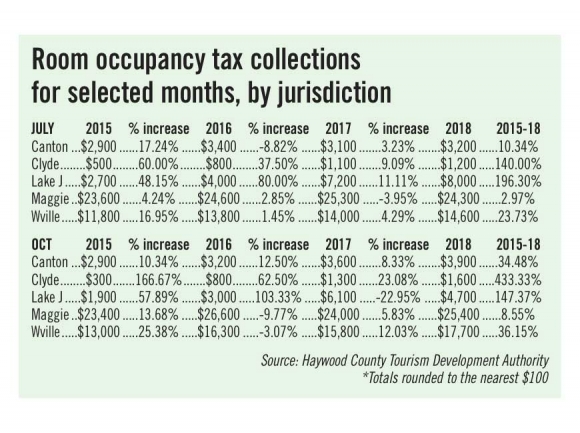 As the Great Recession recedes further and further into the rear-view mirror, most local economic indicators in Western North Carolina appear to have recovered or at least stabilized sufficiently, including the Haywood County Tourism Development Authority's revenue collections.
"We're above where we were with the recession, right now, substantially," said TDA board chairman Lyndon Lowe. "[But] while we might have big growth in people coming here, if we don't have the capacity for them to stay, then they come through and go stay somewhere else."
Since 2015, Haywood County's two busiest months for tourists — July and October — have seen growth of 23.6 and 28.4 percent, respectively; but if this is where we should have been all along, in the 10 years since the Recession first took hold, does that mean Haywood County is in danger of reaching peak tourist capacity?
Tax collection figures from the TDA paint a mixed portrait, and aren't as apples-to-apples as one might think. Firstly, the amount of money collected as a result of the TDA's room occupancy tax levy is the product of two numbers — the tax rate of 4 percent times the room's cost.
Given that the tax rate has not changed in years, revenue growth can only come from the number of nights rooms are occupied, or the amount charged for the rooms themselves. Thus, an increase in collections might be due to increasing room rates, and not necessarily because more tourists are visiting for longer periods of time.
Either way, collections data for Haywood County's two busiest months mostly show double-digit increases, and in some cases triple-digit increases.
Special circumstances in Clyde — which has so few rooms available — contributed to a 140 percent increase in revenue collection in over the past four Julys, and a 433 percent increase over the past four Octobers.
Similar circumstances at Lake Junaluska — a change in the way the tax is charged, as well as the 2018 closing and subsequent reopening of the Lambuth Inn for renovations — also distort the numbers to show increases of around 150 to 200 percent.
But other jurisdictions like Canton, where the situation has remained relatively stable, show a healthy July increase of more than 10 percent over four years, and triple that for the past four Octobers.
Waynesville's been even more predictable — 24 percent growth from July 2015, through July 2018, and 36 percent growth from October 2015 through October 2018.
It's Maggie Valley, though, that has been the most anemic, growing just 3 percent over the past four Julys, and just 9 percent over the past four Octobers.
TDA Executive Director Lynn Collins notes that Haywood County has to be wary not only of maintaining lodging supply, but also of maintaining attraction supply.
"Just from the visitors center perspective, we're sending people out of the county to do the things they want to do because we don't have those things in the county," said Collins.
If TDA revenue collections have indeed begun to plateau, the only way they'll go up without additional capacity is with an increase in the room occupancy tax rate, which has been proposed a number of times over the past eight years, but gone nowhere.
Collins said the TDA board hasn't given her direction as to whether or not there will be yet another attempt.
"What they have done is instructed me to gauge the interest level, because when we have done this in the past not only does the board have to buy into it but the municipalities and county commissioners do as well," said Collins. "That's as far as we've gotten."