Archived News
Cell tower proposed for Sylva
Wednesday, February 20, 2019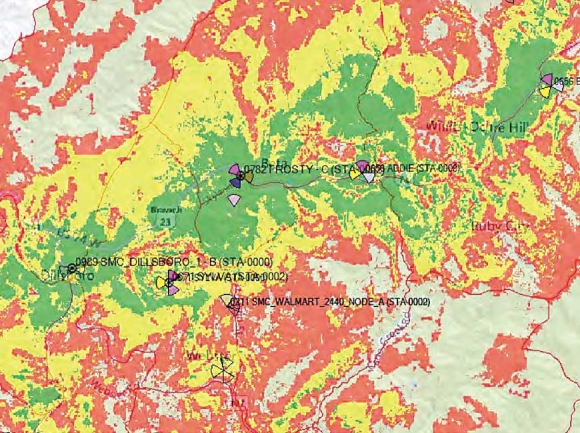 If constructed, the new cell tower — which is named "Frosty" and shown toward the center of the map — would significantly increase LTE service in Sylva and surrounding areas, according to projections from Verizon. Verizon map
A proposal to build a new cell tower off of Skyland Drive in Sylva will go before the Jackson County commissioners for approval during a quasi-judicial hearing at 1 p.m. Tuesday, Feb. 26, in room A201 of the Jackson County Justice and Administration Building.
Jackson County Planning Director Michael Poston said that his office has been working with the applicant, New Jersey-based Capital Telecom, for the last few years leading up to the company's recent decision to move forward.
According to projected coverage maps, the new tower is expected to significantly increase cell reception in Sylva and the Fisher Creek area.
During the quasi-judicial hearing, commissioners will listen to evidence in order to decide whether or not the application complies with county ordinance concerning the installation of cell towers. Community members must have standing, as judged by the commission chairman, in order to speak for or against the proposal. Parties with standing would include people with a legal interest in the subject property or someone who will suffer special damages as a result of the decision.
A balloon test has already been completed on the proposed site, a procedure in which a balloon is floated to the height of the proposed tower in order to give an idea of how visible the tower would be. That's also usually when the planning department hears from people who might oppose the tower, Planning Director Michael Poston told commissioners during a Feb. 5 meeting.
"To my knowledge our office hasn't received any calls about that. Sometimes we do," he said. "It's always tough to gauge if folks will show up or not."
The 175-foot tower would be installed on the 5.4-acre property of the Loyal Order of the Moose, located on 19 Moose Lodge Road. It would serve the Verizon network, but the tower could accommodate up to four carriers and therefore would likely expand service for users of other networks as well. It would be built in a monopole style and surrounded by chain-link fence behind the Moose Lodge building, with a lightning rod at the top extending its effective height to 179 feet.
Capital Telecom would lease the area containing the tower for an initial term of 15 years, with an option to extend for up to five additional five-year terms.
According to tower designer Sabre Industries Towers and Poles, it is "highly unlikely" that the monopole would fail as the result of high wind speeds, and if it were to fail the monopole would buckle so that its upper portion leaned over "in a permanently deformed condition." The fall zone would therefore be 65 feet, a distance accounted for in the size of the fence and land leased.