Archived News
Constitution proposed for Cherokee
Wednesday, February 20, 2019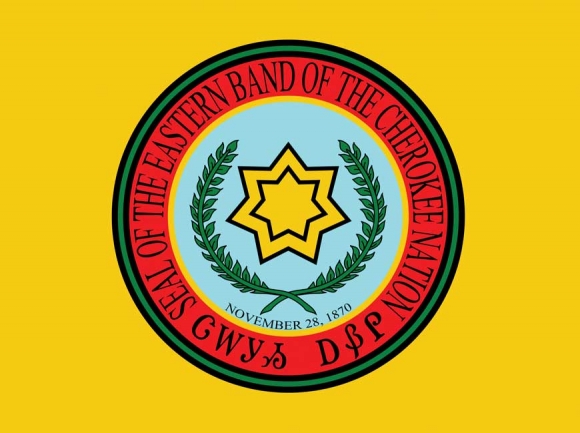 Cherokee voters will have the chance to give their nation a long-awaited constitution if Tribal Council approves a referendum question proposed for the September ballot.
"Right now we don't have a constitution. We have a charter, and a charter is for an organization, a corporation or something of that nature," said Lloyd Arneach, leader of a working group that has spent the past two years developing a proposed constitution. "A constitution is for a government, and for the tribe to continue to operate in the future, we need to be on even footing as a government-to-government relationship with state government, with county government, with federal government."
Likewise, tribal members need a document that better protects their rights and defines what powers the government does and does not have.
"This is a contract by the people on how we are willing to be governed, not how the government is going to govern us," said Arneach.
The S-ga-du-gi Constitution Group, with a core membership of five, has been working since 2017 to develop the draft, which if approved would replace the EBCI Charter and Governing Document adopted in 1986. Many community members have come to give input on the document, and the group has sought feedback from the tribe's community clubs as well.
"All the proposals brought forth were brought forth by the community," working group member Bo Lossiah told Tribal Council Feb. 7, when the referendum question was first presented. "It's nothing that an agenda is set for."
Keeping politics out of the process was extremely important, said Arneach. While elected officials were welcome to come to meetings in their capacity as community members, they weren't consulted in any official capacity. The group didn't even ask for tribal funding to pay for paper, copies or other supplies, said Arneach.
"We didn't want any misinterpretation of any support we received," he said.
The group hopes to place a referendum question on the General Election ballot Sept. 5 asking tribal members to vote for or against the constitution. Tribal law requires that any referendum question be approved at least 90 days before the election is scheduled, which means Council would have to approve the referendum no later than June 8 to meet that deadline. However, election season for Tribal Council and executive offices is just around the corner, and Arneach would like to see the question voted on much earlier.
"In reference to tabling it to June, I think that would be a mistake because you've got your people campaigning starting in March," Arneach told Council Feb. 7. "This needs to be something they can campaign with because until this resolution is ratified, the constitution we have attached to it can be modified, can be changed, until the resolution for referendum has been passed. So I'd rather have the final version ratified and attached to this resolution so that people can campaign starting in March."
The proposed constitution seems to have substantial support among council members, judging by the fact that seven of the 12 signed on as sponsors. Those seven are Councilmembers Albert Rose, Perry Shell, Tom Wahnetah, Jeremy Wilson, Boyd Owle, Bo Crowe and Bucky Brown.
However, on Feb. 7 members voted unanimously to table the resolution for March, a decision that Lossiah said the group was perfectly happy with.
"Mr. Chairman, I don't know if any of you have even had time to even study it," said Councilmember Tommye Saunooke, of Painttown. "I haven't, but I'd like to have some work sessions to discuss this. That would be my request."
The draft constitution is attached to the February council agenda and available on the working group's website, www.sgadugi.org. The site includes a side-by-side comparison of the charter and the draft constitution, as well as an opportunity to post comments and a listing of future meeting dates. A presentation is currently planned for 6 to 8 p.m. Monday, March 4, at the old Big Cove School as part of the Big Cove Community Club Council meeting.
A look inside the draft constitution
If the tribe were to adopt the constitution proposed by the S-ga-du-gi Constitution Group, the structure of its government would look quite different, and so would the enumerated rights of its people.
The existing Charter and Governing Document, with a sparse word count of just under 2,000, sticks mainly to the broad strokes of government. It outlines qualifications for office, terms lengths for the chief, vice chief and council, census requirements, the process to ratify legislation and various other bottom-line rules. However, even at that it's limited. The 2017 impeachment of former Principal Chief Patrick Lambert, for example, revealed quite a few areas in which the charter is unclear or incomplete.
Nowhere in the charter is there any mention of the rights of the people.
The proposed constitution is more than three times as long as the charter, with a word count of roughly 6,700, and it covers quite a bit more ground. Unlike the charter, it outlines a third branch of government — the judicial branch — expands substantially on impeachment procedures, clarifies the purpose and authority of a Grand Council, grants voters the right to recall elected officials, and adopts language mirroring the U.S. Bill of Rights.
It also includes term limits and salary guidelines for council members and chiefs, with council members to be elected with staggered terms.
If the draft constitution is adopted:
Councilmembers will be limited to two consecutive four-year terms rather than the unlimited two-year terms now in effect. In the first election after the constitution is adopted, the candidate from each township with the most votes will receive a four-year term and the second-place candidate will receive a two-year term, setting the stage for staggered terms. Councilmembers who have reached their term limit can run again after sitting out one two-year election cycle.
Vacancies on Tribal Council must be filled according to the order of succession outlined in the constitution within 15 days. Vacancies in executive office must be filled immediately. If there is more than a year left in the term, then the new official will serve in an interim capacity so that a special election can be held to select a permanent replacement.
Tribal Council members will receive a salary that is equivalent to 190 percent of the average salary of a full-time tribal employee. Incumbent representatives who are re-elected will receive a merit increase equal to the maximum merit increase of a full-time tribal employee. The chairman's salary will be 6 percent higher than that of freshman council members and the vice-chair's salary 4 percent higher. All salaries will be rounded up to the nearest $1,000.
Principal and vice chiefs will be limited to two consecutive four-year terms.
The principal chief will receive a salary that is 435 percent that of a full-time tribal employee, and the vice-chief's salary will be 317 percent that of a full-time tribal employee. If re-elected, chiefs will receive a merit increase equal to that given a full-time tribal employee. All salaries will be rounded up to the nearest $1,000.
A third branch of government, the judicial branch, will be composed of one Supreme Court, one Trial Court and other inferior appellate courts and courts of special jurisdiction established in law. Judges must meet a list of professional requirements, with the Chief Justice appointed by the principal chief with confirmation by the Tribal Council and chosen from recommendations put forth by a panel consisting of the Community Club Council Officers and active justices and judges in the judicial branch. The Chief Justice will appoint other justices and judges with confirmation from Tribal Council.
Term limits for the judicial branch will be: a maximum of three consecutive six-year terms for the chief justice, a maximum of three consecutive six-year terms for the chief judge and a maximum of three consecutive four-year terms for associate judges. Judges and justices will be paid from the judiciary budget administered by the chief justice and Cherokee Supreme Court and may not receive a pay cut during a term of office.
Officers of the Community Club Council will have the exclusive right to call a Grand Council, which will require a quorum of 25 percent of all eligible tribal members. Any resolutions decided by the Grand Council must be placed on the agenda for the next Tribal Council meeting for legislative action.
Claims of misconduct in elected officials should be directed to the Audit and Ethics Committee, which can draft articles of impeachment for presentation to Tribal Council. Tribal Council will choose whether to hold an impeachment hearing and vote on the outcome, but the Chief Justice of the Cherokee Supreme Court or his/her designee will preside over the hearings. If convicted with a two-thirds unweighted vote of Council, the official will be immediately removed from office but may not be bound over to criminal prosecution.
Voters may initiate a recall election by gathering a number of signatures equal to 45 percent of the votes cast during the prior election within 30 days of the petition commencement date. If the petition is successful, a recall election will be held within 90 days, with an affirmative vote of 67 percent of the votes cast in the most recent General Election required to remove an elected official from office.
The constitution can be amended by a simple majority of registered voters in an election called for that purpose as long as at least 30 percent of registered voters cast a ballot.
The entire document, as well as other information about the process, is online at www.sgadugi.org. Tribal members are encouraged to post comments.