Archived News
Medicaid on their minds at Rep. Queen's town hall
Wednesday, February 20, 2019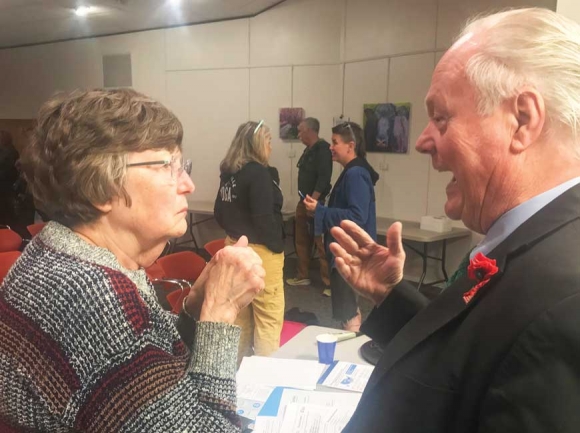 Rep. Joe Sam Queen (right) talks with a constituent Feb. 16 in Waynesville. Cory Vaillancourt photo
Four-time freshman legislator and recently re-elected Rep. Joe Sam Queen, D-Waynesville, launched into this year's legislative session by hosting a trio of town hall meetings across his district, but if the ones held in Jackson and Swain counties were anything like the one in Waynesville on Feb. 16, there's just one thing on people's minds — expanding Medicaid.
"I really think we're going to get this done," said Queen to an audience of about 30 people that Saturday morning at the Haywood County Public Library.
Queen and other Democrats had campaigned on Medicaid expansion last fall; enough of them won their races that Republicans no longer have a veto-proof majority — important due to the presence of Democratic Gov. Roy Cooper — although Republicans do still control both chambers of the General Assembly.
"It's much better than it's been in the last few years," said Queen of the seemingly bipartisan aura surrounding this session's legislative goals. "Gov. Cooper is doing a great job as a diplomat. He is really reaching across the aisle himself, and we are doing our best to transform Medicaid and expand it. There's lots of room to collaborate, and I am much more optimistic then I have been — they cannot just run over him or the Democrat initiatives on health care and education and the environment any more."
Queen had several topics on his agenda for the town hall meeting, including broadband and education — both also major Democratic goals last campaign season — but Queen instead spent almost all of the scheduled hour he was to meet with his Haywood constituents talking and answering questions about Medicaid.
As of this year, 36 states and Washington, D.C., had already expanded Medicaid. North Carolina isn't one of them, but if it was, 500,000 low-wage workers in North Carolina would gain coverage and up to 40,000 jobs could be created across the state, which would see a projected $4 billion increase in private business sales according to figures produced by Queen at the meeting.
Those stats also say that 7,400 North Carolinians overdosed on opioids last year, and that Dayton, Ohio saw a 50 percent drop in opioid overdoses after Medicaid expansion there.
Even further, 82 percent of rural hospital closures occur in states that have not expanded Medicaid.
"It's absolutely essential," said Queen.
Perhaps the strongest argument is that Tar Heel taxpayers are already paying for it — more than $2.5 billion a year goes to Washington, but never comes back.
"The jobs follow the money," he said. "We pay those taxes and we get nothing for it. It's like slicing your wrist and bleeding into the toilet."
Opponents, however, are wary of federal funding changes that could end up covering less and less of the cost, as time passes.
"We should just throw away $2.5 billion because it might change? That's no argument at all," Queen said. "My dad had a little phrase — 'Don't worry about the mule going blind, just keep loading the wagon.'"
Haywood County's other representative in the N.C. House, Rep. Michele Presnell, R-Burnsville, didn't respond to a Smoky Mountain News interview request last fall during campaign season, but did appear at a candidate forum hosted by progressive advocacy group Down Home North Carolina on Sept. 21.
When an audience member said that it was Medicaid that allowed her mother to die from cancer peacefully and that should be a right — not a privilege — Presnell reportedly said, "health insurance is a privilege for those who have a job."
There's also a laundry list of reasons against Medicaid expansion, according to Americans for Prosperity, a libertarian-leaning political advocacy group founded in 2004 by billionaire brothers Charles and David H. Koch — namely, that Medicaid is a broken system that provides no noticeable improvements in health compared to those without health care coverage, it ends up costing states more than planned, it draws resources away from education, emergency services and law enforcement, and it will only end up forcing state tax hikes in the end.
"There's not an honest argument against it," said Queen. "There's not an honest argument against it. Let me say it one more time — there is not an honest argument against it. 'Honesty' is the operative word."