Archived News
The table is set: Pancake Day is free to community this year
Wednesday, February 20, 2019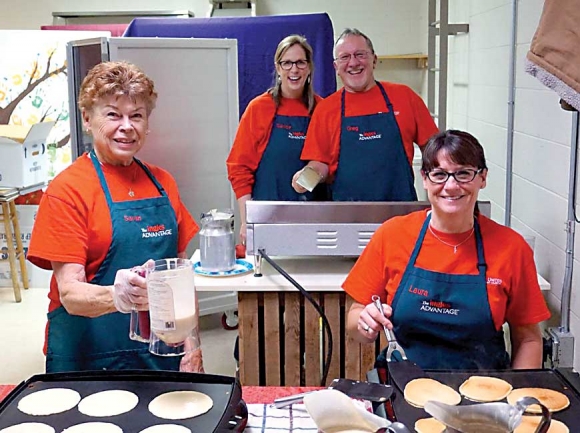 Volunteers prepare pancakes at First United Methodist Church of Waynesville. Donated photo
The table is set — all you have to do is come sit down and be served.
You can get pancakes, bacon and coffee just about anywhere, but there's just something special about filling up on the breakfast favorites during the annual Pancake Day at First United Methodist Church of Waynesville. The volunteers make you feel right at home as they serve up freshly made flapjacks and sizzling hot bacon and sausage with a smile and keep your cup and plate full until you can't eat anymore. It's southern hospitality at its best, and this year the church is taking that service one step further by making the 64th annual Pancake Day free to the entire community on Tuesday, Feb. 26.
"We felt like the broader community has supported this event incredibly for 63 years so we felt like we needed to give back to the community this year," said committee member Lee Messer.
Committee member Sarah Massie hasn't missed a Pancake Day for at least 60 years and is considered an expert when it comes to preparing and mixing the buttermilk and buckwheat pancakes offered on Pancake Day. She's also helped pass down those skills to the next generation of volunteers.
Despite the event being held at the end of February when it's cold or even snowy, the weather doesn't keep people away from Pancake Day. Thousands of people show up between 6:30 a.m. and 7:30 p.m. to fill up, fellowship and support the cause whether they are members of the church or not.
"And it didn't matter which church people went to, they'd show up for Pancake Day here. It's just part of the tradition — traditions are very important in a community," Massie said. "People don't want to miss it."
Putting together Pancake Day is no simple task and prep work begins Friday before the Tuesday event with setting up all the tables in the gym, all of which will have freshly cut flowers as a centerpiece. During the event, there are usually about 50 volunteers working at any given time — some of them working all day long.
"Charlie and Mary Ann Way started this event and now it takes 12 of us on a committee to do what the two of them did by themselves for so long," Messer joked.
Committee member Eunice Ledford handles the ordering for the big day — some 513 pounds of pancake mix, 635 pounds of bacon, 60 dozen eggs, 3,000 pieces of sausage and about 2,000 half pints of milk. Despite the hard work, volunteers say it's all worth it at the end of the day. The event brings in an average of $25,000 a year and more importantly, puts a smile on everyone's face.
"It's about building relationships — relationships we've been building for 60 years and even before Pancake Day," said committee member Mary Lee Sease. "This is just one more thing we can do to continue that effort."
When church members were putting together the latest facilities master plan, Patrick Bradshaw said someone mentioned how they wished the "outside of the church was more representative of who we are inside the church" and he thought that was a great point. While the exterior of First United Methodist is a towering, classic brick facade, Bradshaw said the people within the church aren't as traditional as the outside design might suggest. The church doesn't just minister to its own members — it's listening to the needs of the community and responding by offering programs and missions for all.
"I think this church makes strides to respond to the needs in the community from free after-school program for middle-schoolers to our mission work and allowing community organizations to use our facilities," he said. "We want to continue to grow that."
Massie said members don't want people to be intimidated by the church and hosting community events like Pancake Day — or Altrusa Club's Soup and Cornbread Day and Rotary Club's Poor Man's Supper — is a way to get people connected to the church in other ways.
Funds from Pancake Day have traditionally been used for facility needs, scholarships for students and mission work at home and abroad.
"We have a host of sponsors each year that underwrite the cost of the event and this year they've stepped up even more to make this happen," Sease said. "Sometimes missions are fulfilled locally and from the heart."
With the church facilities getting so much use from members and non-members, Bradshaw said there are always facility upgrades needed — not to mention replacing grills, plates, chairs, tabled and other things needed for Pancake Day.
"I think Pancake Day originally started as a fundraiser for the facility and then when we lost the sanctuary in a fire, it went toward that," Massie said.
While Bradshaw has only been coming to the church for 10 years, he loves hearing all the stories on Pancake Days gone by.
"I've been coming since I was a child. My mother trained me — she was known as the bacon lady," Ledford said.
"Yes, Eunice's mom trained me too," echoed Sease. "When I'm cooking, I always ask myself what Eunice Brown would do."
That's because cooking for thousands of people can be somewhat of a logistical nightmare. When the main kitchen was located in the basement of the church, there just wasn't enough room for everything they needed and things had to be shuffled here and there to make it work. Even today the church has to utilize three kitchens to get all the bacon cooked — the commercial kitchen in the Christian Growth Center, the basement kitchen and Ingles in Hazelwood also helps out by cooking some bacon in their ovens and bringing it over to the church.
Even though this year's event is free, church members are still handing out the tickets — it's just part of the tradition to which people have become accustomed. Donations will not be turned away of course, but committee members want to assure the community donations are not expected.
"Our sponsorships began years ago with a few grand, and now we've tripled that — our scholarship fund is doing great, our missions are going well so we want people to know this is a truly free event," Bradshaw said.
"Yes, the table is set, just come take a seat," Sease said.
Pancake Day
6:30 a.m. to 7:30 p.m.
Tuesday, Feb. 26
First United Methodist Church of Waynesville
566 South Haywood Street
Admission is free