Archived Opinion
Sandburg's words are needed now more than ever
Wednesday, February 13, 2019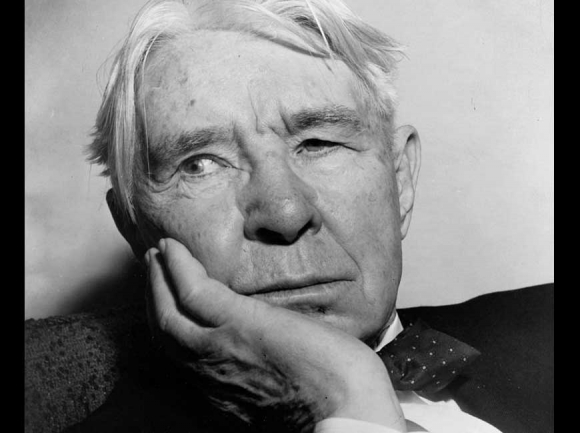 Carl Sandburg in 1955.
When my mom was living, she owned a tour company called Southern Comfort Tours. She opened the business in her 60s after retiring from 30 years in education. It was a lifelong dream and she made it happen.
Along with extensive trips, she offered small day trips around Western North Carolina and other areas of the Southeast. One of her day trips was to Hendersonville where she would take guests to places like Flat Rock Playhouse, Highland Lake Inn and the Carl Sandburg home. She loved talking about her itineraries and chattering about this location or that venue.
Carl Sandburg's estate is called Connemara. She and I had a similar love for literature and history. Seemingly simple or casual experiences would pull at our heartstrings or affect us on an emotional level. She always said Sandburg's home did that to her and that I needed to visit. While she was living, I never did.
But recently I visited Carl Sandburg's home on a press trip for our sister magazine, Smoky Mountain Living.
As we meandered through the rooms in Sandburg's home looking at his massive collection of books, functional furniture, Zenith electronics, family photos, art work and musical instruments, I could feel happy spirits in the house. One could easily tell Sandburg and his wife were madly in love and the couple, along with their three daughters, adored one another and enjoyed a meaningful life in a beautiful place.
Before my trip to Connemara, I wasn't familiar with Carl Sandburg quotes. When we entered the ticket area/gift shop, the first item in view was a T-shirt with the words, "Nothing unless first we dream." It made me think of my mom's tour company. From nothing but a lofty dream, she created a flourishing business. It was like she was winking at me from heaven saying, "Well, sweet girl, I'm glad you're finally visiting Carl Sandburg's home."
Throughout the tour, we learned about Sandburg's incredible life. He embodied the American Dream. From Swedish immigrant parents, he was born in Illinois and grew up poor, one of seven children. He loved books and knew he wanted to be a writer at age 6, but he left school after eighth grade to work a series of jobs. He traveled the country as a hobo, falling in love with America and her people. Later, he delivered milk, was a traveling salesman, served in the Army, worked as a newspaperman and wrote many volumes of books, from children's stories to poetry to biographies of Abraham Lincoln. He won three Pulitzers.
Politically, his experiences and observations led to a deep concern for social justice. Many of his early poems focused on this topic, along with equality. His words gave a voice to the voiceless or oppressed.
One of his famous poems titled "I Am the People, the Mob," highlighted the working class and their collective contribution to society.
I Am the People, the Mob
I am the people—the mob—the crowd—the mass.
Do you know that all the great work of the world is done through me?
I am the workingman, the inventor, the maker of the world's food and clothes.
I am the audience that witnesses history. The Napoleons come from me and the Lincolns. They die. And then I send forth more Napoleons and Lincolns.
I am the seed ground. I am a prairie that will stand for much plowing. Terrible storms pass over me. I forget. The best of me is sucked out and wasted. I forget. Everything but Death comes to me and makes me work and give up what I have. And I forget.
Sometimes I growl, shake myself and spatter a few red drops for history to remember. Then—I forget.
When I, the People, learn to remember, when I, the People, use the lessons of yesterday and no longer forget who robbed me last year, who played me for a fool—then there will be no speaker in all the world say the name: "The People," with any fleck of a sneer in his voice or any far-off smile of derision.
The mob—the crowd—the mass—will arrive then.
Sometimes I feel like today's America and especially our political leaders are making a mockery of forerunners like Sandburg. Many of his generation created a solid base focused on big dreams, wisdom, hard work and blending cultures to create the strongest nation in the world.
Lyndon B. Johnson described Sandburg eloquently when he said, "Carl Sandburg was more than the voice of America, more than the poet of its strength and genius. He was America."
As my mom said it would, visiting Connemara affected me deeply. Sandburg's life and work will continue to inspire and impact my thoughts and ideas.
Sandburg once said, "When a nation goes down, or a society perishes, one condition may always be found; they forgot where they came from. They lost sight of what had brought them along."
I'm hopeful the pendulum of America will soon swing the other way and we'll again remember where we came from.
(Susanna Barbee is a writer, editor and digital media specialist for The Smoky Mountain News, Smoky Mountain Living, and Mountain South Media. This email address is being protected from spambots. You need JavaScript enabled to view it.)