Archived News
Cherokee artifacts at Plott Creek? Maybe so, maybe not
Wednesday, February 13, 2019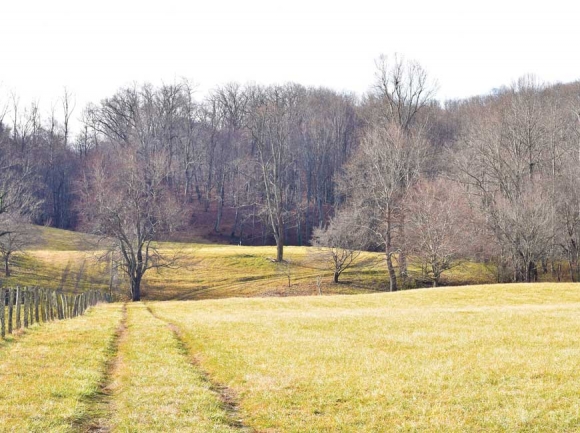 More than 200 apartments are currently planned for this 41-acre parcel off Hyatt Creek Road. Cory Vaillancourt photo
During the protracted approval process of a proposed development that would bring around 200 new apartments to a 41-acre parcel of land near Waynesville's Walmart, opponents threw everything but the kitchen sink at the project — everything, that is, except for the possibility of Cherokee cultural artifacts on the property.
Now that the site plan has been approved, twice (after a legal snafu that required the town to start the process again from scratch), some neighbors have raised an important question: what are the legal and moral duties of local governments and private developers to investigate such claims?
That question, in turn, has raised another — why won't any of the neighbors, the developer or anyone from the Eastern Band of Cherokee Indians, go on the record to discuss it?
"Any time you turn a shovel in this part of North Carolina, chances are you'll turn up something," said Ron Sneed, attorney from Waynesville's planning board.
Sneed was one of few to speak publicly about the matter, but off-record sources from the ECBI said it wouldn't be surprising if there was indeed a Cherokee settlement on or very near the parcel, which sits just south of Hyatt Creek Road and just west of the Great Smoky Mountain Expressway.
Unconfirmed reports from neighbors have said that it's "an open secret" that a plethora of arrowheads have been found there since the area was settled by the Plott family centuries ago.
But the ECBI's ability to become involved in developments outside the Qualla Boundary is limited, and is usually at the invitation of local governments or property owners.
Waynesville's development services director Elizabeth Teague, who clarified what, exactly, the town's powers are.
"Any time you're using federal funds, you have to follow the National Environmental Policy Act," said Teague. "This was put into place under the Nixon administration [in 1970]. It just means that if we're spending federal dollars, then we need to make sure we're looking at environmental impacts, cultural impacts. Every so often, with a federally funded project, our historic commission will get a say. Our local division of the North Carolina environmental quality office in Swannanoa will also comment."
The Palisades at Plott Creek isn't a federal project, doesn't use federal funds and won't likely see any federal action.
"Outside of the federal process," Teague continued, "for state and local projects, if [the town] were spending money on a property, we'd do a phase one environmental study, where you send somebody out there to go look at the land, see what's there — endangered species, Indian mounds, or things that we need to be cautious of, if we move forward."
The project isn't a town project, either, but instead a venture by Gastonia-based Triangle Development.
"On the private side, there's none of that," Teague said. "With Plott Creek, what's been interesting to me is a lot of people keep coming back on the town, like, 'Why are you developing this here?' This is not our project to develop."
Triangle has thus far followed the town's ordinances in moving forward with the project.
"What we look at is if they are compliant with our ordinance," said Teague. "There's a technical review commission. There's water and sewer capacity analysis. There's looking at floodplain. There's looking at stormwater. Now, when the town knows of issues, we ask them to do an environmental analysis."
That analysis, outlined in section 15.4.1 of the town's land development standards, is intended to identify natural features like trees, treelines, watercourses and wetlands, or endangered species, and then to evaluate the potential for conservation.
Social or cultural assets are not specifically enumerated in the standards.
"No, we don't get into that. It's more environmental. No one's out there looking for Cherokee remnants," said Teague. "But we're always willing to work with the ECBI to identify areas of interest when we can."
The owner of the parcel, Triangle Real Estate of Gastonia, did not return calls for comment on this story.