Archived News
'She just slipped through our fingers'
Wednesday, February 13, 2019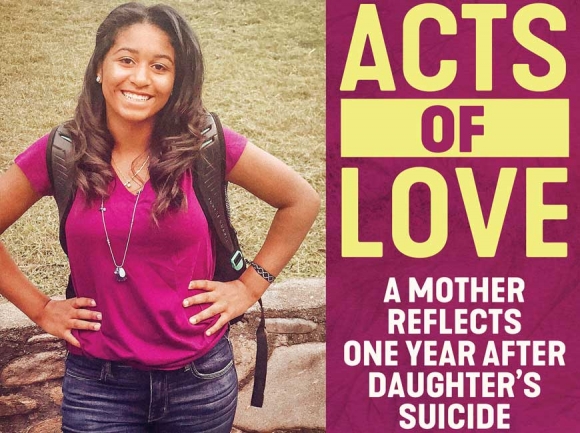 At 13, Tuscola High School freshman Elira Bego-Cardoso was like almost any other American teenage girl — she liked popular music, boys, hanging out with friends and chatting on social media.
Elira, however, wasn't like every other teenage American girl. She was different.
She was a first-generation American, the product of a mixed-race marriage between two immigrants. She was a high achiever. She skipped a grade. She excelled, even as she busied herself with extracurricular activities like band and winter guard.
But all the while Elira was twirling Tuscola's black and gold flag in front of crowds on the field, she was privately unfurling bold red flags no one could see that would lead to a tragedy no one could believe.
Now, it has become her mom Ingrid Bego's job to make sure no one forgets.
"I'll never find out why," Ingrid said. "Maybe I'll get more clarity and be able to help others but I think right now I just need to embrace this grief authentically. I will not pretend I'm OK. I lost my child. I will not pretend somehow that I have moved on. There is no moving on when your child dies."
Exchange student Ingrid Bego found herself a long way from her home of Berat, Albania, but after graduating from a Kansas high school in 1997, she liked it enough that she decided to stay another year and attend college, which led to her undergrad degrees in German, Spanish and political science from Washburn University in Topeka.
She then married an African who'd grown up in Portugal rather than in the midst of his native Angola's 27-year civil war. Together, they moved to the state of Washington, where she earned a master's degree and a doctorate, and where their daughter Elira was born Feb. 13, 2004.
After teaching political science at colleges and universities in Colorado, Wisconsin and finally Nebraska, Ingrid and her family — now including Elira's younger sister — moved to Lake Junaluska so Ingrid could take a position in the Department of Political Science and Public Affairs at Western Carolina University in June 2016.
"She didn't want to move," said Ingrid of Elira. "She had made friends in Nebraska. It was a small community, but she had a lot of friends, she was very social."
Elira was about to enter the eighth grade at Waynesville Middle School, but before the term began, Ingrid took advantage of the summer break to take her daughters to visit family in Albania.
Even at that age, Elira wowed the Albanians with her fluency in their language to the extent that they had a hard time believing she wasn't from Albania. There was one easy way to tell she wasn't, though — Elira's dark complexion more closely resembled that of her black Angolan father than it did that of her white Albanian mother.
"The brown girl from America that speaks Albanian," Ingrid laughed. "She was the center of the attention. I have an extended family of hundreds of people, and they all thought Elira was the greatest thing ever. Albanians, we are touchy, no room for [personal] space, and she was so much like us."
When summer drew to a close, they came home to their new surroundings and the whole family began settling in to new jobs, new schools, new routines, new circles.
Elira seemed to adapt famously and had little trouble making friends, even hosting a 10-girl sleepover for her 13th birthday on Feb. 13, 2017. Just a few months later, Ingrid began to notice subtle changes in Elira's behavior.
"I think she was just angry at times, or frustrated," said Ingrid. "Not always, but kind of pushing against me. I thought, 'You know, she's a teenager. Of course she's going to push against me.' I imagined we were so much alike that I thought it's going to be a rough few years. She's going to push. I'm going to push. We're both strong-headed, so I didn't make much of it."
Elira was strong-headed about attending Tuscola High School that fall and had decided against Haywood Early College for one important reason.
"Band was her everything," Ingrid said.
A trip to Disney World in Florida that November had been a source of excitement for many Tuscola Band members, but according to Ingrid, Elira called her the day she was to return to North Carolina, and explained that something had happened.
"She had a fight with her friends at Disney," said Ingrid. "It seemed like a group of girls she was hanging out with kind of turned on her, and from that day on — they were all in the band — they just stopped talking to her, stopped acknowledging her."
Back at school, a lunchtime incident provoked further tensions, frustrating Ingrid.
"You can't fix it for your kids," she said. "They sort of have to navigate on their own. I'm supporting her, but I can't just go and tell these people, 'Be friends with my daughter.'"
As warm days grew scarce that fall, social media slings and arrows grew more numerous, making it clear who was in and who was out, who was cool and who was not.
"She struggled with that a lot," said Ingrid. "Right up to Christmas break."
Ingrid Bego (left) doesn't want her daughter Elira's tragic death to define her life. Donated photo
Christmas was a series of tenderly illuminated Thomas Kinkade streetscapes burnished with 21st-century versions of Norman Rockwell's vignettes — an Albanian woman who'd grown up under communism and her Angolan husband who'd fled a civil war and their mixed-race American-born children putting up a Christmas tree at their beautiful home on scenic Lake Junaluska. Let's visit friends. Let's exchange gifts. Let's build a snowman. Mom is working on her book. Dad is working. Everyone is rolling down snow-swept hills and drinking hot chocolate and tonight we're playing Uno, or dominoes. No school Monday. Let's go bowling.
When Elira returned to school on Tuesday, things couldn't have been more different than they were before the break.
"Mom," Elira said. "They're now acting like nothing happened. They sat with me today and laughed and joked. There's just one girl," — the one she'd quarreled with at Disney World — "and she's the only one that is still treating me like I don't exist."
"Well," said Ingrid, "who cares?"
In 2002, Rosalina Wiseman published a book called Queen Bees & Wannabees: Helping Your Daughter Survive Cliques, Gossip, Boys, and the New Realities of Girl World.
Wiseman's groundbreaking and New York Times bestselling work confirmed what many current and former American schoolchildren have long known — girls and boys fight differently.
"That's absolutely correct. Guys, by history and evolution, were raised to be warriors, to be fighters. According to research, boys tend to confront these things upfront. They'll fight," said Bob Cummings, prevention manager at local trauma, mental health and substance abuse recovery agency Red Oak Recovery. "Girls don't physically go after one another, so they do the more passive-aggressive. They have more of a tendency to gossip and talk and form alliances to cause jealousy instead of just being upfront. It's not as direct, but it's definitely more effective."
Cummings has spent decades in the substance abuse prevention field, and as such has seen firsthand how drug use and suicide are related though he also notes that bullying can similarly result in the impulsivity that leads someone to take their own life.
But while the destructive use of drugs usually takes place in the shadows, social media has given bullying a bright glowing rectangle from which to project the lowest moments of our lives, in perpetuity.
"Back when you and I were kids, if Joe didn't like Fred, Joe would get his 10 friends and they might bully Fred and those 10 people knew about it," Cummings said. "With social media, being bullied and talked about and shamed 24-7 and every time I get on social media I see my name on there and then with the whole exponential wave of social media, now we have 300 or 400 people that know it."
That hits girls harder than boys, according to Nancy Jo Sales, author of the 2016 book American Girls: Social Media and the Secret Life of Teenagers.
Sales interviewed more than 300 teenagers aged 13 to 19 and found that social media has fractured interpersonal relationships to the point where it can affect the emotional and even physical well-being of young men and — especially young women like Elira, who as Christmas break drew to a close was still desperately trying to fit into the warm, cozy Kinkade landscape her immigrant parents had artfully painted for her.
"She practiced flag over and over in the cold," said Ingrid; Elira enjoyed the feeling of being part of a team, a thing bigger than herself, so making Tuscola's winter guard squad was important to her.
Ingrid picked Elira up from practice that Thursday after break, and they resumed their Afro-European neo-American-Gothic life at Lake Junaluska — down the stairs with bags of groceries, awake late into the night watching an Albanian comedy.
"That's the last night she slept," Ingrid said.
The next day Elira was up early, dressed and ready for school. When Ingrid picked her up afterward, Elira seemed kind of down. At home later that day, Ingrid got back to her book, while her youngest watched a video on a tablet.
Complaining of the chronic stomach issues that sometimes afflicted her, Elira made some popcorn, sliced up a bowl of cherry tomatoes and retired to her bedroom. Ingrid took her youngest with her to the gym, telling Elira they'd return in 45 minutes.
"We never locked our doors, but sometimes she would lock the door when she was alone," said Ingrid. "When the door was locked, I already got a bad feeling. We walked in and didn't see her. I saw her phone lying face down on her bed and I knew something terrible had happened."
What had happened is every parent's worst nightmare.
"She was already gone," said Ingrid of attempting CPR on Elira. "She was silent. I just had to breathe life into her, but deep down inside, I knew she was gone."
At the time of Elira's passing, Alex Masciarelli was Tuscola's assistant principal.
"I got a call from another administrator, and it was just such a shock. I think it was about 8:30 or 9 at night," Masciarelli said. "Completely shocked. I was just in disbelief trying to make sense of something like that."
Masciarelli said he placed special focus on his freshmen, and was often the person to whom students having social difficulties would come.
"A lot of times kids would come into the office because they're upset about somebody, they need someone to talk to, but she wasn't on our radar," he said of Elira. "I hadn't had any kind of interactions with her like that."
Bullies, the bullied and sometimes even friends of either would appear before Masciarelli, and he said he'd had success in sussing out the details of a beef and reducing tensions before they came to a head, but no such informants contacted him about Elira. The in-school silence made Elira's actions Jan. 12, 2018, that much harder to believe.
Elira Bego-Cardoso was a gifted student who hoped to study medicine at Stanford. Donated photo
"Suicide is rare, thank goodness," said Dr. Bill Nolte, superintendent of Haywood County Schools. "We are saddened any time we lose a student, but when a student takes their life, it seems almost impossible to reconcile."
Nolte was an assistant superintendent when Elira passed, but said that in his decades with HCS, he could hardly recall the last student suicide, sometime back in the 1980s. Nowadays, he said, the situation is much different.
"I do think society has changed a little bit in terms of the kind of bullying that took place when I was in high school back in the 1970s," he said. "Even after that, it was what most of us old folks have in mind as the big rough loud guy walking around school, pushing people around, asking for their lunch money."
It's not that that guy's gone, according to Nolte, it's that he's easier to spot and to address.
"The thing that we have now is, it's more covert," he said. "It's social media and it's definitely bullying, but not something that rises to the level to where the school can discipline someone — they're sending someone a message, but they're really not violating the school rules."
Unless such after-hours conduct leads to some sort of in-school incident it's hard to punish those responsible, but Nolte did say that dealing with modern-day social media bullying takes a broad, consistent, persistent approach that isn't simply limited to the schoolhouse.
"We have to understand, this is a different creature. It's different," he said. "You want us to teach them how to do well on the ACT test? We can probably pull that off. You want us to teach them to not be overweight, not to be sexually active at a young age, not to use illicit drugs, not to hurt other people or themselves? That's harder."
About a hundred or so Tuscola students availed themselves of school-sponsored grief counseling once they learned about Elira the following week; there were also classroom meetings held by HCS intended to promote a healthy, communicative relationship between students, teachers and administrators.
Since then, HCS has continued its anti-bullying training, and recently received a grant from the 30th Judicial Alliance that funds further training by email for every HCS employee who has an email address. Success, though, is contingent on finding the flags that fly under the radar and recognizing that academic intelligence and emotional maturity are two very different things.
"As schools, we're trained to teach people academic skills and knowledge they can use to get into college, go to work, get a job certificate, and I am convinced there's a big gap between knowledge and academic skills, and social emotional behavior," Nolte said. "People can know that smoking is not good for them, they still smoke. People can know that certain foods are not good for them, they still eat those foods. People can know that they're supposed to be nice to people, and they're not nice to people."
The aftermath of Elira Bego-Cardoso's suicide has proven to be just as devastating for Ingrid's family as the events of Jan. 12.
"There will be no closure for me," Ingrid said. "Closure is a myth, unless Elira comes back and tells me, 'Mom, this is what happened.' And even then, she's 13. Even she wouldn't be able to tell me, 'This is what happened.'"
Sadly, Elira's younger sister was spared none of it.
"She's devastated," said Ingrid. "[Elira] was so big and so much to her — not just a sister. She was such a big person, I can't even explain. We have grieved together, she and I. God, just a lot. She has lost her childhood, and her innocence. She lost her sister, and her mom."
Ingrid's insistent that she'll probably never know what, exactly, led to Elira's decision, but as time passed after her death, a troubling series of red flags began to emerge — far less visible than the ones she twirled out in the cold while practicing for winter guard.
Elira didn't leave a note, per se, but rather a series of private scribblings, some of which were likely penned in the days leading up to that horrible January night.
"She wrote a lot," Ingrid said. "Some of them are painful to read. She just wanted to escape. She talked about pain a lot. She talked about broken hearts. Betrayals."
Some of Elira's friends later told Ingrid that Elira had confessed to them that she wanted to take her own life. They tried to be there for her, Ingrid said, but they simply couldn't envision the able student, who'd skipped a grade and had nearly perfect marks, doing anything resembling what she ultimately did.
"It seems nowadays, as I wander the world of Instagram — as her — it's dark out there," Ingrid said. "Kids are more and more feeling this way. It's normal to them. It doesn't ring alarm bells. They say things like. 'I feel like I want to die,' and nobody says anything. They just hit 'heart' and move on."
Cummings said that in addition to the litany of stigma that surrounds suicide, one that's often overlooked is that of who, supposedly, won't commit suicide.
"She was too brilliant, too bright to be the suspect," Ingrid said. "Because she was quite capable, she never missed a beat. She had a 97 percent in math, 97 in English, star science student. It was very difficult for people to put two and two together."
Cummings, a Hazelwood resident who last fall held a training at the Folkmoot Friendship Center on how to spot these flags and act upon them, said Elira's behavior was unfortunately typical.
"What we find about suicidal people is that typically about a week before they attempt it, they're dropping hints, but they're dropping hints to specific people who they think maybe can help them," he said. "It's only in retrospect, when people start talking after suicide, that they start seeing the hints that were dropped, but that's in retrospect — it's too late."
Cruel retrospect even haunts a conversation between Ingrid and Elira at the bowling alley that Monday before she passed away. The professorial Ingrid took the inflatable gutter guards as an opportunity to teach her daughters about notions of privilege and what being different truly means in today's America.
"Gutter guards are kind of like privilege," Ingrid told Elira. "If they don't bowl straight, the rail catches them so they don't drop all the way into the gutter. If we go the wrong way, we're in the gutter."
Instead, it was Elira who schooled the professor.
"Mom, really? You think your privilege is so low? Not compared to mine. Mom," she said, "I'm a black girl."
"I don't know what role that played," said Ingrid, looking back on it more than a year later. "I don't know that she wanted to look at things this way, but she was very racially aware. I would say, 'No, you're not going to do what your white friends do, because they are not going to get in trouble and you will, so I need you to be very careful. We are foreigners, and you are brown.'"
Ingrid's comments on class and race hint at a darker aspect of living in a county that's 96.2 percent white where locals can often claim five to eight generations of continual habitation in the same region or county, if not the same small mountain cove.
"We moved into a static society, and we are transient," she said. "If you are a newcomer to Haywood County, unless you're Southern and of that culture — which I have nothing against — you don't fit in. I asked her one day, because I would feel uncomfortable in certain situations, 'Do you feel safe here?'"
"Yeah mom," Elira said. "It's just you. It's because you're not from this country."
Ingrid is careful to note that she doesn't expect 300 years of American social constructs to vanish overnight.
"It's hard to break down the existing structures, because they are positive. It seems fostering, and it helps the community. But you have to make a really concerted effort to welcome the newcomers, if Haywood County wants to remain — to join — the 21st century," she said. "Western [Carolina University, in Cullowhee] brings a lot of people from different backgrounds, and Jackson County has the same issue. The schools have to make a concerted effort to recognize that people will come from these different backgrounds. If we want them to live here — assuming that we do — then we must welcome them and make a very concerted effort to welcome them."
At the same time, Ingrid said that Elira wouldn't want her to put people on trial over the perfect storm of racism, sexism, bullying and online harassment that eventually overwhelmed her.
"There are moments, I admit, I blame myself, I blame my husband, I blame the world. I can blame this wall," she said, gesturing toward the turquoise plaster behind her head in the darkened corner of an Asheville teahouse. "Because there are moments I feel like I need to find something to hold onto, but those are personal, intimate moments of grief and I have to rise above that."
Absent that closure that will likely never come for Ingrid Bego, she's still determined to ensure that Elira's life isn't defined by her untimely, unnecessary death.
"I think there is healing in remembering her in ways that are meaningful," she said. "She touched so many people in such a short time she was here. I hope I have the same impact. I hope all of us think about what will be left behind when we leave."
To date, Ingrid's raised almost $10,000 toward establishing a scholarship at WCU's music department in honor of Elira.
As what would have been Elira's 15th birthday approached — Wednesday, Feb. 13, 2019 — Ingrid has also asked people to commit 15 acts of love dedicated to Elira's memory.
"She was almost a Valentine's baby, so her birthday always involved hearts," she said. "I think the 15 acts of love, remembering and her with love, that's really the future I think. That's how I'm going to move forward, instead of pointing fingers."
The fingers that still point — at the newcomers, at the lonely, at the poor, at your kids or at mine who are just trying to live their lives and be kids — would be better used not to harass but instead to help, and to hold.
"I have a feeling, a desire, I guess, that had she given us some more time, that maybe I would have saved her. I don't know. It's all wishful thinking at this point," Ingrid said. "She just slipped through our fingers."
Ingrid Bego has established a yearly scholarship fund for freshman female students of color in Western Carolina University's Pride of the Mountains Marching Band, preferably those playing the saxophone. To donate, visit www.elirasmom.com/donate-to-eliras-scholarship. To learn more about Ingrid's 15 Acts of Love, www.elirasmom.com/home/2019/1/31/15-acts-of-love1/31/15-acts-of-love.