Archived News
Woman from the west, for the west: Hipps remembered for her passion, commitment
Wednesday, February 13, 2019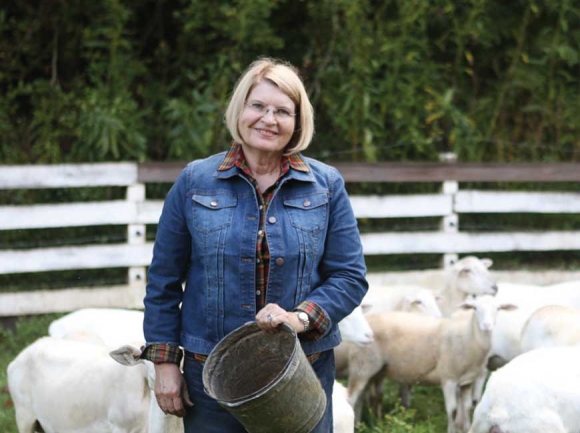 A North Carolina native, Jane Hipps grew up on a farm. Donated photo
On the campaign trail, Jane Hipps of Waynesville was often called the "woman from the west, for the west."
With a true passion for the people of Western North Carolina and a commitment to being a voice for the region, she was an active member of the community, her church and a two-time candidate for WNC's 50th District Senate seat.
"She was a fierce advocate for the issues that mattered in Western North Carolina and the ways in which policies from Raleigh affected folks out here. She was concerned about the fact that one in four children go hungry and she wanted to take care of our mountains and streams," said Julia Buckner, Hipps' campaign manager and friend, during the 2014 and 2016 elections. "But when I think about her, I think about her passion for life. Whatever was in front of her, she just did."
A native North Carolinian, Hipps grew up poor on a big family farm. She moved to Waynesville in 1968 when she married Charlie Hipps, who served as a district attorney and a state senator. She was an educator and counselor most of her life while also raising three children and being a senator's wife.
"Then when she retired she decided to go back to Vanderbilt at the age of 61 to get her master's degree in nursing — I remember asking one of her classmates what it was like having her in class and he said she ruined the curve," Buckner laughed.
Hipps graduated with honors and passed her boards to become a certified pediatric nurse practitioner. She was smart and quick-witted with an infectious laugh, Buckner added. She laughed at her own jokes, would never be caught uttering a negative words about others and always held tight to her Christian faith — even through two hard campaigns in which she was regularly attacked by the Republican Party and ultimately defeated by her opponent.
"Jane's favorite verses were from Matthew 25 about feeding the hungry — she wanted to believe no matter who you voted for you should do your best to take care of your fellow man. She really took those verses to heart," she said. "She had a prophetic voice — her call to be a Christian led her back to the political world."
Buckner said it was an amazing experience during the last five years to see Hipps come into her own and pursue her own path after being such an attentive mother and wife for so many years. Shortly before her beloved Charlie passed away unexpectedly in 2003, she said he encouraged her to get involved in politics, which is what she eventually did.
Hipps was an active member of the Haywood County Democratic Party, serving in the past as president of the Haywood County Democratic Women, Region One Director and as a member of the State Executive Committee of the N.C. Democratic Women. With her background in public education and health care, those issues became her main platforms when running for Senate.
"Jane was a tireless campaigner, but what I admired most about her was her endless desire to learn. She thrived on the conversations she would have with voters on the campaign trail and after a long day of campaigning, she would often go home and read into the wee hours of the morning," said Myrna Campbell, chairwoman of the Haywood County Democrats. "She was the embodiment of the quote by Eleanor Roosevelt — 'With the new day comes new strength and new thoughts.' Jane was always one to look ahead — not back."
Fellow Waynesville Democrat Rep. Joe Sam Queen said Hipps had definitely left a strong legacy of what it means to live a passionate and committed life.
"I've known Jane for 30 years at least. She was a very accomplished educator and moved into health care and became quite a contributor there as well as a strong candidate," he said. "She was articulate and just full of the right energy. She was one of our best."
Hipps also garnered respect and friendship from leaders all across the state because of her work with the Democratic Party as well as her consulting work with the N.C. Department of Public Instruction.
Hipps takes part in a community cleanup effort. Donated photo
"My wife Audrey and I are deeply saddened by the passing of Jane Hipps. We met Jane when she warmly welcomed us to Waynesville in fall 2016, and she was a true treasure for Western North Carolina and our entire state in her commitment to the betterment of our society," Associate Justice Michael Morgan, Supreme Court of North Carolina, wrote in a statement to The Smoky Mountain News. "She inspired all of us through her tireless dedication to public service. Jane's legacy will safely endure through the countless lives which she positively influenced in her decades of work with young people in her professional career and personal life."
For so long Hipps was frequently seen out in the community whether she was campaigning, volunteering or showing up to support the causes she believed in, but after the summer of 2017, she was noticeably absent. In a January 2018 Facebook post, Hipps announced she had recently been diagnosed with MDS (myelodysplastic syndrome), a rare blood cancer.
Even with the devastating news that her condition was serious, Hipps maintained her positive and hopeful attitude about the future.
"I've had time to reflect upon the needs of our folks here in Western North Carolina. In the middle of this trying time, I am incredibly blessed. I have healthcare, food on my table and a roof over my head," Hipps wrote. "I remain committed to being a voice for the voiceless and am grateful for the opportunity to continue my work with the NC Justice Center and Haywood Community College.
"To borrow a phrase from a Broadway musical, each of us have 525,600 moments in a year. None of us know how many moments we have left, and as I face this new challenge, I ask again for your love, prayers and support," she continued. "My prayer for you is that you spend every one of your moments doing your best to love and support each another: feed the hungry, give drink to the thirsty, welcome the stranger, clothe the naked, provide for the sick and visit those imprisoned. Our lives must be measured in love!"
Buckner said Hipps only returned home once to Waynesville since her treatments at UNC-Chapel Hill began over a year ago. While she wasn't always ill, her condition required her to be close to the hospital so she stayed in the SECU House nearby.
"It was a roller coaster high highs and low lows," she said. "She was a fighter though. The thing about Jane is she never gave up. Just three days before her death she said she needed to finish her nursing certificate. She just never quit."
While she remained optimistic through her cancer battle, Buckner said the hardest thing for Hipps was not being able to be outside to tend to her garden or grow her own tomatoes as she did for so many years.
Hipps passed away Feb. 6 at UNC Hospital at the age of 73. She is survived by one daughter, Elizabeth Jane Hipps and her husband, Christopher Midyette, of Raleigh; two sons, William Travis Hipps and his wife, Nadine, of Australia; and John Bates Hipps and his wife, Becky Simpkin, of Chapel Hill; one brother, William Bates and his wife, Suzanne, of Nashville, Tennessee; and six grandchildren.
Some may wonder why her funeral services were planned for Feb. 14 — Valentine's Day — but Buckner said that's the day she met Charlie back in 1967, so it feels right to celebrate their reunion.
"She met Charlie on Valentine's Day in 1967 when she crashed a grad party and saw him there. She was wearing a beautiful red dress her mother made for her. He loved music, he was in the band and he was a Methodist — so she thought, this is it," Buckner recalled.
A celebration of Hipps' life will be held at 11 a.m. on Thursday, Feb. 14, at First United Methodist Church of Waynesville. The family will receive friends from 5 to 8 p.m. Wednesday, Feb. 13, at Wells Events and Reception Center. In lieu of flowers, donations may be made to SECU Family House, 123 Old Mason Farm Road, Chapel Hill, N.C., 27517.