Archived News
Women's March embarks on third year; Organizers strive for inclusivity for all women
Wednesday, January 30, 2019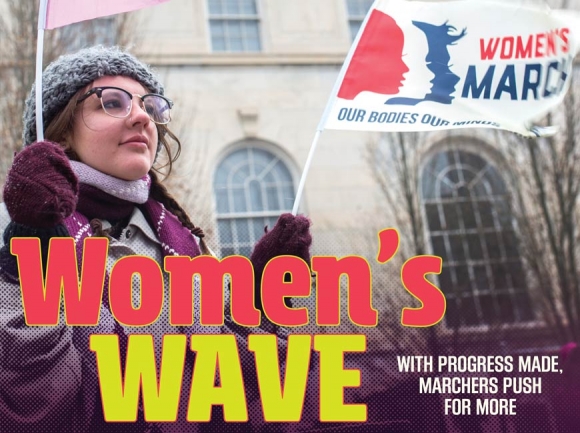 This year marked the third annual Women's March on Asheville — part of a national movement to rally for equal rights and social change for women.
The first march was held less than 24 hours after President Donald Trump's inauguration in January 2017 as tensions were high. Women were angry about Trump's attitude and actions toward women and also feared for the erosion of their rights, safety, health and families.
Despite backlash from Trump, conservatives, pro-life activists and anti-feminist groups, the marches held in cities all across the nation have continued for another two years.
Following criticism that the national Women's March is not inclusive enough of women of color, LGBTQ women and other marginalized groups, Asheville march planning committee member Lori Horvitz said the Asheville organizers discussed ways to bring all communities together for this year's march.
Joe Pellegrino/Smoky Mountain News photo
"We did a lot of reaching out to different communities who have been underrepresented at the march and our list of speakers definitely included underrepresented groups," she said.
Speakers included Chelsea White, a young community activist and Western Carolina University student from Jackson County, Mandy Carter, a Durham-based social justice activist with a 51-year movement history of social, racial and LGBTQ justice organizing since 1967 and Allison Scott, an Asheville native who identifies as a trans woman and serves as the director of policy and programs at the Campaign for Southern Equality.
"If we do the march again we hope more people of marginalized communities will join our organizational committee," Horvitz said. "As long as we're unified for social justice and change that should be all that matters."
Even with their efforts to be more inclusive, the Asheville chapter of the International Socialist Organization decided to hold its own "Radical March" for women at the same time as the national march in downtown Asheville.
Stephen Morris, a member of the ISO, said the Radical March was put together just weeks before the Asheville Women's March in response to and out of support for the marginalized groups that didn't feel welcome at the main march.
Willa Hill, 2, and Bettie McKemie-Hill of Boone march down Market Street together during the 2019 Asheville Women's March on Jan. 20. Joe Pellegrino/The Smoky Mountain News photo
"Groups in Asheville from the transgender community and the Black Lives Matter community felt very excluded from the women's march — they felt it was too rich, too white, and they didn't feel there was a place for them," Morris said. "So we wanted to provide not just a place to put forth our politics but also a safe space for people who otherwise didn't feel comfortable."
Responses to the split have been mixed — some agree the main march is made up of privileged white women who aren't supportive of the real issues facing minority women while many participants in the Women's March say they've marched alongside a wide variety of women of different colors, sexual orientations, backgrounds and religions.
Morris said some of the imagery people have seen from the Women's March — including the infamous "pussy hats" — represent a narrow view of what it means to be female, especially within the LGBTQ community.
"We've also heard from Black Lives Matter organizers that these people come out for their one day to take their cute Instagram pictures and put on their pussy hat but when they have a Black Lives Matter rally, those thousands of people don't show up for anything else," Morris said.
The 2019 Asheville Women's March participants gather at Pack Square. Joe Pellegrino/Smoky Mountain News photo
Women of color and women in the LGBTQ community want to know their unique struggles are also being recognized within the women's movement. When white feminists speak about unequal pay, Morris said, you hear that women make 75 cents for every dollar a man makes. However, you don't hear as much about black women making 61 cents on the dollar and Latina women only earning 54 cents on the dollar to what a man is paid.
"The march seems centered on an idea of women that's not reality for many undocumented, working class or indigent women in the United States," he said. "None of these groups were saying they don't support the women's march, they just want to hear feminists who also understand the need for black feminism as well."
Whether the Radical March will return next year, Morris said, will depend on the conversations being had within the national Women's March movement.
"They were addressing a lot of the concerns we were talking about so maybe it won't be needed next year, but if there's interest we'd consider it," he said. "We don't see ourselves as enemies to the national women's march, but if it isn't as radical as we want to be, we want to show up to change it."
Morris said the "Radical March" contingent had broad interest on social media, but only about 40 people attended the event.
"But it was so bitterly cold I think it affected attendance at both marches," he said.
Attendees hold signs (right) at the radical contingent of the 2019 Asheville Women's March. Joe Pellegrino/The Smoky Mountain News photo
Horvitz said the cold and snowy weather definitely impacted attendance this year, yet still thousands of people showed up to listen to the speakers and march as long as they could.
"There's been discussions about whether we want to do it this time of year again because of the weather — we might do a survey and see if there's a better time to have it."
Horvitz also pointed out that organizing the march is no easy or cheap task — it takes a lot of people and a lot of money to pull off. The organizers had to raise over $6,000 to cover the cost of a sound system, security to keep all marchers safe, permits, insurance (which has tripled in cost since 2017) and equipment required by the city. All extra proceeds — $1,892 — were donated to Planned Parenthood South Atlantic.
Marie-Line Germain, lead organizer of the Women's March on Asheville, said the momentum of the march and the movement has not been lost. In fact, RSVPs to this year's march was almost 14,000 — about 4,000 more than in 2017. She said she's seen an increasing number of men and Millennials show their support for women's rights, human rights and for justice, which she sees as a sign that democracy is well and that more people are becoming civically engaged as the 2020 election approaches.
"It is not by chance that Western North Carolinians and folks from out of state left their cozy homes to attend the Women's March on Asheville this year despite the arctic temperatures," Germain said. "They clearly see the impact marches and other movements such as MeToo have had. There are more women in Congress than ever before, hundreds of companies have created or strengthened their sexual harassment policies and there are already four women in the 2020 presidential election race."