Archived News
Halfway home: pink hat marchers soldier on
Wednesday, January 30, 2019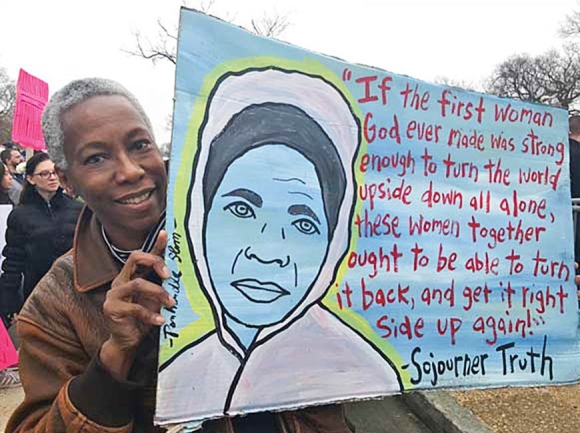 Omkari Williams marches during the 2017 Women's March on Washington. Cory Vaillancourt photo
A little over two years ago, I woke up in Alexandria, Virginia, less than 24 hours after the inauguration of the nation's 45th president.
The day before, I'd stood on the west front of the capitol building and watched Donald Trump take the oath of office in the presence of four former presidents and thousands of red-hat clad supporters who were all grateful that it was their guy, their agenda, their time.
That next morning, after about two hours sleep — there was an urgency, an electricity in the air that made it hard to unwind — and a foggy drive through Foggy Bottom, I encountered energy of a different sort as I joined half a million people massing to march in opposition.
It was there that I met three women with vastly different backgrounds who'd come from afar and shared with me their hopes for and concerns about the new administration; they worried about the rights of women, the safety of the LGBT community and the dignity of people of color.
A year later, in January 2018, I checked in with them again to find that although little had changed legislatively, the fear over what might come to be hadn't changed much, either.
Now, halfway through his first term, President Trump has finally made some halting progress on that agenda, passing a substantial tax cut, neutering Obamacare and forcing a government shutdown over border wall funding. And he's still got at least two years to go.
"I couldn't have imagined how bad it was going to be. I really couldn't have," said Omkari Williams, a life coach who travelled with a group from Savannah, Georgia, for the 2017 Women's March in D.C.
Williams effectively speaks for Amie Tyner, a veterinary technician from Asheville, and Jane Pickett, a filmmaker and professor who splits her time between Los Angeles, Atlanta and Lake Junaluska.
"It's been a rocky ride," said Pickett. "I feel simultaneously grateful that it hasn't been worse and yet horrified by all that has transpired — sweeping tax reform that benefits the super-rich at the expense of working families, a spiraling national debt, slashed regulations with full disregard for the science of climate change, conservative lifetime appointments to the high and lower courts, an enforced anti-immigration policy that separated children from parents … America seems to be surviving, but not thriving."
Tyner, who identifies as a member of the LGBT community, said that she remains wary of how Trump might affect the hard-earned rights of that community.
"Everybody's always afraid that rights are going to be taken away, marriage rights, things like that, or that it gives more of these groups the OK to bash us," she said. "There's just a little more fear, especially coming from the previous administration, which was supportive and proactive in trying to make everybody feel equal. Now, they're making nobody feel equal."
It's perhaps that feeling, that fear, that has been Trump's most concrete legacy to date — it certainly isn't his list of accomplishments, which as yet are few. Aside from the transgender military ban, actual actions against women and minorities have been mostly nonexistent.
"What he has done is unleash forces that are so destructive and so damaging in ways big and small that they're going to be hard to put back in the bottle," Williams said. "I don't think there wasn't racism before Trump, because obviously there was, but it wasn't socially acceptable. People had to curb, at least in public, their most revolting instincts, but now they've been given free license and that's really dangerous."
Last year, all three women marched in one of the dozens of commemorative Women's Marches nationwide, like the one held in Asheville on Jan. 19, but this year, only Pickett did.
"From the inside, it's really good to know that you're not alone in a fight," said Williams. "From the outside it's really good for the people on the other side to understand that there are huge numbers of women who are interested in these things and passionate about these causes, and they are not going to stop. But you can't only march. You have to go home and do something."
Williams said that over the past year, she's more been active in her community on a grassroots level, championing Planned Parenthood and warning of the threat posed to Roe v. Wade by a Supreme Court now stacked with staunch conservatives. Pickett, meanwhile, has begun donating her time and professional expertise by producing campaign spots for candidates and centrist-oriented third parties.
Democrats have already started lining up for the right to oppose Trump's presumed reelection bid in 2020, and there's great hope among Pickett, Tyner and Williams that he's limited to a sole term. While it is still early in the process, all three seem to agree that the best chance to accomplish that doesn't rest with Hillary Clinton or Bernie Sanders.
"I just think we'd be repeating 2016," said Tyner. "I think [Sanders] was hurtful. I mean, take it back to Gore, Bush and Nader. It's the same issue."
Sanders is expected to announce his candidacy any day now, and Clinton's said she's "keeping the door open" to what would be her third attempt at becoming the first female president. Even if she doesn't run though, there's still a chance that glass ceiling could be shattered this time around.
"I'm kind of excited about Kamala Harris," said Williams of the former attorney general and current senator representing California. "She's very smart, she's tough, which I really appreciate, and she is someone who is compelling. I think that's really going to be important."
Harris seems to be an early favorite in a crowded field that looks like it will be perhaps the most diverse ever offered to voters.
"I'm curious about Pete Buttigieg," Pickett said. "I'm intrigued by his experience as mayor of a struggling small city and how part of his success has been about admitting that old factories are not going to reopen and how he transformed his economic model to focus on higher education, technology and health care."
Buttigieg is also the first openly gay candidate to run for president, and joins New York Senator Kristen Gillibrand, Kansas Senator Elizabeth Warren and New Jersey Senator Cory Booker as 2020 hopefuls, possibly along with former Vice President Joe Biden, Clinton and Sanders.
Pickett, though, remains hopeful that the very object of Trump's affection — publicity — could prove to be his undoing, regardless of who the Democratic nominee might be.
"Public engagement in politics feels more alive than ever," she said. "The reckoning we've seen through the #metoo movement as women have spoken up about their experiences with sexual assault led to some corrosive predators being brought to justice, and a record number of female candidates stepping up to run for office. The Democrats have taken back the House, and new developments in the Mueller investigation have restored some faith in our system."