Archived News
Run, Forest, run: Lt. Dan declares for governor
Wednesday, January 30, 2019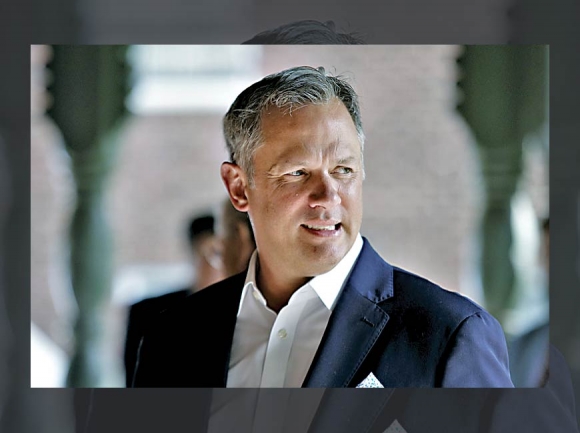 Dan Forest.
An architect by training, North Carolina Lt. Gov. Dan Forest became only the second Republican in the last 120 years to be elected to the post when he defeated Democrat Linda Coleman by less that two-tenths of a percent in 2012. Four years later, in 2016, his victory over Coleman was much more decisive, but Gov. Pat McCrory's narrow loss to Rocky Mount Democrat Roy Cooper created an unexpected opportunity for the state's highest-ranking Republican.
On Jan. 28, Forest announced he was forming an exploratory committee, which he called a "soft declaration" of his intentions to seek the Republican nomination for governor in 2020, but he already has some solid backing.
"Dan Forest has served the people of North Carolina admirably and fought for pro-growth, pro-family policies that make North Carolina one of the best states in the country," said Rep. Mark Meadows, R-Asheville. "He's no stranger to the people of the Eleventh District and understands that Western North Carolina is not Charlotte or Hickory. He'd be an outstanding choice for governor."
Forest called The Smoky Mountain News Jan. 29 to explain why he'd be an outstanding governor, giving his thoughts on economic development, health care and the whole "Forrest Gump" connection.
Smoky Mountain News: Western North Carolinians seem to have a bit of an inferiority complex – they feel overlooked and underappreciated by Raleigh. How does a governor like you bridge that gap?
Dan Forest: I think generally what happens is if you are west of Interstate 77 or east of Interstate 95 you feel that way, but from a legislative perspective I would say the majority of legislation is focused on rural North Carolina, believe it or not, as is the majority of conversation. A lot of people just wouldn't know that.
With that being said, how I would bridge that is that you get out there, you go there. When I first campaigned I think I went to Yancey County seven times and they told me they had never seen a candidate for governor or lieutenant governor ever show up there. We hit all of Western North Carolina and Eastern North Carolina multiple times, and you just have to show people that you care, and not just ask for money and leave.
SMN: Similarly, North Carolina is unique in that there's a marked difference in poverty as seen in urban versus rural settings. What does economic prosperity look like in rural NC?
DF: That's been the million-dollar question for decades all across America, not just North Carolina – how do you allow the urban populations to continue to grow? Because they're going to as big corporations move there. But how do you connect these rural populations to the urban core? Because that's where the jobs are generally going to be.
One of my focuses will be growing agriculture in our state, but I also think we need more food manufacturing in production in our state. About 85 percent of our state is rural now, and the majority of those communities are agricultural communities, so I say, "Dance with the one that brung ya." Let's not act like we need to have high tech internet jobs in every rural community. These food manufacturing jobs are high tech, high-paying manufacturing jobs now.
SMN: Conservativism is a spectrum. Where do you fall on that spectrum, or what would you call your core beliefs as a conservative?
DF: I think I fall on the line of traditional American family values. I believe in the importance of family, the importance of keeping families together and kids being raised in a family. I think statistically across the board, every study that's ever been done will tell you that a child being raised by mother and father in a loving home goes a long way to success of that child down the road, keeping them out of poverty and off drugs and having babies too early and all those kinds of things. The breakdown of families is a tragedy in America right now. I have a conservative Christian worldview, so things get filtered through that lens for me.
So I'd say I'm fiscally and socially conservative across-the-board. I want to make sure that the people know that I know that it's their money. There's no "government money" out there. Anything that comes into the government that they're spending is coming out of your pocket, and we need to be very fiscally conservative as to how we spend your money, because people are giving up the fruits of their labor to support government activity. I think the government should be limited in what they do. That's gotten out of hand over the last couple of years, but we've done a good job in North Carolina keeping it all reigned in. Government shouldn't do everything.
SMN: Is health care one of those things?
DF: That's obviously going to get debated. There's no way you can talk about Medicaid in the sound bite, and I don't think people should say, "Hey, Medicaid for all, let's march forward!" What is the cost of that? Is it a dollar or a trillion dollars? What's the criteria for Medicaid recipients? What services are being provided? Are those services actually any good? There have been many studies that say Medicaid health care services are far inferior to other health care services. Why would we tolerate that? We need to make sure that people have good reliable health care, and you really can't talk about Medicaid or health care in the abstract. I think you need to talk about it with real specifics.
SMN: What do you feel like Gov. Cooper is going to come at you with if you indeed end up becoming the Republican nominee?
DF: Everything except the kitchen sink. I mean I don't know, but that's kind of how politics works these days. You'll see every false narrative out there about who you hate and what groups you don't support in what things you don't stand for, but it's all built on a bunch of lies. What we've seen so far, taking partial quotes out of context, reorganizing them and then creating some narrative about what I said. That's the game. That's the way politics works, so I'm assuming that's going to be done, but our message is about bringing people together. I think people not just in North Carolina but all across America are tired of all this divisiveness. They're tired of the hatred they see on social media, they're tired of being flamed by family and friends over a political belief.
SMN: That's a good segue, to media and social media – how do these Forrest Gump jokes sit with you?
DF: Oh I love Forrest Gump jokes, are you kidding me? The first campaign there were a bunch of people that said, "Run, Forrest, run," and we named our bus Bubba, that was all us. We brought it all on. The whole point of politics is name recognition. I've been traveling around the state for six years and people will say, "Oh you're the run Forrest run guy," and people call you "Lieutenant Dan" when you're the lieutenant governor and all that kind of stuff, so it's great. If that's what helps people remember my name, then go for it.