Archived News
Author with Bryson City roots publishes RBG biography
Wednesday, January 30, 2019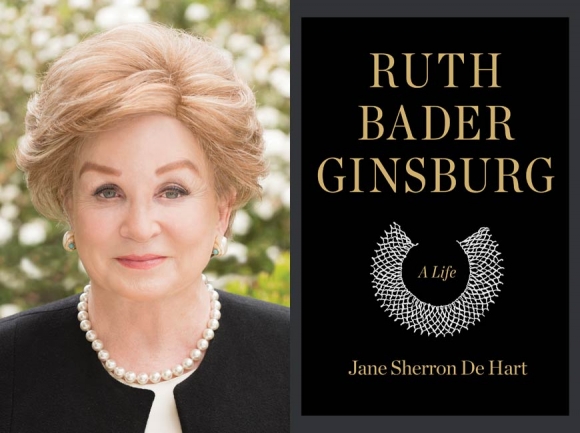 Ruth Bader Ginsburg — A Life Written by Jane Sherron De Hart.
Born of the same generation but in different parts of the country, Jane Sherron De Hart and Ruth Bader Ginsburg traveled on oddly similar parallel paths. Those paths would eventually cross as De Hart's 15 years worth of research on the Supreme Court Justice recently became the most comprehensive biography of Ginsburg's life and law career.
Based on research into Ginsburg's groundbreaking litigation for the ACLU, her time on the highest court and De Hart's nine personal interviews with her, the book gives great insight into a side of the icon the public has never seen.
De Hart, only three years younger than Ginsburg, grew up in Bryson City during the 1940s while Ginsburg was coming of age in Brooklyn, New York. As different as those places are — and were at the time — both women were raised by strong, independent women who instilled those same qualities in their daughters at an early age.
While Ginsburg went on to teach and practice law and would ultimately become the 107th Supreme Court Justice as well as a pop icon, De Hart would go on to be a history professor, author and a pioneer in the emerging field of women's history and gender issues, retiring from teaching at the University of California at Santa Barbara.
More importantly, both women were able to find success in their fields while navigating a male-dominated world and building strong legacies. Ginsburg's legacy is now well-documented in De Hart's 723-page book, Ruth Bader Ginsburg — A Life.
Growing up
De Hart was born in Asheville in 1936. Her mother, Ruby De Hart, originally from Durham, had been a public school teacher when she married Horace De Hart of Bryson City in the midst of the Great Depression.
Ruby attended Trinity College at Duke University and Horace had plans to be a doctor when he went to Vanderbilt University.
"He wore what I called Coca Cola bottle lenses and when he went to Vanderbilt he discovered he wasn't able to do the lab work he needed to do," De Hart recalled.
Horace ended up attending Chapel Hill instead, but De Hart said her father's real interest was in the stock market and investments. Back in that day, it was legal to take out a loan from the bank to buy stocks, which is what Horace did.
"He could remember what stocks he bought until day he died," De Hart said. "And I remember he read the Wall Street Journal every day because at that time he didn't think the Asheville paper was a terribly good paper."
Horace and Ruby eventually moved back to Bryson City so Horace could take over his father's mercantile business.
"This was during the Depression when jobs were scarce — married women were no longer allowed to teach on the grounds that the jobs needed to be spread around to the men, but my mother was a very intelligent and enterprising woman and belonged to community organizations," she said. "I had always thought she was perfectly contented with her life until one point after I published a book on women's history, she and my father read it and we were together one day and I said, 'Was there anything outside the home you wanted to do?' She said, 'Yes, I wanted to go to Raleigh — I thought I'd be a much more effective legislator than the ones there.' But she knew she would have difficulty getting elected because my father's family were Republicans as were many people in eastern Tennessee and Western North Carolina in the wake of the Civil War."
De Hart said her childhood in Bryson City was a happy and thriving one. Her mother read books to her and taught her to read even before she was old enough to enter first grade. She and her younger sister spent a lot of time with their grandfather, who owned horses and stables in town.
"We rode horses a lot together up in the (national) park area when Fontana Dam was built to deal with the floods sweeping through," she said. "I do remember my grandfather would complain about the combination of the park being created and the dam, it took a lot of land away from the county that was previously used for timber and that sort of thing. I felt the county ultimately benefited as a result of it, but he felt it had set back the economy at the time. It was really a poor area."
Even though her family was better off than many others at the time, De Hart said her mother always tried to make her see things from others' perspectives. The first time De Hart watched "Gone with the Wind" she commented on how wonderful it would be to live on a plantation like Tara where she could ride her horse around all day.
"My mother said, 'why do you think you'd be the daughter of a plantation owner? What makes you think you wouldn't be the child of the undertaker or a slave?' She had a very firm grasp of history and class and was not into the Old South beliefs," De Hart recalled. "She was a very matter-of-fact kind of woman."
Education
By the time De Hart was ready to enter high school, her mother was serving as the chairwoman of the school board in Swain County, which made it somewhat controversial that she chose to send her daughter to an all-girls private prep school in Virginia. Her parents had hopes their daughter would go on to one of the seven sister women's colleges in the Northeast, but De Hart said she grew tired of the all-female environment and decided to attend Duke University like her mother and study history.
When it came time for graduate school, she received two fellowships — one that would pay her tuition for one year anywhere she wanted to go and one that would pay her tuition for the entire program but with the condition she study at the southern university. She was accepted to Harvard but decided to take the Carnegie fellowship and continue her studies at Duke. De Hart would eventually become a history professor at Chapel Hill as well as director of women's studies.
"When I first started out out as a historian, there was no such thing as women's history or gender studies — I became an American political history professor and wrote my first book on one of the New Deal WPA (Works Progress Administration) projects," she said.
WPA wasn't just for blue-collar jobs — there were also WPA art projects — which is what De Hart decided to focus on for her Ph.D. thesis work. She researched the federal theater project and the difficulties of producing first-rate theater within a government bureaucracy, especially during a time when most people in the fine arts world were suspected of being part of the Communist Party.
"The theater project was directed by an extraordinary and interesting woman Hallie Flanagan — she was a real force and also the mother of a grown son and also a stepmother. Her husband was a professor at Vassar College, where she had been a theater director," De Hart said. "I had access to her correspondence with her husband and was really fascinated with how a woman with a full-time public job was able to combine her private life and her work life. While that was something I couldn't really talk about in the book — I would have been told it was not appropriate — I was really fascinated by the public/private interface and it's something I explored more fully in the Ginsburg book."
Researching Ginsburg
Chronicling the breadth of work of an 86-year-old feminist pioneer who is still a sitting Supreme Court Justice is a tall order — the project took De Hart 15 years to complete.
Her research into Ginsburg's work started while she was still living in North Carolina — long before the idea for a book came up. The U.S. Senate had passed the Equal Rights Amendment in 1972. It was designed to get rid of gender-based discrimination against women, and had to be passed by 38 states in order to become a part of the Constitution.
So there were ERA battles throughout the nation, including North Carolina.
"It was clear ratification in North Carolina was going to be significant fight. I decided I wanted to look at that both as a historian and as a participating observer, so I decided to write that book," she said.
As she examined the politics behind passing the ERA, De Hart also saw firsthand the inequality women were facing during the time and had to find ways to work around it. She wrote an article about the difference gender made in the political process by interviewing different politicians. She interviewed members of the General Assembly as well as women who were against the amendment.
"I went to the lieutenant governor to help me divide the legislature into people who would talk to me honestly and those who wouldn't because I'm a woman and because they would clearly assume I'm a feminist," she said. "My husband at the time was an American religious history professor, so we asked ourselves who in the legislature should we interview together and who should he interview alone — it was a very helpful strategy."
Ultimately, the ERA failed in North Carolina by two votes. At that time, De Hart knew passing an ERA amendment was just one part of a two-pronged approach to ending gender-based discrimination — the other approach was finding a test case that could be litigated and that could convince the Supreme Court justices that discrimination violated the Equal Protection Clause of the Fourteenth Amendment of the Constitution.
"And it turned out Ginsburg, under the ACLU, was the person who did that successfully," she said. "So I moved on and began looking at the ACLU litigation."
De Hart got her hands on the case files for Ginsburg's ACLU litigation — though it included a wild goose chase from the ACLU library, Princeton's law library and eventually to Ginsburg herself to get access — and embarked on what would be 15 years worth of research.
"When I finally got a hold of those and went through all the case files, I thought, 'I have to know more about the forces that shape this woman,'" De Hart said. "How she acquired the strategic skills and her vision of what feminism involved and the absolute perfectionism and unwavering persistence that enabled her to carry out this litigation."
She then began to examine Ginsburg's formative years, a part of her life that has remained somewhat of a mystery because of Ginsburg's private nature and because of the painful memories of her mother's death. Every time De Hart thought she was nearing completion of the book, her editor told her to keep going.
"We wanted the full arc of her life, but at one point I had to say, 'Look, Ruth is going to outlive me if I don't publish this book soon," De Hart said.
When the book was finally released in October 2018, De Hart couldn't have imagined how Ginsburg's popularity would grow over the 15 years. Now there is a major motion picture about her — "On the Basis of Sex" — and numerous books based on her work, including "Notorious RBG."
"It turned out the book came out at such a good time. It's so unusual for Supreme Court justices to become pop icons or celebrities — and Ruth certainly was not a likely personality to become that because initially she was a rather private, reserved person," De Hart said. "She was a workaholic devoted to her family and it just didn't fit the image."
So what changed? De Hart said as the makeup of the court changed throughout the years and as Ginsburg issued more and more dissents from the bench, her reputation to stand firm on issues garnered more attention from the public, especially with a younger generation of progressives and feminists.
When examining Ginsburg's legacy and contributions to society, De Hart said her impact has been immense.
"Her most important dissents are certainly part of her legacy — she was really speaking to the future and to encourage public debate about the issues that were being litigated," she said. "And I would certainly say her early litigation on behalf of gender equality under the Equal Protection clause has literally changed the law and legal doctrine, which has been an enormous contribution."
Aside from her own legal work, De Hart said Ginsburg has been an amazing mentor to her own law students and clerks and a role model for men and women alike. Even in her bold line of work, Ginsburg was able to work with people on both sides of an issue. She believes in equal rights and feminism, but never did try to disguise her femininity.
"She was not a protestor who chose the streets as her venue for climbing her leaps — she was a pioneer — but she certainly subscribed to a lot of beliefs more radical feminists held," De Hart said. "In my chapter about her feminism, I talk about how she used her anger and demonstrated her sense of injustice in a different way."
However, she said Ginsburg's way of leading change isn't the only way. She still sees marching in the streets as a necessary way to have public opinion be heard.
"She couldn't have gotten as far as she did if the climate hadn't been changed by the large protests that had built up over the '60s on feminist issues, and she understands social movements are really essential for initiating change," De Hart said.
It's those changes in public opinion and the demands of people who have been marginalized that create the atmosphere in which Supreme Court justices make their rulings. Even though society makes progress, De Hart said, each generation still has to fight to hold on to that progress.
"We thought in 1973 we had won on reproductive rights, but if you look at it now you can see how badly those rights have been eroded," she said. "In spite of huge gains, there's still not gender parity in Congress or in the high levels of business so there's still a lot to do. Ginsburg strongly believes you can't take your rights for granted."
Ruth Bader Ginsburg — A Life Written by Jane Sherron De Hart. Published by Penguin Random House. Order at www.amazon.com/Ruth-Bader-Ginsburg-Jane-Sherron/dp/1400040485