Archived Outdoors
'Wild West' agriculture: N.C. Extension tests out cannabis production
Wednesday, January 23, 2019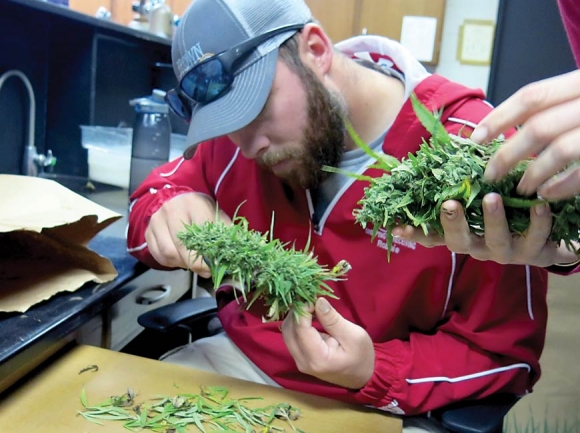 Haywood County Extension Agent Rob Anderson trims buds for CBD trials. Donated photo
Jeanine Davis has spent more than two decades researching new and emerging crops in North Carolina, but she's never experienced anything like the hype surrounding hemp.
"I've always gotten a disproportionately large number of inquiries just because there aren't a large number of people across the country that work with the crops I work with," said Davis. "Taking on hemp has taken it to a whole new level."
Davis, who holds a Ph.D and is an associate professor and extension specialist with the N.C. State University Cooperative Extension Service based in Mills River, has been receiving calls and emails in such volumes that she can't keep up with them — last week alone, Davis recorded five pages of phone calls in need of returning and hundreds of emails. And all that considering that she has several employees helping her with the correspondence. Davis is working to train other extension agents in the facts and issues surrounding cannabis, and statewide a variety of organizations are hosting informational meetings on the crop.
"They're taking place all over with extension, with the N.C. Department of Agriculture and a whole bunch of them by private companies, growers who are trying to set up their own business and are offering to train growers," said Davis. "Each one of those meetings is probably having 100 people or more."
All that excitement has sprung up quite quickly, and over a crop that still has surprisingly little research behind it.
Cannabis — the scientific name for the plant that can be grown to produce grain, fiber, CBD oil or a psychoactive drug — has long been under a blanket ban in the United States. A cannabis plant grown to yield CBD oil or fiber would be basically useless to someone looking to get high, but until recently growing any form of the plant was illegal.
The 2014 Farm Bill began to change that, allowing pilot programs and research on industrial hemp, with the 2018 Farm Bill opening it up to licensed growers. In 2017, N.C. Extension grew its first test plots of hemp under the 2014 Farm Bill, but ran into some unforeseen roadblocks. It took longer than expected for the seeds to come in, as they had to be imported and then make it through the Drug Enforcement Agency, so most locations were late to plant their crops.
That first year, the Waynesville test plot was hands-down the state's most successful plot, as the cooler mountain temperatures allowed the plant to thrive even with the late planting.
"We were able to show that given the right conditions, we can grow really beautiful grain and fiber hemp," said Davis.
Last year, N.C. State conducted grain and fiber trials again but also added CBD hemp trials to its bag of tricks. Most of the CBD plants were at the Mills River station, but a smaller plot was grown in Waynesville, mainly to allow for law enforcement training out that way. While hemp grown for grain and fiber is planted close together like corn, CBD hemp looks a lot more like recreational marijuana when it's in the field — the test plots allow law enforcement workers to see what a licensed grower's field would look like and how that would differ from a more illicit operation.
Davis has learned a lot in the past two seasons, but there are still plenty of unknowns.
"Whether this plant should be grown on raised beds with plastic mulch like tomatoes or on an open field like tobacco we don't really know yet, so that's one of the things we want to look at this year," said Davis. "My gut feeling is the grower should use the production system that he or she is most familiar with using."
Various mulching, fertility and pruning practices still require research, and there are other problems, too. Such as, how should growers deal with pest and disease issues?
"Not only have we not done the research to find out what works, but even if we did we couldn't technically say, 'This is what you spray,' because it's not legal. We have to work through it," said Davis.
There's also the question of how the plant will ultimately be grown — outdoors, in greenhouses or indoors?
"All of our production has been outdoors at this point," said Davis. "There are a lot of growers that are producing in greenhouses and some in totally indoor growth situations where it's all under artificial lights and everything is tightly controlled. If you talk to different people you're going to get tremendously different opinions on what's going to be the way to go in the future."
In Davis' view, the answer to that question could be different depending on what the end use of the plant is. If CBD oil is eventually grown at a pharmaceutical grade, then it might be produced indoors so as to be completely environmentally controlled. Other uses, like food supplements, grain or fiber might make more use of field and greenhouse growth.
CBD hemp plants grow in the foreground during a hops and hemp field day held at the Mills River research station last summer. Donated photo
Interest in cannabis production has been aggressive and diverse, with everyone from alternative agriculture organic types to traditional farmers asking Davis for more information.
"This is where I think people can really help each other," she said.
Someone who has been farming their whole life would have a lot of information to share with someone who is newer to agriculture, while some of the newer growers would likely have a better understanding of how best to market the crop. But for both parties, she said, caution is important.
"There's a lot of hype with that out there, making it sound like you can make tens of thousands of dollars the first year you produce the crop," said Davis. "My role as someone who has been working with new crops for a long time is, take time to learn how to grow any crop."
It takes time, too, for the infrastructure to develop surrounding a new market.
"If we're going to do the grain, if we're going to do the fiber, we'll need more places to process that," she said. "People can't grow fiber and make huge bales of it and drive it all the way across the state and make money in it. Fiber just doesn't pay that much."
CBD hemp is the type that's currently yielding the highest prices, but growers will need to better learn how to get that oil from the plant while maintaining a consistently high quality of product. The market on the buyer's end will also need time to develop.
"What I came to understand last year was people were promising they would buy your crop, but their companies were so new they didn't have the money behind them to buy it right off," she said.
At this point, Davis' best advice for growers is that they avoid investing more in this crop than they can afford to lose.
But along with caution, there's hope.
Davis is used to being the "lone ranger" in the crops she works with, often the only one statewide doing serious research on them. There have been times when she thought she had something promising but needed help from other disciplines, such as soil science or pathology, to bring it home, and it's been hard to convince those scientists to get involved.
This time, it's different. Faculty from a cross-section of disciplines and locations in North Carolina are also investigating hemp.
"It's really exciting," she said. "We have meetings and there's a lot of us sharing what we're seeing across the state. We might develop information a little faster than we have with other crops just because of that."
"You're going to see so much going on this year," she added. "It's really kind of the Wild West out there."