Archived News
Mission Health sale cleared by AG Josh Stein; Contract negotiated to address concerns
Wednesday, January 23, 2019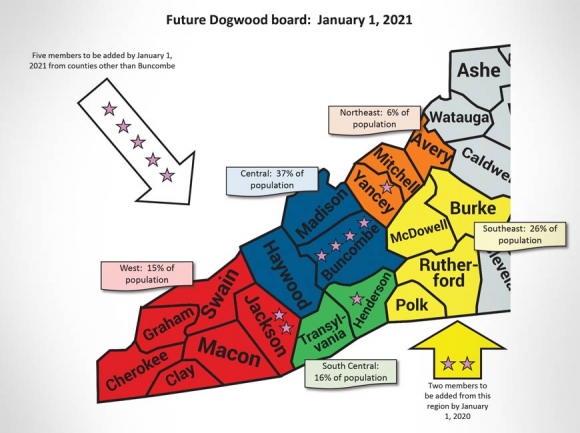 Those who were unhappy with the original terms of the proposed sale of Mission Health to a for-profit heathcare giant got some relief last week.
During a Jan. 16 press conference in Asheville, North Carolina Attorney General Josh Stein said he completed his review of the pending sale of nonprofit Mission Health to HCA. Stein's office analzyzed thousands of documents that included responses to questions from his office to Mission, HCA and the new health care foundation Dogwood Health Trust
Stein's office also retained an outside expert to provide an opinion about the fairness of the price — a proposed $1.5 billion — that HCA will pay for Mission's assets in this transaction. Two experts hired by Mission Health concluded HCA is paying a fair market value for Mission's assets.
Lastly, Stein negotiated with Mission, HCA and Dogwood for a more favorable outcome for the people of Western North Carolina that Mission Health represents.
Stein said he did not oppose the negotiated asset purchase agreement in which HCA agreed to extend its promise from five years to 10 years to provide the current services offered at Angel Medical Center in Franklin, Blue Ridge Regional Hospital in Spruce Pine, Highlands-Cashiers Hospital, Mission Hospital in Marion and Transylvania Regional Hospital in Brevard.
HCA also agreed to have an independent monitor to oversee compliance of its promises for the future of Mission Health. HCA would have to get approval from this independent monitor and a local advisory board if it wants an exemption from its promise to provide services at the local hospitals or if it wants an exemption from promised charity care.
"As a result of these changes, HCA is limited in its ability to cite government actions or economic downturns as a basis for waiver of HCA's promises," Stein wrote in a letter. "Buyer has now also made a contractual representation that it has no present intent to invoke Force Majeure."
While HCA has stated it has no intent to discontinue any services or sell a hospital within the next 10 years, if HCA does decide it wants to sell any of the local hospitals, Stein said the company has now agreed to give the regional foundations first bid on their respective facilities.
HCA also agreed to build a 120-bed inpatient behavioral health hospital in Asheville and it may not reduce the scale of that much-needed project. Another major benefit to the region is HCA's commitment to spending at least $14.28 million for community service programs, including $7.5 million over the next 10 years along with $6.78 million in the next year to support specifically named projects.
As for Mission's current employees, Stein said HCA has agreed that employees transferred from Mission Health to HCA will, if let go within a year after the closing, receive information about HCA job openings across the country. If the employee is rehired within a year, the will be able to keep their seniority within the company.
North Carolina law will apply to these key HCA promises in the event of a legal dispute and any disputes will be handled in N.C. Business Court and not through arbitration.
Dogwood Trust
When a nonprofit system is sold to a for-profit system, a new health care foundation must be created to receive the proceeds from the sale. While the region is set to benefit from those funds that are to be used to improve the health and wellbeing of WNC's population, communities outside of Asheville had expressed concern over the makeup of the board and whether outlying communities like Franklin and Highlands would have fair representation on the board.
Even though the transaction isn't complete, The Dogwood Health Trust has already been established and a majority of members appointed so far are from Buncombe County and have previous ties to Mission Health's Board of Directors. Out of the 11 people appointed to the board thus far, only a couple reside west of Buncombe — Michell Hicks, former chief of the Eastern Band of Cherokee Indians, and Sam Lupas, a Cashiers real estate broker and developer.
Through Stein's negotiations, the foundation agreed that by July 1, 2019, the board will have no more than 50 percent of its members residing in any one county. Two of its Buncombe appointees will not seek re-appointment at the end of 2019 and one other Buncombe appointee will not seek re-appointment at the end of 2020.
By that time, the board will include at least one member from the five regions of its local hospitals. The board will not include any member who is an employee or has a business relationship with HCA or is a member of the Mission Health board.
"Dogwood agreed its board will fairly reflect the diversity of population of Western North Carolina by January 1, 2020," Stein's letter stated. "We recognize that the Dogwood board has changed from having no people of color to including, as of the date of this letter, 27 percent people of color."
In an effort to make the foundation more transparent, Dogwood agreed to conduct a national search for a qualified executive director using an executive search firm and agreed to host three public meetings in 2019 to discuss the needs of the region and to get input on top priorities. Dogwood must also provide an annual report to WNC detailing its focus areas and how funding is being spent.
"Dogwood has agreed to spend $25 million over five years to fund programs and services dedicated to addressing substance use disorder for residents of Western North Carolina," the letter states. "This money will be spent in conjunction with programs developed by the North Carolina Department of Health and Human Services."
For more details about the negotiated purchase agreement, visit www.ncdoj.gov/news-and-alerts/news-releases-and-advisories/attorney-general-josh-stein-does-not-object-to-mis.aspx.