Archived Outdoors
Funding conservation: Federal program's expiration impacts local land trusts
Wednesday, January 16, 2019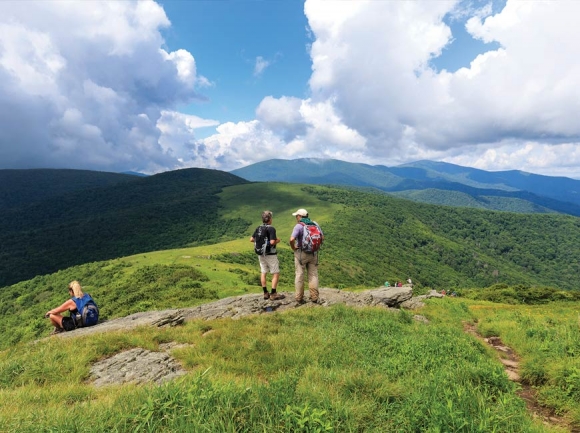 Hikers take in the view from Hump Mountain on the Appalachian Trail. Don Pugh photo
On Sept. 30, 2018, a program that's been pouring money into land conservation for more than 50 years expired. And despite bipartisan support, efforts to reauthorize the Land and Water Conservation Fund have so far failed.
"A program like LWCF should not be subject to these crazy swings in politics and funding," said Jay Leutze, vice president of the Southern Appalachian Highlands Conservancy Board and a spokesperson for the Land and Water Conservation Fund Coalition. "This just creates chaos.
"Public lands work requires steady, predictable funding because it involves real estate transactions. We can't negotiate in good faith with sellers of land if we have to say, 'OK, if the government shuts down all bets are off, and would you mind waiting several months to several years for us to fulfill the terms of the contract because the government can't get its act together?'"
The Land and Water Conservation Fund was created in 1964 to protect natural areas using revenues from offshore oil and gas extraction. Every year, the fund received $900 million in royalties paid by energy companies drilling for oil and gas on the Outer Continental Shelf to conserve land, support parks and recreation projects, and protect wildlife and drinking water — though in the years since its inception many of those dollars have been diverted for other purposes. The initial legislation was good for 25 years, and the program was renewed for a second 25-year period ending Sept. 30, 2015. It was then given a short-term extension for three years, but efforts to permanently reauthorize it failed to succeed before the program's sunset on Sept. 30, 2018.
Legislative tussle
There's support on both sides of the aisle for a reauthorized Land and Water Conservation Fund, with U.S. Sen. Richard Burr, R-NC, a strong supporter of the program — The Conservation Fund's North Carolina director Bill Holman called him its "Republican champion."
"The Land and Water Conservation Fund is a vital program that helps preserve America's parks, recreation sites, and natural landscapes, operating at no cost to taxpayers," said Burr in a statement to The Smoky Mountain News. "In fact, outdoor recreation is often a boon to local economies; in North Carolina it generates roughly $28 billion a year in consumer spending and helps support 260,000 jobs. We owe it to our children and grandchildren to make sure that our nation's most successful conservation program can continue its good work for generations to come."
However, attempts at reauthorization over the past year haven't gone much of anywhere.
According to Leutze, low enthusiasm from Congressional leadership is to blame.
"Republicans and Democrats were trying frantically to find language that would work for leadership so leadership would attach the bills to vehicles that were moving," said Leutze. "It's pretty rare anymore to get standalone bills voted on in Congress."
For a while, it seemed hopeful that reauthorization could be attached to the 2018 Farm Bill, but that didn't happen. And when spending debates broke down and degenerated into what has become the longest government shutdown in American history, renewal became even less imminent. The House, which now has a Democratic majority, did last week pass an interior appropriations bill that included reauthorization for the LWCF, but it's unlikely that legislation will gain support in a Republican-majority Senate that is holding out for a budget proposal that President Donald Trump would be willing to sign — that is, a budget that includes funding for a border wall.
"The LWCF is a great, very effective program," said Leutze. "It's been used successfully in every county and every state, but even with broad popularity the government is so dysfunctional right now that the Congress is having trouble passing even legislation that is very popular."
Since its inception, the program has provided $3.9 billion in state grants, funded more than 40,000 state projects and protected 2.37 million acres, according to its website. Support for it is widespread, but that support does not extend to the White House.
In his proposed 2019 budget, President Trump included zero funding for LWCF projects on national parks, national forests, national wildlife refuges and other public lands, actually proposing a negative LWCF budget in some areas — ostensibly, these divisions would need to make cuts in other areas in order pay the government the difference. According to Leutze, however, there is little support in Congress to actually slash the LWCF, with members seeking to fund the program at the current level of $425 million.
The Southern Appalachian Highlands Conservancy purchased this Lost Cove property in Yancey County in 2012, and in 2017 it was conveyed to the Pisgah National Forest thanks to Land and Water Conservation Fund dollars. SAHC photo
The three-legged stool
While LWCF money is typically just a part of the funding package used to protect any one piece of property, it's been vital to many of Western North Carolina's most significant conservation projects — and without the LWCF funding, other funding sources can be harder to come by.
"Conservation is kind of a three-legged stool," Leutze explained.
Most large projects tend to use federal, state and private dollars. If matching funds are required to unlock the state grant, then federal dollars can serve as that match — and vice versa. Private donors usually want to give to projects that are already being partially funded through public money, rather than attempting to pay for the project completely with private funds.
"Private donors feel very strongly that they should be supplementing public dollars and not replacing public dollars," said Leutze.
"Almost every major conservation project in Western North Carolina has got multiple sources of public and private funding," Holman added. "The Land and Water Conservation Fund really is critical to continue our conservation efforts in Western North Carolina and across the country."
For example, in a nearly 3,000-acre expansion of the Blue Ridge Parkway at Waterrock Knob, The Conservation Fund purchased land valued at almost $8 million, of which the LWCF provided $2.6 million. The landowner sold for less than the actual land value, and private donations rounded out the funding.
The Land and Water Conservation Fund was also pivotal in the 2018 creation of Headwaters State Forest in Transylvania County and in the ongoing protection of Maggie Valley's water source, the Campbell Creek Watershed in Haywood County. The LWCF has to date provided $2 million for the Campbell Creek Watershed through its Forest Legacy Program, with an additional $1.8 million to be appropriated should Congress and President Donald Trump agree on a budget. Of the $30 million value of the 7,000 acres included in the Headwaters State Forest, the LWCF's Forest Legacy Program provided $9.3 million, with remaining funds coming from the N.C. Clean Water Management Trust Fund, private donors and a landowner bargain sale.
"There would be no Headwaters State Park without the Land and Water Conservation Fund," said Holman.
The SAHC has used LWCF money to conserve Lost Cove in the Nolichucky River Gorge and plans on using it to transfer property alongside Roan Mountain on the Appalachian Trail to the U.S. Forest Service. Projects to be funded should the LWCF be reauthorized include $1.29 million for land along the Blue Ridge Parkway and $185,000 for the Overmountain Victory National Historical Trail, as well as $750,000 for land conservation in the National Forests of North Carolina and $1.8 million for the Campbell Creek project.
Implications for the future
The lapse in funding means not only that upcoming projects will take longer to accomplish but also that some may be in danger of not happening at all.
"It has slowed us down," said Holman. "We're less willing to take on properties during this uncertainty. The great thing about Western North Carolina is there are very many conservation-minded landowners, but if they want to sell their property for conservation they can't wait forever."
"It's all about confidence," Leutze added. "For us to buy a piece of land, since the federal dollars take some time to access, we usually have to borrow money to have a closing with the seller. The lenders want to know if they can have confidence that we'll be able to repay that loan. It's a real game of waiting, and it really depends on trust between nonprofits and federal agencies."
Land trusts will often purchase land outright if they're pretty sure grant funding will come through later, since transactions can happen more quickly that way than by waiting on grant cycles. But once the grant money arrives and the land in question is conveyed to a final owner like the U.S. Forest Service or National Park Service, the land trust gets some money back from the sale that it can use toward new conservation projects. The funding lapse has put a halt on that cycle.
"We donated almost 400 acres to the Forest Service in 2016, and that project left a lot of money in the dirt, clearly, but there are projects that don't necessarily fit that bill, that we look to the U.S. Forest Service to purchase from us," said Jordan Smith, land conservation manager for Mainspring Conservation Trust. "We might not get what we paid out of it, but we get something back in our coffers that we can turn around and invest in other projects to allow us to continue to conserve land."
So, while the drama plays out in D.C., local conservation organizations are left trying to predict an uncertain future.
"We're moving forward as if it's going to be funded, but there's no guarantee that it will," said Smith. "It's critical to these projects that it's reinstated and fully funded, and permanently funded."