Archived News
Waynesville steps up to address affordable housing crisis
Wednesday, January 16, 2019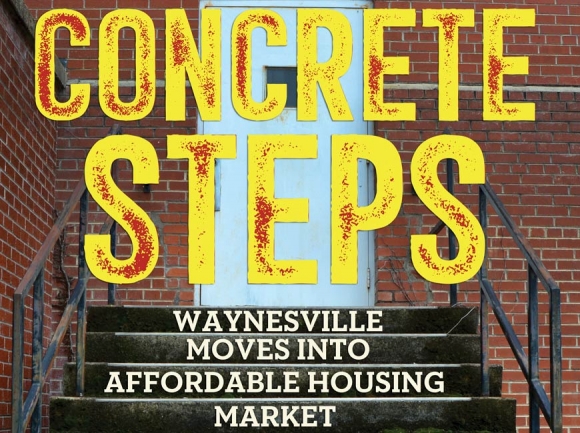 Like the region's opioid crisis, if Western North Carolina's affordable housing crisis could have been solved by meetings, panel discussions or task force recommendations, it would have been over long ago.
But last week, the town of Waynesville finally became the first Haywood County government to take concrete steps that could rid the county of a troublesome, underutilized asset — or liability, as some have called it — while at the same time transforming a blighted area just north of downtown into a vibrant, rejuvenated economic center.
Step One
On Tuesday, Jan. 8, each and every member of the Town of Waynesville Board of Alderman acquired a new title — members of the Waynesville Redevelopment Authority.
"The impetus was trying to achieve the redevelopment of the old hospital site," said Waynesville Mayor Gavin Brown. "It was built as the first county hospital in North Carolina in 1927."
That was a long time ago, and the old hospital's fallen on hard times since the last patients were discharged in 1977; subsequent attempts at redevelopment have failed due to the cost of the renovations necessary to make the structure — especially the two newer sections, located at the rear of the property — inhabitable.
Atlanta-based developer Landmark Asset Services has tried, and failed, on three consecutive occasions to qualify for tax credits from the North Carolina Housing Finance Agency, but it's not their fault; the process is highly competitive and ultimately comes down to a scorecard of sorts.
Despite the project receiving a perfect score last year, those tax credits still haven't materialized. Each time, however, Landmark and Haywood County have pursued the credits, with the county going so far as to give Landmark a purchase option on the property in the event those credits are awarded.
The old Haywood Hospital (left) sits at the center of a new redevelopment area in Waynesville. A Shot Above WNC photo
That happened again on Jan. 7 when Haywood commissioners gave Landmark the option to purchase the 3-acre hospital property for $225,000, contingent upon the credits materializing this coming August.
The purchase option came just in time for Landmark's Jan. 18 deadline to submit an initial application to the NCHFA, which demands developers have site control before submission.
Waynesville's act to designate its board of aldermen as a redevelopment authority also came just in time, as Haywood County Program Administrator David Francis said that the project could receive an even higher score if it were submitted as part of a redevelopment area as designated by a redevelopment authority, rather than as a standalone project.
"It allows them to get two bites at the apple," Brown said. "There's two different pots of money available, and they can apply for both simultaneously."
The regular route has been unsuccessful so far, but the odds aren't great to begin with — Francis said that last year, credits were awarded to just 30 projects, out of 200 applicants.
This year, for the first time, Landmark will be able to apply for adaptive reuse tax credits because the project is now in a redevelopment area. Two adaptive reuse projects received the credits last year, out of only four applicants.
"And if you are not successful in that pool, then you go back into the regular pool," said Francis.
State statutes authorize the creation of such authorities, which are often entirely new, standalone boards, like Waynesville's Historic Preservation Commission. But in smaller towns that don't have millions of federal dollars trickling down from above, that role is often filled by the existing board of aldermen or town commissioners.
The resolution, which "recognizes that blighted areas exist in a number of areas of the town," says that "the redevelopment of these areas is necessary to address deterioration and blight in the interest of the public health safety, morals, and welfare" of residents.
"A redevelopment authority has broad powers that are based not only on the statutes of redevelopment law, but also on the statutes that permit housing authorities to do their work," said Rob Hites, Waynesville's town manager. "The law permits municipalities to purchase land and actually construct whole housing developments either in partnership with nonprofits or even profit-making companies."
This is Hites' second time being involved in the creation of a redevelopment authority.
"When I was manager in Statesville, we had a blighted city block in our downtown that we repurposed and built a large two-acre civic center," he said. "So we used our authority as a redevelopment board to provide funds for the demolition of the blighted buildings and housing on the city block. "
Per statute, a public hearing was noticed and held, but no one showed up to speak either for or against it before it passed Waynesville's board of aldermen unanimously.
"We are just trying to repurpose it by turning it from an old hospital into affordable housing for veterans, the disabled and low-income people," Brown said. "So we as the redevelopment commission can designate that a blighted area."
Signs of decay dot both the exterior and interior of the Historic Haywood Hospital. Cory Vaillancourt photo
Step two
The Waynesville Redevelopment Authority, the first such authority in the area, wasted little time in acting; once duly constituted, it subsequently passed a resolution designating the old hospital, and the former DSS building across the street, as a redevelopment area.
"What we're finding nationwide is that right after World War II there was a circle around the downtown that was developed, and development has moved outward from that circle into what we call suburbs," Hites said. "But that first move after World War II, that area has become blighted all over the country, and redevelopment zones are being developed just outside the core downtown almost everywhere."
Waynesville's redevelopment area was designated Jan. 8 after another, separate public hearing was held during which no one showed up to speak either for or against the resolution before it passed the board of aldermen unanimously.
"When the hospital closed, its economic vitality started to lessen a little bit," said Brown. "It was a huge economic driver, and of course it created opportunities for people living in that area. When that sort of closed out and DSS moved out to the old Walmart building (on Paragon Parkway, in Clyde), that sort of left that area hanging, so to speak. And there are certain areas in there that have become notoriously known for having criminal activity going on, so that gives us two reasons."
Further, a one-half mile circle centered on the hospital was designated as a study area that consists of portions of several zoning districts, including the East Waynesville urban residential district, the North Main Street neighborhood center district, the Raccoon Creek neighborhood residential district, the Raccoon Creek neighborhood residential overlay and the Raccoon Creek neighborhood center.
"What a study area like this does, it gives you a broad area where you can do multiple projects. The redevelopment law does not just discuss housing, but it also talks about commercial development as well. I think it provides an opportunity to completely redevelop the area," Hites said. "A place like High Point might have five different redevelopment zones, and seven or nine projects within those zones. So we develop the zone, we study it, and then as the private sector or the nonprofits develop rehabilitation programs or new housing programs, then they may work in that area under our redevelopment authority."
Signs of decay dot both the exterior and interior of the Historic Haywood Hospital. Cory Vaillancourt photo
Step three
During that same action-packed Jan. 8 Town of Waynesville Board of Aldermen meeting, the town also passed a resolution pledging financial support to the old hospital project, including a $7,200 grant for tap fees, approximately $58,000 in water and sewer improvements as well as sidewalk construction not to exceed $106,842.
It's the fourth such proffer by the town and isn't notable in that regard except that it gives a peek at what working under Waynesville's redevelopment authority might look like for developers in the future.
But just as with the town's relatively new economic incentive policy, Brown and the board thought it best to codify the town's affordable housing policy so developers would be able to see all the cards on the table, and so the public would not get the impression that assistance was being granted willy-nilly.
"What we want to do is set criteria for providing funds or assistance to legitimate developers," said Brown. "They can come to us and say, 'Here is the cost of a finished product either for rent or for sale, and it's going to be $200,000.'"
In Brown's hypothetical example, if that price is $20,000 more than what an "affordable" housing unit should be — based on guidelines issued by the USDA, HUD or the state — the town would step in to fill the gap.
Hites, though, is careful to note that it's not just about handing out wads of cash.
"As you know, we run four 'businesses,' so each business could provide part of that subsidy," he said. "It could be the installation of water, sewer, electric. So it's not just the writing of a check."
Hites is uniquely qualified to spearhead the endeavor; during his long career in municipal government, he took six years off to work for a development company based in Greensboro.
"I'm still a general contractor and have been a licensed real estate broker, so I've actually been on the private market side of real estate," he said. "Having been in the development business from the purchase of land all the way through to the sale or rental of the last unit, I understand how real estate developments are put together and the pressures that are on the developer to come up with a price that fits the market."
Those challenges, he said, include the cost issues associated with site development in a county where flat land is scarce and rocky terrain makes grading expensive — when it's even possible.
"Site improvements are far more expensive here and the developable land, which is basically the valleys, is far more in demand than the flat plains of the Piedmont," said Hites. "So, the cost of land increases the cost of all housing and in that respect, and when you're trying to develop an affordable project, that would be something we would take into account when we review the financial documents that a developer would present for an affordable housing subsidy."
Signs of decay dot both the exterior and interior of the Historic Haywood Hospital. Office equipment sits in a hallway, ready for removal and recycling if the building is redeveloped. Cory Vaillancourt photo
The next step
The town's affordable housing policy has not yet been adopted; a first reading was conducted Jan. 8, and a public hearing has been scheduled for Jan. 22.
In short, the policy says that the town will consider, on a case-by-case basis, requests for incentives in furtherance of its goal of promoting affordable rental and owner-occupied housing within town limits.
"To be quite honest we haven't designed the economic model yet that we're going to use, but let's just say we have our first effort come to the board. Those funds would obviously come out of the general fund balance. Our fund balance is almost $5 million, and it's where it supposed to be. We may not be talking that much money in the overall picture," Brown said. "At the end of the day, we'll probably look at each project solely on its own merits, and then maybe refine it to have a pool of money in our budget every year for this type of project."
Applicants must either be a business, a nonprofit or a community housing development organization with a "successful track record in the development and construction of low to moderate income housing."
Requests will be evaluated based on the impact on the rental or sales price of the development, the tax value, the energy and economic efficiency of the floorplan, and the applicant's guarantee that the project will meet income guidelines.
The town will then determine the gap between the production cost and the rent or mortgage, and then town staff will assess the ability of the town to fill the gap and forecast payback due to increased property tax revenue.
"Our goal would be to recoup that money because of the increased tax value," Brown said. "In other words, if I have a blighted house paying the town $400 a year in taxes and then all of a sudden I have a $200,000 house which is paying $2,000 worth of taxes, I've increased my tax base. So at the end of the day, we also will recoup our investment. That's the plan."
It's a fairly straightforward plan that doesn't differ much from similar economic development policies, but it does offer a philosophical quandary that might present itself at the public hearing.
In a free market capitalist society, money isn't always spent on doing the right thing — it's usually spent on doing the most profitable thing. To that end, governments often step in when the free market cannot provide a solution to a particular problem because that solution isn't as profitable as those funding it would like it to be.
That produces an argument on the economic right that no government should ever compete with any private business, or pick winners and losers through incentivizing one project and rejecting another.
"I don't disagree with that, but there are certain areas of government activity that maybe in a particular situation you shouldn't be in," said Brown. "There isn't any reason to subsidize or spend taxpayer dollars on a service that is being rendered very well by the private sector. Going to the housing side of it though, I can tell you that Mountain Projects is no longer accepting applications for housing subsidies — Section 8 housing. They just don't have the units. So if you don't have the units, something's wrong with the free market system."
Counter-intuitively, Hites thinks property values in the study area could actually see a slight boost, thanks to the designation.
"The developer in me says it increases it because this is an opportunity," he said. "It provides the private market with a signal that they can come in and redevelop or even build new housing and offer it back to the community as an affordable project and know that they can have the government as a partner."
The appetite of Waynesville's taxpayers for these types of subsidies will be measured during the upcoming public hearing required for approval of the policy.
"I don't expect to satisfy everybody," Brown said, "but I do hope that the majority of people find that this is a policy and a program that is appropriate for the town of Waynesville."
Be heard
The Town of Waynesville will conduct a public hearing to gather input from residents on its proposed affordable housing policy.
• Time: 6:30 p.m.
• Date: Tuesday, Jan. 22
• Location: 16 S. Main Street, Waynesville