Archived News
Town to take action on homeless encampment
Wednesday, January 16, 2019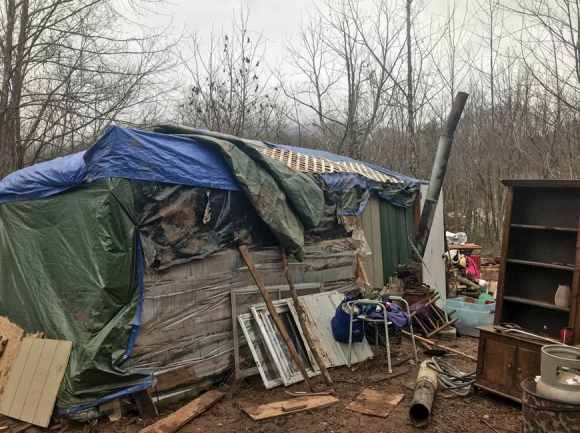 Waynesville officials have made it clear that this structure's days are numbered. Cory Vaillancourt photo
A beef between the Town of Waynesville and local property owner Ron Muse over an ersatz dwelling on an otherwise vacant, garbage-strewn Church Street lot is about to heat up again.
"It appears as though Mr. Muse is permitting both a health and safety hazard and a zoning violation on his property, despite our oral and written warnings," said Rob Hites, Waynesville's town manager.
Late last fall, the town tried to get Muse to evict Ronnie Hicks and his girlfriend, Sassy, from the property, where they'd lived for almost a year beneath a large tarp with an old wood stove.
Muse refused, and the town took action.
"On our own, we without charging Mr. Muse took our equipment in and cleaned that area out, and he's permitted it to be reoccupied," Hites said.
Now, the structure erected by Hicks has grown into a shanty of sorts, complete with a steel-tube roofing frame and even a door.
"So he's violating our health and safety regulations that require you to keep your property free of debris that would be a harbinger of disease, rats, snakes, vermin and such. That's one ordinance. The other is that he's permitting housing that doesn't meet the building code," said Hites. "It doesn't have potable water, it doesn't have sanitary sewer, so he's violating two ordinances, same as before. It is his responsibility as a landowner to make sure that doesn't happen, and that's not just Mr. Muse — that's anyone."
Muse said Jan. 14 that the town was again hounding him over the parcel and had asked him to sign a trespassing warrant so Hicks could be evicted and the shanty razed.
"I don't want to do that," he said, echoing his comments in a Dec. 12 Smoky Mountain News story about the situation at that time.
Muse also said the attention focused on him and his parcel is the result of a grudge, because he has for years wanted to rezone the property to accommodate a self-storage building, and has been met with resistance from town officials.
"If Mr. Muse will not voluntarily comply, we may have to resort to litigation," said Hites, who explained that the town could conduct a hearing allowing Muse to make his case, at which point a determination would be made by a code officer as to his substantive compliance.
If that determination goes against Muse, Hites said the town could then move in with their own crews, evict the tenants, charge Muse for the cleanup, assign that charge as a lien on the parcel, and eventually foreclose on the parcel to get its money back.
For his part, Hicks said that he received word last Friday, Jan. 11, that he'd been given housing vouchers through Meridian that could help him pay for more permanent housing.
Hicks opined that he'd be gone "within the next two or three weeks" now that he's begun the process of identifying local hotels and motels that accept the vouchers and submitting applications to them.
But Hicks also said that during his tenancy on Muse's parcel, he's run off a handful of troublemakers trying to latch on to his relatively posh — meaning improvised walls, a tarp for a roof and the old wood stove — digs. Once he's gone, though, it's anyone's guess as to whether or not others might try to occupy the site.
"Oh, they'll be up in here," he said Jan. 14. "This might be the end of our problem, but it's not the end of the problem."