Archived Arts & Entertainment
Combining the culinary arts: Mad Anthony's pairs craft beer, fine dining
Tuesday, January 15, 2019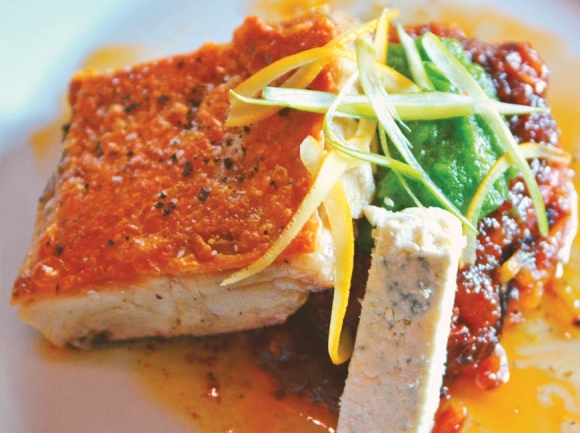 The first course dish from Mad Anthony's recent farm-to-table food and craft beer pairing dinner. Garret K. Woodward photo
Just off Main Street in Waynesville, tucked down the hill below Bogart's, and across the street from American Legion Post 47, sits Mad Anthony's Taproom & Restaurant.
Originally opened on Branner Avenue some three years ago, the business relocated to Legion Drive in July 2017. With 50 continuously rotating taps, it's the largest selection of draft craft beer west of Asheville (aka: "Beer City USA"). But, in recent months, the taproom has transitioned into one of the most talked about gourmet farm-to-table restaurants in the area.
"With owning a restaurant, the plan changes constantly," said David Young, co-owner of Mad Anthony's. "When we first moved in here, we brought a lot of our food truck with us, and we've grown beyond that. We had good food and great beer, and I don't see any reason why we shouldn't have great food and great beer."
Cue Head Chef Matt Kuver. With a resume that resembles a "who's who" of fine dining in Western North Carolina (The Swag, Frog's Leap Public House, Bourbon Barrel Beef & Ale), Kuver grew up in the culinary industry.
Aside from Mad Anthony's, Kuver has also been involved with The Ten Acre Garden in Canton. For several years, he has utilized the garden's fresh, seasonal produce, incorporating it into farm-to-table dishes that ideally represent his creative approach to food and drink.
"This day and age anything can be seasonal. It's not like it was 20 years ago," Kuver said. "We have technology now that can provide us with fresh produce year-round. It's all about proper sourcing and sustainability."
Young brought Kuver in as a way to take the restaurant to a whole new level — of taste, flavor and, most importantly, quality.
"Matt brought in craftsmanship and leadership. What's nice, from my standpoint, is that I'm no longer running the kitchen, I'm running the business. He has the ability to take what we're working with and utilize it to its fullest potential," Young said. "We used to bring in cases of frozen wings and chicken, which works, but you can't make great food out of it. Now we bring in whole chickens and Matt breaks them down into stocks, confit, hand cut beasts. That very small change altered the entire profile of our food."
Amid the dozens of craft beer taps at Mad Anthony's, Kuver now has a wide-array of endless possibilities when designing his daily menus.
"I'm doing as much with beer as I ever had with any cooking liquor, water, spirits, vinegars or sugars," Kuver said. "I'm making ice cream, braise for meats, vinaigrettes. It's a whole new palette for me. We make some excellent stuff happen — it's all about technique."
That kind of creative culinary freedom within the context of a taproom was something Young has had in mind for a while, but only now proven in method.
"I got into this because I love craft beer — the complexity and varieties of flavors," Young said. "The notes that craft beer brings within just scream for better food than whatever you can dump in a fryer at 10 p.m. And if all you're doing is pairing that [craft beer] with an off-the-shelf cheeseburger, you're missing 50 percent of why you should be drinking craft beer — it's now where fine wine was 30 years ago."
Young sees other local establishments only reaching half of the potential of said businesses.
"I don't think a lot of places are taking full advantage of it. I understand there's always a cost component. But, it's about bringing those things together, even on a small scale," Young said. "There are bars around here that serve incredibly good beers and they have OK food or there are places that serve great food and just have Bud Light and Michelob. Bring those two things together and get all those flavors involved with each other — you'll change people's worlds."
For Kuver, he looks at the partnership with Mad Anthony's as mutually beneficial, something where both parties can grow — creatively and professionally.
"Your reputation is attached to every dish you put out. It's not just food, it is most certainly the culture," he said. "And as far as the culinary arts are concerned, if I can bring my best plate to the table and people love it, that makes me feel good at the end of the day."
"We like being a little on the outside. With the way we're doing things, people are coming to us, Young added. "We're being sought out, and that's the goal. I want people to come here through word of mouth. And once we get them through the door, they're coming back."
Hungry?
The "Founder's Brewing Beer Dinner" was held this past Monday at Mad Anthony's Taproom & Restaurant in Waynesville. Below is the menu from the event, an evening of culinary delights that the business aims to host on a semi-regular basis:
• First Course: Warm German potato salad with confit boneless chicken thigh, preserved lemon and buttermilk blue cheese. Paired with Founders Solid Gold Lager.
• Second Course: Seared, bone-in lamb chop with bitter roquette and burned citrus salad, parmesan crisp and raspberry black pepper jus. Paired with Founders Raspberry Rubaeus.
• Third Course: Seared pork belly over smoked butter grits, thyme-sorghum molasses dressed popped sorghum. Paired with Founders Backwoods Bastard.
• Fourth Course: Canadian Breakfast Stout ice cream sandwich, espresso tulie and smoked maple sugar. Paired with Founders Canadian Breakfast Stout.
For more information, visit www.madanthonys.bar.