Archived Arts & Entertainment
This must be the place: Ode to my best gal
Tuesday, January 15, 2019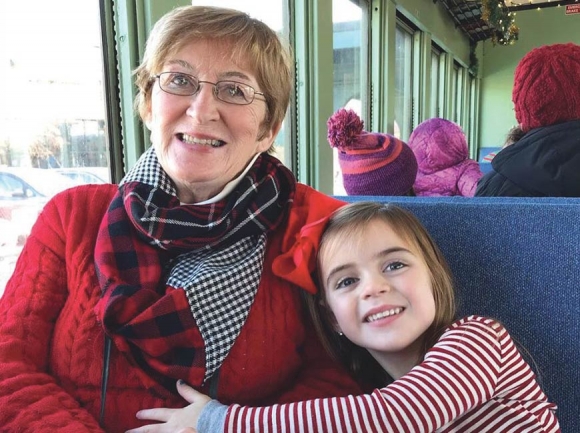 Kathy and Lucy.
She's known as "Wild Kathy."
At least, that's what she was nicknamed while joyously roaming Bourbon Street in New Orleans in November 2004. "Wild Kathy," also known as Kathy, or "mom" to me. And on Jan. 21, she'll turn 70 years young back in my North Country hometown of Plattsburgh, New York.
Born in 1949, in Rouses Point, New York (where I was raised until college), my mother grew up in a truly "Leave It to Beaver" household. The second of five children, she was part of a proud Irish Catholic family. My grandfather was a port director for U.S. Customs on the Canadian Border. My grandmother was stay-at-home mom of the post-World War II Baby Boomer generation, only to become the first female real estate broker in Clinton County (something she excelled at for many years).
Kathy attended St. Mary's Academy through high school graduation. A 19th century Catholic school, she was a cheerleader and played French horn in the school band. Following graduation in 1966, she ventured downstate to Adirondack Community College, only to stay there for a short time before heading back north to major in education at SUNY Plattsburgh (eventually graduating with her master's degree).
While in college, my mother, like most young adults at that time, was coming of age during the counterculture movement of the mid/late 1960s. She was a somewhat sheltered kid from a small town, a "Pleasantville" of sorts, and now was standing in the middle of a cultural revolution in our country. She became very politically active, a voice of change, a voice of reason in uncertain times — something that still holds true in her character and actions to this day.
Right around her college graduation in 1970, she crossed paths with my father. He was seven years older, and back in college at SUNY Plattsburgh after a stint in the Army and holding various jobs (repo man, bank teller, construction worker). At a bar in Plattsburgh one night, a mutual friend introduced my parents to each other. By 1972, they were married, with my mother a special education teacher at a local elementary school, my father a prison guard at a maximum-security facility in the desolate Adirondack Mountains.
They bought a house on the street I grew up on, and also ended up acquiring a horse ("Branches") when the animal was rescued in an illegal border smuggling operation.
They initially didn't have kids, instead spending their time running around, traveling all over, having adventures and playing in the great outdoors. But, by the mid-1980s, my mom could ignore her feelings anymore — she wanted a family.
On Feb. 5, 1985, I showed up. And on Sept. 20, 1986, so did my little sister. A family of four, we rolled around Upstate New York and New England seemingly every weekend, always doing something together whether it be camping, hiking or going to some cultural event. And the one at the center of this organized chaos that is a young family was my mother, a saint in every sense of the word.
Always the supportive parent, Kathy attended every cross-country race or basketball game of mine, every cheerleading competition or gymnastics class my sister partook in. I can still vividly hear her cheering me on from across the field while I trudged through a muddy course in some high school conference championship cross-country race on some freezing cold late fall day in the Champlain Valley.
But, like for many of us out there, my mom (like any genuinely good mother) is a selfless woman whose strengths and abilities know no bounds. She never ceases to amaze me with her gourmet cooking skills, love for animals and nature, her knack for meeting a complete stranger one minute only to become lifelong friends after just a glass of wine — all of which resides in my physical and emotional DNA.
And as I got older, my mother and I would take trips together. Seeing as I was never home and constantly on the road in pursuit of a writing career, she and I would set aside some time here and there to wander: New Orleans, Hawaii, etc. When I moved to the Grand Tetons of Idaho/Wyoming for my first journalism gig in 2008, she came to visit as we bounced around Jackson Hole and all of its rollicking good times.
These days, my mom has now entered what is — quite possibly — her most beloved role in recent memory: grandma. She adores my 4-year-old niece, Lucy, in all her wild, wondrous ways. They spend a lot of time together, going to the library or to the beach, maybe even some ice cream to end the afternoon.
At 70, Kathy Woodward is as vivacious as ever, her devil-may-care attitude never dissolving into the next chapter of her bountiful existence. Life is what you make it, and my mother truly has made the most of her time on this planet.
Happy birthday, "Wild Kathy." Love you.
Hot picks
1 The "Chili Cook-Off Winter Arts Smokies Style" will be held from noon to 4 p.m. Saturday, Jan. 19, at participating merchants and restaurants in Waynesville.
2 Singer-songwriter Brie Capone will perform at 7 p.m. Thursday, Jan. 24, at the Jackson County Public Library in Sylva.
3 The Haywood Arts Regional Theatre will kick off its annual "Winter Studio Season" with the Sarah Ruhl comedy "Dead Man's Cell Phone" at 7:30 p.m. Jan. 18-19 and at 2 p.m. Jan. 20 in Waynesville.
4 Former CBS Programming Executive Jim McKairnes will be in conversation with his long-time friend Jeff Ginn at 6:30 p.m. Friday, Jan. 18, at City Lights Bookstore in Sylva.
5 The "Soup & Cornbread" fundraiser for the Haywood County Schools Foundation will be held from 11 a.m. to 6 p.m. Tuesday, Jan. 22, at First United Methodist Church in Waynesville.