Archived News
Community steps up to care for parks during shutdown
Wednesday, January 09, 2019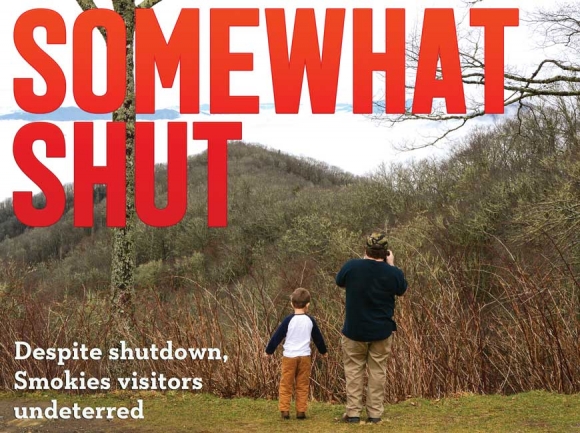 The National Park Service is closed.
Sort of.
When the clock struck midnight on Dec. 22, 2018, the latest continuing budget resolution expired and the federal government's failure to agree on a spending bill resulted in the suspension of all "non-essential" government services — including most services associated with operating the national parks. Of 24,681 National Park Service employees nationwide, only 3,298 are working during the shutdown, with just 326 for the entire Southeast region.
But unlike in October 2013, when an Obama-era impasse resulted in a 16-day shutdown, the gates to national parks across the country have remained open. Parking lots aren't barricaded and trailheads aren't blocked. People on vacation from Florida or Alabama, or even just enjoying a day off from work in local communities like Gatlinburg or Cherokee, can still hike Alum Cave and Big Creek in the Great Smoky Mountains National Park, or take in the view from Newfound Gap.
It's not business as usual, though. Parkwide, bathrooms are locked tight and visitor centers are closed. While a skeleton crew of very busy law enforcement rangers is around to provide some measure of security, nobody is helping visitors plan a day on the trail, leading interpretive programs or reminding visitors of park rules vital to protecting natural resources and ensuring safety.
The Blue Ridge Parkway is gated, but that's because snow and wind in December closed it along its route through the mountains before the shutdown occurred. With no park staff working to clear downed limbs or check conditions, the sections that were closed then remain closed now. According to Carolyn Ward, CEO of the Blue Ridge Parkway Foundation, the section of the Parkway running through Asheville between the Folk Art Center and the N.C. Arboretum is the only one that's open.
Visitors cluster around the rock wall and marker at Newfound Gap for photos. Holly Kays photo
Two shutdowns, two approaches
In Ward's view, the Parkway's current inaccessibility is the best thing for it. She takes issue with the directive from Washington to keep parks open while suspending visitor services.
"It's sort of like having a restaurant and saying, 'The restaurant needs to close for whatever reason, but we're not going to close. We're going to leave the restaurant open and we're going to leave the food in here and turn the grill on and you all go at it.' It's a little bit insane," she said.
While the Parkway and Smokies have largely been spared, that alleged insanity has played out in dramatic fashion at many of the country's National Park units, with overflowing trash bins and piles of human feces showcased in news stories nationwide.
Former President Barack Obama was criticized for locking down the national parks during the shutdown that took place under his administration, with detractors saying that he used one of the federal government's most popular functions as a cudgel to get his way in negotiations with Congress. In the Smokies, for example, U.S. 441 through the park was kept open but trailheads and overlooks were blocked off to prevent people from stopping to take a hike or photograph a view. The Blue Ridge Parkway was ungated but amenities were closed.
But President Donald Trump's administration gave a different set of directives. The Park Service was told that "park roads, lookouts, trails and open-air memorials will remain generally accessible to visitors" and that "visitors in campgrounds will not be asked to leave." However, no visitor services such as restrooms, trash collection, maintenance and public information will be provided. That approach has also drawn criticism from those who say that the open-doors policy will create lasting environmental damage in the country's most beautiful places.
SEE ALSO: The lowdown on the shutdown
In 2013, the shutdown took place over what is the busiest season of the year for parks across the nation, including the Parkway and the Smokies. Businesses and nonprofits that depend on leaf season revenues for their livelihoods took a big hit, costing the region millions in tourism dollars. The Great Smoky Mountains Association, for example, lost more than $1 million in revenue in 2013, a year when it was projected to make a total of $7 million, according to GSMA Executive Director Laurel Rematore.
The current shutdown affects the national parks much less evenly, but for the Smokies the stretch between Christmas and New Year's Day is a pretty important time. However, it appears that the park staying open has benefited tourism-dependent businesses.
According to CeCe Hipps, executive director of the Haywood Chamber of Commerce, lodging establishments have not been complaining of cancellations or a lack of reservations and retail shop owners have said that business over the past two weeks has been "amazing." However, she said, that could change if the shutdown continues. Likewise, Swain County Chamber of Commerce Director Karen Wilmot said that the shutdown has not significantly impacted lodging reservations, but many people are calling to ask if the park and its trails are still open.
With government services lapsing just as the holiday season began, GSMA saw the writing on the wall — people would come, facilities would be locked and chaos would ensue. So, the organization decided to do something about it.
GSMA donated more than $50,000 to fund 15 rangers working information desks, cleaning bathrooms and collecting trash at the Oconaluftee, Sugarlands and Cades Cove visitor centers from Dec. 22 through Jan. 1. Rematore said that the park was hopping during that time, and that visitors were quick to express their appreciation to GSMA for keeping the facilities open.
"It was definitely the right decision, because even with the periodic road closure (of U.S. 441) due to the wind events and snow that we had, even with that people were here. It was really, really busy," she said.
Adjusting to the shutdown
But with the dawn of the new year, that funding expired. The buildings were locked and the rangers went home, but the visitors did not. Cars bearing license plates from across the country continued to caravan along Newfound Gap Road, filling up trailheads and overlooks — and in some cases, finding less-than-advisable ways to deal with the no-restroom issue.
SEE ALSO: Cruising the Smokies under shutdown
After park rangers found human waste outside bathrooms at Newfound Gap and Cades Cove, the park asked another one of its partners, Friends of the Smokies, if it could help fund those services. Friends stepped up, announcing that it would spend $15,000 to $18,000 to pay the salaries of five employees over the next two weeks. Those workers will clean the bathrooms at Newfound Gap and Cades Cove and pick up trash around those facilities. If help is still needed after two weeks, Friends said, it will do what it can to pitch in.
The Park Service itself has also taken some action attempting to help parks quell the flood of garbage and waste threatening to damage some of the nation's most unique places.
On Saturday, Jan. 5, Department of the Interior Acting Secretary David Bernhardt signed a memorandum allowing parks to bring on staff to clean bathrooms, haul trash and patrol parks, according to reporting from The Washington Post. These functions would be funded using revenue from park entrance fees, which is typically set aside to provide maintenance and upgrades for the areas where it originates. Fees are not intended to defray operational expenses such as trash service and bathroom maintenance.
"After consultation with the Office of the Solicitor at the Department of the Interior, it has been determined that these funds can and should be used to provide immediate assistance and services to highly visited parks during the lapse in appropriations," P. Daniel Smith, deputy director of the National Park Service, said in a statement released Jan. 6. "We are taking this extraordinary step to ensure that parks are protected, and that visitors can continue to access parks with limited basic services."
Alum Cave Creek (right) flows under a bridge along the trail. Holly Kays photo
It remains to be seen how those funds will be divvied up. Neither the Smokies nor the Parkway, two of the most-visited parks in the country, collect entrance fees. According the Park Service's updated contingency plan, parks that collect these fees will be able to use them for "basic visitor services." However, the plan also states that for parks that don't collect them, "the Director will determine whether available national or regional recreation fees will be allocated."
The longer the shutdown continues, the more severe the impacts could be, and not just as it relates to resource protection and visitor experience. The national parks are chronically underfunded, meaning that nonprofit partners like GSMA, the Blue Ridge Parkway Foundation and Friends of the Smokies are vital to providing the parks with the resources needed to fulfill their mission. But these organizations rely on collaboration and input from park staff to plan projects, apply for grants and organize volunteer activities.
This week, Friends of the Smokies will miss a deadline to apply for a grant from the Cherokee Preservation Foundation because park staff wasn't around to provide input. CPF may extend the deadline, but that wouldn't necessarily resolve the issue — nobody knows just how long the shutdown will last, and at some point funding decisions must be made.
"I rely heavily on certain park rangers' responses to the questions I need," said Anna Zanetti, North Carolina director for Friends of the Smokies. "It's complicated. I can't ask for them to work right now. I can't ask for this information. It just pushes things back and prolongs the process and possibly has us miss these deadlines."
Volunteer groups like the Nantahala Hiking Club, which maintains the Appalachian Trail through the park, are also affected.
"Under of our agreements with the Forest Service and the National Park Service when we go out as A.T. maintainers we are covered if any accident occurs. During a government shutdown we are not covered and we have been instructed by the Appalachian Trail Conservancy to cease any work on the A.T. and side trails," said Paul Dyer, trail manager for NHC. "We are missing some wonderful good weather days for January. We normally go out every Wednesday, but we're not allowed to go out until the shutdown is resolved."
A community effort
A drive through the park on Thursday, Jan. 3, certainly revealed a larger-than-normal amount of trash on the roadside, as well as visitors breaking various park rules that a ranger probably would have weighed in on had the shutdown not been in effect — for example, a family huddled around a female elk to take turns petting it would likely have been informed that elk are wild animals, that they can be dangerous and that it's never wise to get within 50 yards of a wild animal, much less touch it.
But unlike what's been reported at parks like Joshua Tree and Yosemite out west, trash cans were not overflowing and there was no latent stench of human waste in the air. In fact, trash cans from Oconaluftee to Sugarlands were nearly empty, as though they'd been changed much more recently than Dec. 22 or even Dec. 31, when GSMA funding ended.
Franklin resident Mike Walker is a frequent Smokies hiker and decided to give back during the shutdown by picking up trash. Holly Kays photo
That's because the park has a pre-existing contract with a private company to empty dumpsters and trash cans. That contract is still active, so trash is still being removed.
However, that's not necessarily common knowledge, and Smokies enthusiasts have been stepping up to the plate as well — to change trash bags but also to pick up roadside litter.
"It's been a community effort, more than just one group," said Kristi Parsons, of Knoxville, who is a member of the group Smoky Mountain HikerTrash. "We all have a deep love for the park and mountains. We care for them in smaller ways each time we're there, but this past week we wanted to rise above and set an example for other parks across the country."
On Sunday, Jan. 6, more than 10 people from the HikerTrash group cleaned a 12-mile stretch from Metcalf Bottoms Picnic Area to the Sugarlands Visitor Center, collecting more than 15 30-gallon trash bags full of myriad items including hub caps, diapers, a lottery ticket good for $5, way too many pieces of gum and cigarette butts and three unopened bottles of moonshine. That wasn't the first time that week hikers had banded together to clean trash — multiple days that week hikers from HikerTrash as well as Hiking the Smokies and Hike the Smokies picked up trash and changed trash bags on both the Tennessee and North Carolina sides of the park.
There are some vigilante litter collectors at work too, such as Mike Walker, 55, of Franklin. A frequent hiker at Cades Cove, Walker reacted to the shutdown by driving out to the Oconaluftee Visitor Center with a reflective vest, trash grabber and roll of trash bags to do what he could to clean up the roadside.
"I think it's the right thing to do as much as we use the park and as free as this is. It's one of the few there's no charge," said Walker, pausing his pickup Jan. 3 to talk to a reporter. "I don't mind giving back. It's a beautiful park. It's ours — I take care of my house, I'll take care of the park."
It's been wonderful to see people stepping up to protect their park, said Rematore, but it's important to remember that with the holidays winding down we're now in a "spectacularly slow" time for park visitation. The closer it gets to Martin Luther King Day weekend, she said, the more important it will be for the government to reopen and rangers to return to work.
"We're OK right now," she said, "but we're on borrowed time."