Archived News
Cruising the Smokies under shutdown
Wednesday, January 09, 2019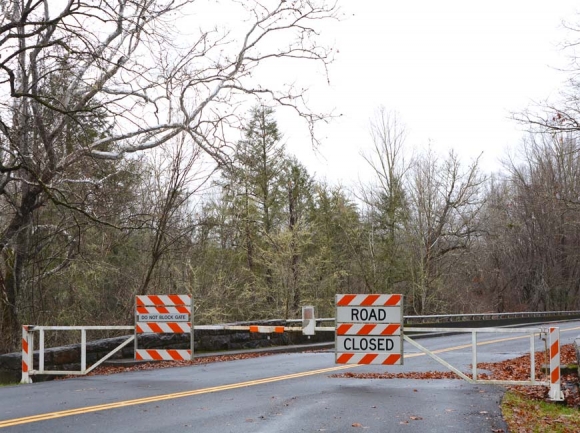 The Blue Ridge Parkway (left) is closed for most of its route through the mountains.
It's just after 11 a.m. on a weekday, and while a road sign at the Cherokee entrance to the Great Smoky Mountains National Park alerts travelers "All facilities closed for govt shutdown," visitors are still arriving.
At the Oconaluftee Visitor Center, 11 cars are parked. Even though the bathrooms and visitor center are locked tight, occupants are unloading to look at maps posted on outdoor kiosks, wander through the Mountain Farm Museum or walk down to the Oconaluftee River, where two bull elk lock horns on the opposite bank as a female roams nearby.
The shutdown hasn't put a damper on the experience at all, said Betty Baxley, 63, of Augusta, Georgia, who's driving through with her 17-year-old granddaughter Taylor Baxley for a long weekend in Pigeon Forge. It's an annual tradition for the two of them.
"I can't tell any difference," Baxley said. "It seems the same. It hasn't affected us any."
Not everybody knows how to safely interact with wildlife, though. With no visitor centers operating there's nobody to brief visitors as they arrive, and with limited law enforcement there's nobody to break up situations like the one that occurred around 4 p.m. that same day — a group of visitors approached a female elk sitting alongside the road at Oconaluftee, going so far as to stroke its head and side while the cluster of people grew. When the first group left, another visitor moved in to pet the elk.
Touching wild animals (right) is dangerous and prohibited under park rules. Holly Kays photo
Four miles north, only one site was occupied at Smokemont Campground — a large RV that likely didn't have to rely on the campground's now-suspended restroom services. Under normal circumstances, it's likely more people would have been around. According to a report from January 2018, 160 tents and 19 RVs camped at Smokemont that month, an average of 5.8 visitors per day.
Josh and Bethany Jackson, of Muscle Shoals, Alabama, were at the campground with their 7-month-old daughter in search of a trailhead, having pitched their tent for the week at a campground in Cherokee. The shutdown didn't have them worried at all.
"I can say it really hasn't affected us at all," said Josh, 36. "Even out here there's not any services we would use normally."
A survey of dumpster and trash can levels at Smokemont showed a satisfyingly low volume at play, with little to no litter around, but that changed on the drive up toward Newfound Gap, with cans, bottles and other garbage making an appearance on the roadside.
"You can tell the parking lots haven't been picked up," said Richard Speir, 33, who was taking in a view downhill from Newfound with his 6-year-old son. "I wish people wouldn't put it there."
About 50 cars crowded the parking lot at Newfound Gap, with people gaping at the view, pausing for selfies along the rock wall, playing in languishing piles of snow and walking nearby trails.
For Ana Chavez, a first-time park visitor from Fort Lauderdale, Florida, visiting with her husband and two children, the shutdown had caused some trepidation.
"I knew that there was a government shutdown, but I didn't know that it actually affected the parks," she said while stopping at the Newfound Gap overlook, where she'd been told her kids might be able to see snow. "I was a little afraid to know that there isn't a lot of people working, but whatever, you know, we'll just take a chance."
Jennifer Gonzalez, 42, said that the shutdown had frustrated her plans with her husband and two kids on their visit from Miami, Florida. They'd wanted to go to Cades Cove the previous day, but the road was closed. Today, on their way to Cherokee, they'd found themselves unable to use the bathroom at Newfound Gap like they planned.
Visitors from Florida make a snowman in the Newfound Gap parking lot. Holly Kays photo
But Lisa Thornton, 50, said that while the shutdown had prevented her family from getting the experience they wanted while vacationing from Auburndale, Florida, the warm, rainy weather was even more of a disappointment. There hadn't been any snow at all, so her grandkids were busy building a snowman with leftover snow in the Newfound Gap parking lot.
"We didn't get to do some of what we wanted to do because of the shutdown," she said. "We'll be back next year. There's too much here not to come back."
A few miles down the mountain, the Alum Cave and Chimney Tops trailheads were abuzz with activity, parking lots full of cars and vehicles spilling out to line the roadsides. Over at Alum Cave the bathroom was locked but the trail clear of litter and the hikers overwhelmingly positive about their experience — though some did note the lack of rangers.
"I haven't noticed any trash, but it's always nice to know the park rangers are around," said Austin Clark, 35, visiting with his wife and son from Ocean Springs, Mississippi. "Whether you see them or not it's nice to know they're here."
While it might be easy to forget about the shutdown while walking a trail in remote backcountry, reality hit hard for Knoxville resident Peter Rubacha, 62, who had parked at the Sugarlands Visitor Center around 10 a.m., along with 40-some other people from the Happy Hikers Hiking Club. When they returned from their hike, it was to find the parking lot roped off with yellow police tape and orange traffic cones, blocking them in.
"It just seems like the politicians from either side will choose the things that hurt people the most to get their point across," said Rubacha. "When they puff their chest out they're just hurting the normal people who are trying to pay their bills."
Or, go on a hike.