Archived News
Clyde trailer park without water for a month
Wednesday, January 09, 2019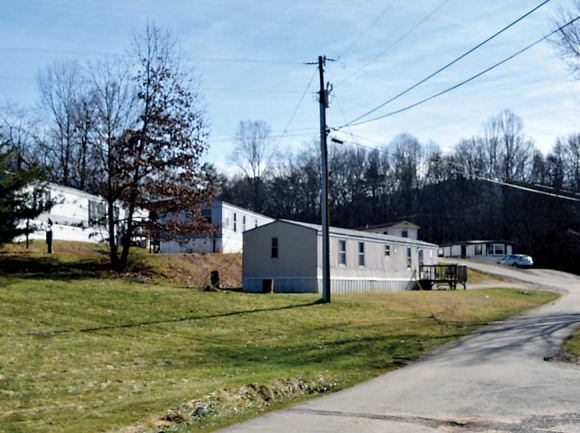 Residents at M&M Trailer Park in Clyde have been without water for nearly a month after their landlord didn't pay the bill. Jessi Stone photo
The residents at M&M Trailer Park in Clyde were without water for nearly a month after the Junaluska Sanitary District shut off service for failure to pay.
But it wasn't the tenants not paying the water bill — the tenants' water cost is included in their rent and the landlord is responsible for paying the total water bill to the district. The owner of the trailer park, James Miller, was apparently several months behind on the bill and owes over $1,000 to the sanitary district. As per the district's policy, water is cut off to customers after 60 days of non-payment.
The past due bill finally got paid Tuesday afternoon and crews were working to reconnect the water around 4 p.m., but it might not be the last time the tenants have to worry about it being disconnected again.
Travis Williams, 27, has lived at M&M for 12 years along with his mother. He said it's certainly not the first time the water has been shut off because Miller didn't pay the bill but it's probably the longest it's stayed off. The last time it was shut off was in September, but it came back on after a few days.
"They shut it off in early December. It made Christmas really hard — I had to bring water home from work to be able to cook and clean for the family," he said.
He said he was grateful that a local church came by a couple of days ago and dropped off 200 gallons of water for the neighborhood to use.
While Williams said he saw at least three different moving trucks at the trailer park in the last couple of weeks as people find another place to live, there were still many families living there trying their best to get by without, including an older couple who has a hard time getting around and a young mom with an infant.
Katlyn Paul, who lives at the trailer park with her girlfriend, said it's the second time the water has been shut off in the four months they've been there.
"Thank God my girlfriend's dad lives by Food Lion — but we have to walk every day to take a shower there and then for dishes we have been catching rain water and boiling it," Paul said.
Williams said the problems at M&M go far beyond having reliable water — tenants have also had no luck getting Miller to make much-needed repairs. There's also been a horrible rat problem and trash piling up that hasn't been addressed. Miller lives on Hyatt Street in Waynesville and is rarely seen at the trailer park off Lee Road in Clyde.
"I've lived here 12 years and when Jimmy's father owned it he was a good landlord, but since he took over it's been a mess," Williams said.
"I'll never live in another trailer park again," said Holly Brennan, Williams' girlfriend who also lives with him and his mom. "But it's so hard to find another place to live around here."
Other tenants have heard Miller is trying to sell the trailer park property and assured them the bill would get paid by the new owner once the property closed, but it could just be another rumor.
Williams said they found out the water was going to be turned off again at the beginning of December — the same time rent was due — so he chose not to pay December's rent.
Unfortunately, Paul said her rent is paid up until March, which didn't leave her much money to help with the past due water bill.
Even though the water service is in Miller's name, residents were advised that the district would reconnect the service if someone came in and paid off a portion of the bill, but it's uncertain how much it would take.
Josh Nickol, general manager and finance officer for Junaluska Sanitary District, did not return messages or an email seeking comment on the issue.
The Haywood County Health Department said it's not something they'd regulate either since it's not a facility the environmental health division would regularly inspect.
Sam Watson, general counsel and director of the North Carolina Utilities Commission, said the commission does not regulate local water and sewer districts nor does it regulate mobile home parks in which tenants' water costs are included in the rent. There have been some efforts in the past to get the commission to regulate local districts, but so far the General Assembly hasn't been willing to do it.
When asked what recourse the tenants had in trying to get their water turned back on, he said there's not much they can do other than reach out their elected officials and get a lawyer.
"I spoke with someone at the Attorney General's office and they said the usual recourse for folks like that served by utilities not regulated by the commission is to call their local government officials and see if they can put some pressure on the district to reconnect their service."
M&M Trailer Park isn't within the Clyde city limits but it is located in the town's ETJ (extraterritorial jurisdiction).
When reached for comment Monday, Clyde Mayor Jim Trantham hadn't heard about the water issue yet, but said the Clyde Board of Aldermen probably wouldn't be getting involved.
"We have our own municipal water system — that's Junaluska's issue," he said. "I feel bad for them but they'll have to work it out with the owner of the property. If it was me personally, I'd try to round up all the folks in the trailer park and try to pay that bill and then subtract it from my rent money."
So far, no one has been able to locate Miller even though the sanitary district has sent him multiple notices before shutting off service. A sign at the edge of the trailer park includes two telephone numbers — one number goes directly to a message saying the number has calling restrictions and can't connect and the other goes to someone else's voicemail.
Miller, 37, has had multiple encounters with Haywood County law enforcement. He was arrested in December 2017 on drug possession charges and his prior record includes assault, child abuse, assault on a female and resisting a public officer.
Williams and Brennan said the trailer park has been overrun with drug addicts and drug dealing in the last two years.
Paul said Miller told them all a few months ago he might be going to jail or to rehab soon and was trying to get someone else to take over the trailer park. On Tuesday afternoon, she said the property manager Richard Cagle — a friend of Miller's who lives at the park — was walking around trying to collect $35 from everyone at the park to make a payment but said they were still about $500 short of getting the bill paid.
"It's still up in the air but we hope it gets turned back on today," she said.
By 3:30 p.m. the water district sent an email stating the bill had been paid.