Archived News
Haywood swears in first new county attorney since Nixon administration
Wednesday, January 09, 2019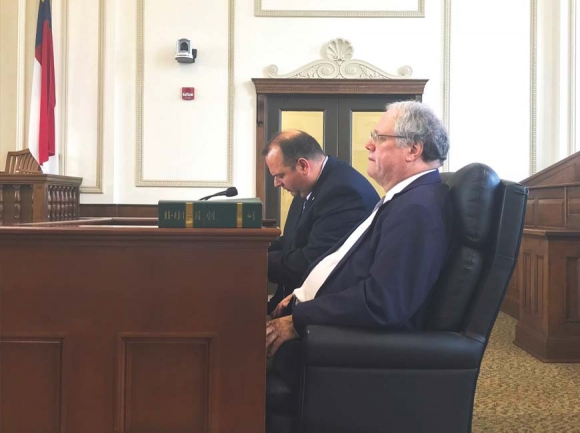 New Haywood County Attorney Frank Queen (right) sits with County Manager Bryant Morehead during a meeting Jan. 7. Cory Vaillancourt photo
Not for nearly half a century has anyone been able to say, "Haywood County has a new county attorney," but now that an era has ended, everyone will have to get used to hearing it.
"I want to take one second to say how much I appreciated the service of Chip Killian," said Frank Queen upon taking the oath to succeed him. "Chip has served with distinction, with energy, with competency — everything that a client could hope to have from an attorney."
The Waynesville native Queen is a graduate of the University of North Carolina at Chapel Hill's law school who has practiced in Waynesville since 1977.
He served for two years as Waynesville's town attorney, providing advice to elected officials and town staff. Queen also served as outside counsel for Old Town Bank, working on "troubled loans," loan collections and foreclosures, but for more than a decade he's been outside counsel for the local member-owned utility cooperative Haywood Electric Membership Corporation.
One of his more recent responsibilities is that of outside counsel to the Eastern Band of Cherokee Indians' Office of Internal Audit and Ethics. Accordingly, Queen helped draft and revise the new tribal government ethics code.
His private practice focuses mainly on the corporate world, especially EEOC and Federal Wage and Hour complaints, and he's also served as president of the local bar and director of Legal Services of North Carolina, which provides indigent legal assistance in civil matters. The Martindale-Hubble attorney peer review directory has Queen listed under its highest rating.
Queen's contract proposal, approved unanimously by commissioners Jan. 7, favored a two-pronged approach similar to others in the field.
Attendance and advice at all meetings — including weekly and bi-weekly staff meetings outside regular and special-called meetings — as well as document prep and review, coordination with sheriff's and DSS' counsel and other duties will cost the county $80,000 a year, payable monthly, in advance.
Special projects that are assigned by elected officials or town administration will be budgeted based on complexity, duration and scope.
Killian's original five-year agreement, dated Oct. 5, 2015, began at $100,000 but increased to $125,000 plus health insurance and payments into the retirement system.
That agreement was amended by commissioners on July 16 of this year, and directed Killian to reduce his hours by 20 percent, in line with a 20 percent reduction in salary back to $100,000. It also shortened the term of the contract to Dec. 31, 2018. In the amended contract, it also states Killian's desire to remain through the original Oct. 5, 2020 date.
Killian said Jan. 8 he was proud of some of his more recent accomplishments.
"The homeless shelter [Pathways] in Hazelwood was a major accomplishment," he said. "And the animal shelter is also major asset for the county."
He added he's in a state of semi-retirement, saying he probably wouldn't practice much law, but was "open to invitations for whatever," likely short-term projects.
"My wife assures me I'll be bored in short order," he said. "To tell you the truth I'm taking it one day at a time."
Killian wasn't at the meeting Jan. 7, but Queen and commissioners lauded the service of a man who has probably had more of an impact on the current state of Haywood County than almost anyone alive today.
"Chip actually was the first attorney that hired me, for my first job 24 years ago," said Kirk Kirkpatrick, longtime commissioner and Waynesville attorney. "He brought me into a firm when a couple of the others weren't so sure about doing that."
Kirkpatrick eventually became law partners with Killian, but had to dissolve that partnership once he was elected commissioner, as Killian had been and would continue to be the county attorney for some time.
"I certainly appreciate the mentor that he has been to me all those years," Kirkpatrick said.
"I started practicing land surveying in 1985," said Chairman Kevin Ensley. "Chip was the county attorney then, and he was also a real estate attorney. Being a land surveyor, I deal with a lot of real estate. Chip was always a pleasure to work with and he definitely served the county with honor and integrity all those years."
Killian had already been county attorney for five years when Queen, the new county attorney, returned to Waynesville with his newly-minted law degree.
"I got to know him personally, and I got to know him as a professional," said Queen. "I've admired him more than any other lawyer that I have ever practiced with or ever known in this state, and I appreciate the opportunity to step into his shoes [for] 46 years and 364 more days so I can equal his term of service."