Archived News
Tribe considers ginseng regulations
Wednesday, January 09, 2019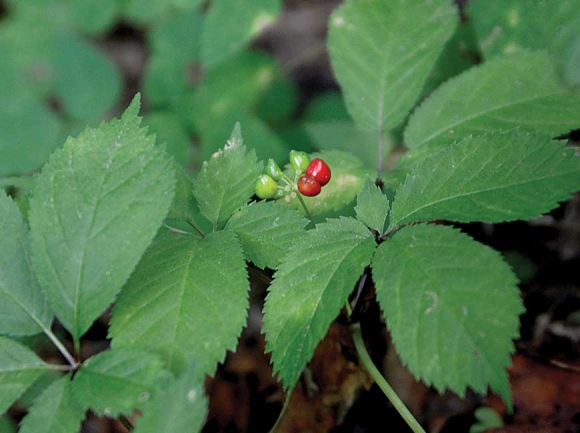 Ginseng is prized for its roots, but poaching and irresponsible harvest has caused populations to dwindle. SMN photo
An alarming decrease in the population of ginseng on Cherokee tribal land is prompting the tribe to look at cracking down on ginseng theft.
The conversation started with a resolution that tribal member Pete Taylor introduced in Budget Council on Tuesday, Dec. 4, looking to establish a season and permit system for ginseng gathering and fines for gathering the plant without a permit.
"I have a bag of ginseng. It's almost a pound and five years ago it went up to $1,800 for this much," Taylor told Tribal Council, holding up the bag of ginseng. "So that's why a lot of people start before the season. They sell to pawn shops before the season starts. On my property where I've been gathering for years there's not as much anymore because people is getting it before it can seed."
Taylor's resolution would have established that ginseng season lasts from Sept. 1 to Dec. 1 and that any Cherokee person caught gathering without a permit would be fined $200, while every non-Cherokee person caught gathering without a permit would be fined $500.
Taylor said that the place on his property where he's traditionally gathered the plant no longer has any ginseng due to people trespassing and taking what they want. He postulated that the uptick in ginseng theft could be drug-related, since it can be a quick way to make money.
Ginseng has a history of medicinal use stretching back centuries, in both America and in Asia. The root's alleged effects include boosting the immune system, improving concentration and learning and treating a spectrum of medical conditions. However, ginseng is a slow-growing plant, requiring a specific type of environment and more than five years to grow from seed to a harvestable size. That, combined with its high-dollar market value, makes it vulnerable to impacts from poaching.
"I'm in full support of being better stewards and protectors of ginseng in particular," said Mike Lavoie, supervisory biologist for the tribe. "Some of the work we've done this summer is a little bit concerning."
Lavoie said his department surveyed more than 300 plant plots on tribal reserve land and found ginseng on less than 1 percent of them.
"Ginseng is — along with other species like ramps and sochan — being utilized and they're not being managed and enforced as adequately as needed right now," he said.
While better regulation for ginseng gathering is a good idea, Taylor's resolution isn't the best way to accomplish that, said Principal Chief Richard Sneed. First of all, the regulations should be encoded in tribal law as an ordinance, not a resolution. Secondly, the Department of Environment and Natural Resources is working on a larger overhaul of environmental regulations, and new laws pertaining to ginseng and other plants should be included in that conversation.
"We've got regulations for hunting and fishing but nothing for harvesting," said Sneed, adding jokingly, "Also, Pete (Taylor) has his concealed carry, so if anybody is thinking about mugging him for his ginseng they better watch it."
Taylor ended up withdrawing his resolution in order to work with the Office of the Attorney General on an ordinance. That ordinance is on the agenda to be read and tabled at Council's Jan. 10 meeting and could be voted on in February. The proposed ordinance is far less detailed than Taylor's original resolution, making no mention of a permit system. It simply states that taking ginseng from someone else's property is illegal and carries a maximum punishment of three years in prison and a $15,000 fine.
However, additional ginseng regulations could be on the way as Lavoie's office works on its ordinance overhaul.
"It's really a bit too early to provide any substantive comment on regulatory actions regarding ginseng from our office's perspective," Lavoie said. "I can say that we are working on comprehensively revising natural resource-related tribal codes including plant gathering, but it will be a lengthy process."
Lavoie expects to have a draft out by the summertime. In addition to potential limits on ginseng harvest, it will include a "broad array of regulations related to natural resources including water quality, animal disease, hunting and fishing and brownfields." The tribe is still waiting for the U.S. Environmental Protection Agency to approve its newly developed water quality standards, which Lavoie counts as the department's "largest step forward" in 2018.