Archived News
WCU athletics on the upswing
Wednesday, January 09, 2019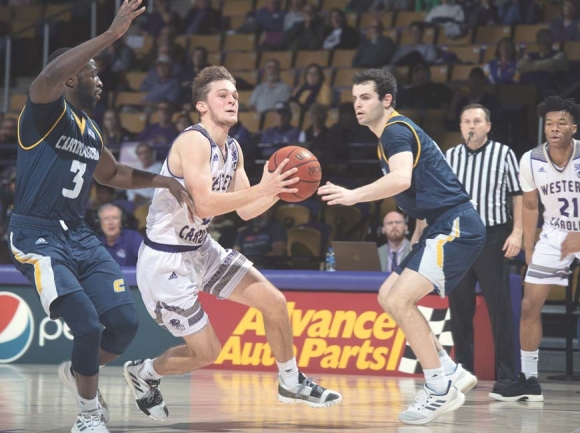 Matt Halverson drives to the basket against Chattanooga in Cullowhee Jan. 3. Mark Haskett photo
Randy Eaton isn't a fortune teller, but the Western Carolina University athletic director sees a winning future for WCU teams.
"I don't go to bed worried about kids academically anymore like I did my first couple of years here," said Eaton, who has been on the job since December 2011. "We've been able to fix a lot of the things that needed to be fixed before we started looking at winning. This year and the next few years we will be in a position to help some of the sports be more competitive."
Every new leadership job tends to come with a "welcome basket," Eaton told WCU Trustees during a Dec. 6 meeting, and his was a student-athlete graduation rate of 44 percent, a faltering budget, stagnant scholarships and nearly nonexistent academic support.
Seven years later, the graduation rate is roughly 75 percent, Catamount Club fundraising has more than tripled, 32 scholarships have been added this year alone and academic support has grown from one half-time position to serve all 350–plus student athletes to six full-time positions operating a center that's open 10 hours per day, six days per week. To top it off, sports medicine has increased from six full-time positions to 10 and strength and conditioning has doubled from two full-time positions to four.
Eaton said that his goal is to achieve a student-athlete graduation rate that's 10 to 15 percent higher than that of the university as a whole. In the last cohort for which statistics are complete, the freshmen of 2011 — the federal graduation rate tracks how many students graduate from the institution where they first enrolled within six years — the student-athlete rate was 66 percent and the WCU rate was 59 percent. There are only about three students in the 2012 cohort whose May graduation could impact the rate for that year, so Eaton expects the 2012 number to settle in the mid-70s.
For Eaton, the work to achieve those results begins with recruiting and continues all the way up to graduation.
"I basically said, 'We're not going to recruit bad kids, not for the sake of just winning a game.' We're not going to bring bad people onto campus. The second thing we're going to do is we're going to graduate our kids," said Eaton.
That meant a "heightened focus" on the resources put into academic support and holding student athletes to firm standards.
While 75 percent is a pretty great graduation rate — according to the National Center for Education Statistics the nationwide graduation rate for the 2010 cohort was 59 percent at public institutions — Eaton said that figure is a bit deceptive. In reality, more than 75 percent of the student athletes who enter as freshmen graduate from college — just not from WCU.
"We lose very, very few (to academics)," said Eaton. "Out of 350 kids a year we might lose one or two. A bad year for us might be five that we lose to them flunking out of school."
Rather, most of the losses are due to students beginning their career at WCU and then transferring elsewhere. Those students may well graduate within the six-year window, but because it's not at WCU it counts against Eaton in the graduation rate. The NCAA developed a tool called the student athlete graduation success rate that counts students who transfer to graduate elsewhere, and by that metric WCU had an 86 percent graduation rate last year compared to 66 percent under the federal graduation rate.
The mountain lifestyle is hard on some kids, Eaton said.
"We lose a lot of those students because they come here and they need a mall every Saturday night," said Eaton. "We don't have a mall."
African-American students in particular seem to have a difficult time with the cultural realities of Western North Carolina. In the 2011 cohort, 76 percent of student athletes who identified themselves as white graduated from WCU in six years, while only 52 percent of those who identified themselves as black did so. But the gap gets narrower when examining the graduation success rate that includes students who transfer — by that metric, 90 percent of white students and 78 percent of black students graduated.
"When we recruit African-American student athletes, there's no place in Jackson County for an African-American to get their hair cut," said Eaton. "They have to drive to Asheville or go home. So it makes it even more difficult at times to recruit those kids or retain those kids."
It's also not uncommon to have a sizable exodus whenever there's a change in coaching. For example, said Eaton, the 2007 cohort logged a graduation rate of only 44 percent, but in that case there was a change of both football and volleyball head coach. Of the 27 football and volleyball players in that cohort, only seven or eight graduated from WCU.
Eaton has also been working to get the athletic department's finances back on track. When he took over, he found that WCU had been paying athletic staff with university money, which state law explicitly forbids. Eaton's charge was to move those positions into the athletics budget while also working to add staff and scholarships.
To meet the challenge football played multiple money games each year, for several years. Eaton also doubled the fundraising staff at the Catamount Club, adding $150,000 in salaries but resulting in an additional $1 million in fundraising. Now football no longer has to play those money games, and there's more funding for scholarships and support functions like sports medicine, nutrition, and strength and conditioning. This year alone, the athletics program added 32 scholarships.
The N.C. Promise Tuition Reduction Plan has helped that effort, reducing the cost of each scholarship provided and therefore allowing athletics to recruit more students with the same budget.
"We were ready to start investing. We kind of knew this was going to be the year. Then out of the blue comes N.C. Promise," said Eaton. "So it really compounded the positive things we were going to start doing. It allowed us to shift some more money around that maybe we wouldn't have been able to."
With academics up to standard and finances on solid ground, the next step is to start winning. Instead of finishing in the bottom third each time, Eaton wants to see his teams in the top third, with each team able to have a shot at winning the championship once every three or four years.
It won't happen overnight, though.
"Scholarships are like turkey — they aren't ready to go year one," he said. "Seventeen and 18-year-olds are competing against 22-, 23-year-olds. You've got to give them time."
But he's certain that victory is on the horizon.
"Now we're going to find out if our coaches can coach," he told trustees. "Any coach that has had competitive success can coach, because they did not have the resources that their peers did."