Archived News
It's election season again, already
Wednesday, January 09, 2019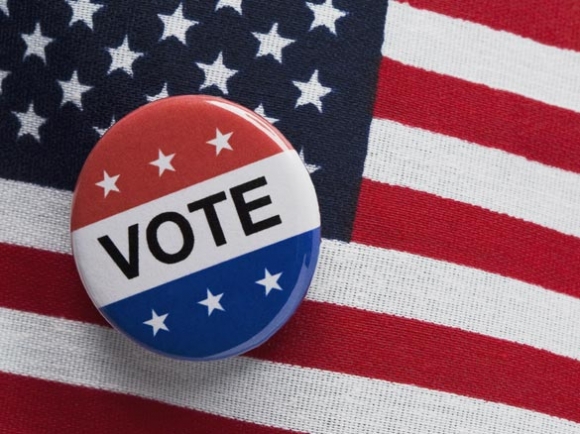 That's right. It may seem like election season just ended, but it's also just beginning, and in less than 300 days voters in every Haywood County town will again head to the polls to choose from candidates seeking a spate of municipal offices.
Last November, North Carolina voters elected mostly county, state and federal candidates to commission boards, the N.C. General Assembly and U.S. House, but in odd-numbered years, local governments elect mayors, aldermen and alderwomen.
Non-partisan municipal candidate filing begins on Friday, July 5, at noon and ends two weeks later on Friday, July 19, at noon. Absentee ballots become available Friday, Oct. 6, and the deadline to register to vote in the election is Friday, Oct. 11. Early voting is slated to begin Wednesday, Oct. 16 and end Saturday, Nov. 2. Absentee ballot requests must be made by 5 p.m. on Tuesday, Oct. 29, and Election Day is Tuesday, Nov. 5.
Canton
On that day, voters in Canton will choose whether or not to reelect Alderwoman Gail Mull and Alderman Dr. Ralph Hamlett; both told The Smoky Mountain News Jan. 5 that they plan to run.
Canton resident Carl Cortright, who narrowly lost out to now-Alderman James Markey during the 2017 election, said it was "very doubtful" he would run.
"I support both of them [Hamlett and Mull], and don't want to run against them," Cortright said.
Mayor Zeb Smathers, Alderwoman Kristina Smith and Markey were all elected in 2017, so their seats aren't up until November 2021. Everyone on the current board is a Democrat but for Markey, who is registered as an unaffiliated.
The bottom line: There are no open seats in Canton but both Hamlett and Mull can be contested.
Maggie Valley
Three of five Maggie Valley seats are up this year, including those of Mayor Saralyn Price, Alderman Dr. Janet Banks and Alderman Phillip Wight. Price and Banks are Democrats, and Wight is a Republican.
The biggest question in Maggie Valley was whether or not Price would run again, but she made her position clear by phone Jan. 6.
"No, I do not plan on running, and it would take a whole lot to change my mind," she laughed. "I feel like, I was an alderman for about 10 years and then mayor for like five, so I kinda feel like I've done my time, and it's time for other people to step up."
Alderman Banks, a Democrat, has been mentioned as a candidate for mayor, but says she's thrown her hat in the ring to replace Mayor Bob Scott of Franklin as the district's representative in the N.C. League of Municipalities because she wants to see Haywood County — and women — better represented in the League.
If she's chosen for the post in May, Banks says she'll run for reelection to her alderman seat because she doesn't want to juggle mayoral duties and League responsibilities at the same time. If she's not selected, she said she'd consider running for mayor.
Unaffiliated Alderman Mike Eveland's seat isn't up this year, but he's also been mentioned as a potential candidate for mayor.
"I'm looking at that possibility but obviously a lot could happen between now and June," Eveland said. "It's a good possibility, but I'm still looking at it."
Eveland's support in the business community and Banks' support in the residential community could make for an interesting matchup if both were to run; Eveland, however, could run and lose but still retain his aldermanic seat, while if Banks runs and loses, she's out for at least two years.
Like Eveland, Democratic Alderman Clayton Davis was elected in 2017 and will serve until 2021, but said he's not interested in running for mayor.
Alderman Phillip Wight, who came in sixth out of six in last November's county commission election, said it was still "too far out" to comment.
Local hotelier Allen Alsbrooks, registered unaffiliated, finished fourth of five in his 2017 bid for one of the alderman seats currently held by Davis and Eveland. He plans to run for alderman again this year.
The bottom line: The mayor's seat will be open, and there could be anywhere from zero to two open seats depending on what Wight decides to do and what happens to Banks with the League of Municipalities.
Clyde
The ballot in Clyde is slightly more complex this year due to the passing of two longtime public servants.
Democratic Alderman Frank Lay isn't up until 2021, but Mayor Jim Trantham, Alderman Dann Jesse and two recent appointees, Diane Fore and John Hemmingway, are.
Trantham was an alderman but assumed the mayorship upon the death of then-Mayor Jerry Walker; Walker's term would have expired this year. Trantham said he's running again.
Hemmingway, a Democrat, came into office in 2018 to fill the remainder of the term of Alderman James Mashburn, who passed away in May. That term, too, expires this year, and Hemmingway said he'd seek reelection.
Jesse, a Republican, said that as of press time he planned on running.
Fore, a Democrat, was appointed in 2017 to fill Trantham's term, which also would have expired this year, and said she planned to seek reelection.
"I've thoroughly enjoyed it," Fore said. "It's been quite a learning experience."
The bottom line: There are no open seats in Clyde, but all three alderman seats and the mayor's seat may be contested.
Waynesville
Waynesville, the largest town in Haywood County, plays host to elections that are usually the most high-profile, but that's also due to another reason — unlike all other towns in Haywood, Waynesville's terms aren't staggered, meaning that every four years, every single seat is up for election.
Mayor Gavin Brown left the door open to a potential reelection bid, which he said would depend on whether or not the sentiments of his supporters would outweigh those of silver screen gumshoe "Dirty Harry."
"I am a fan of Harry Callahan," said Brown. "One of my favorite lines is 'Well, you're a good man, lieutenant. A good man always knows his limitations.' I take great pride in my 20 years on the board. Without exception, all of my fellow board members have made decisions solely on their vision of a better Waynesville. I have had the opportunity to work with unbelievable employees and four exceptional town managers. I am not a supporter of term limits, but all human endeavors must have a closing scene. If my family, friends and supporters see me playing a role in Waynesville's future, I would consider seeking another term as mayor or alderman. That decision will be based solely on the best interests of Waynesville. Irrespective of that decision, I will continue to say 'I am the mayor of the best town in North Carolina.'"
Alderman Jon Feichter, a Democrat, said he's not ready to run for mayor — yet.
"I've had a few people encourage me to run, and would be interested at some point for sure," said Feichter. "Although I've learned a lot in the last three years, there's a lot more I need to know to do that job. Unless something crazy happens, I hope for another term as alderman."
Democratic Alderman Leroy Roberson said he was adopting a "wait and see" attitude, but was leaning towards not running for alderman or mayor.
"I ran for mayor once and got whooped pretty good," Roberson said. "So I'm not anticipating running for mayor."
The board's lone Republican, Julia Boyd Freeman, said that like Roberson, she has no plans to run for mayor.
"I do intend on running again for alderman," said Freeman, "and I have no intention at this time to run for mayor in this year's election."
Alderman Gary Caldwell, however, said he's ready to throw his hat in the ring.
"This is the time I need to do this, if I'm going to do it," said Caldwell, who turns 65 in May. Caldwell's served as an alderman for 24 years, and as mayor pro tem for probably 20 of those years, dating back to the administration of Mayor Henry Foy. Last year, he filled in for an ailing Brown for several months.
The bottom line: there could be anywhere from zero to two open alderman seats, and the mayor's seat may or may not be open, however all five positions may be contested in the election.