Archived Outdoors
A writer's retreat: GSMA offers writing residency in the Smokies
Wednesday, January 02, 2019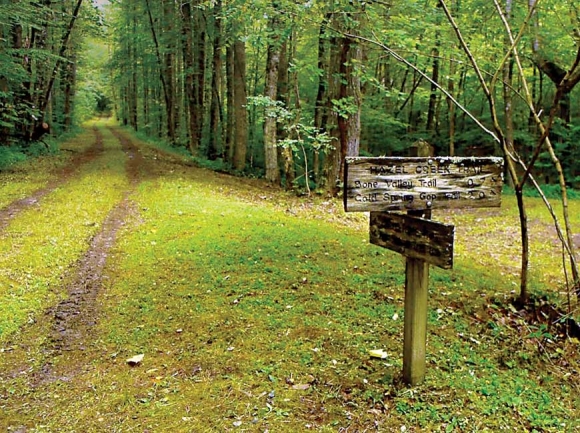 The Hazel Creek area is one of many historically significant places in the Smokies. GSMA photos
Steve Kemp moved to the Great Smoky Mountains in 1987 for what would become a 30-year career with the Great Smoky Mountains Association, and following his 2017 retirement GSMA is looking to honor his contributions to the organization through a new writer's residency.
"There is a specific skill in writing in a way that engages the reader and inspires curiosity and passion in the reader, and that's what we want to be able to cultivate," said Laurel Rematore, executive director of GSMA, "because we're in the business of helping people to connect with the Great Smoky Mountains National Park, connect on an emotional level so they will take care of it."
Kemp is exceptionally good at that kind of writing, Rematore said, making it fitting that the new program will be called the Steve Kemp Writer's Residency. Out of those applying, one writer will be chosen to live in park employee housing near Park Headquarters — located outside of Gatlinburg — from March 3 to April 13.
"It's access, and it's the opportunity to focus, focus without being concerned about outside deadlines or requirements," said Rematore. "I think oftentimes artists are looking for inspiration, and what better inspiration than to come and immerse yourself in this place for six whole weeks?"
Kemp should know — when he first arrived in the Smokies, he lived in park housing himself for a few months, until he could find a more permanent situation.
Steve Kemp has spent 30 years writing about the Great Smoky Mountains and will provide mentorship for an upcoming writer-in-residence program at the park.
"I'll tell you, I lived there and there's no TV or wifi. Maybe one radio station. So if that doesn't motivate you I don't know what will," he said. "When you live in a park, you see that park at times when tourists don't. First thing in the morning, in the middle of the night. It's a pretty exciting experience, really."
He's had that experience not just in the Smokies, but at Yellowstone and Denali National Parks, where he worked as a seasonal park ranger before shifting his career path.
"In those jobs, I always lived in the park," said Kemp. "So, it's nice and quiet and you make your own fun, but your neighbors are usually interesting people — and interesting animals."
When Kemp arrived in the Smokies, it was to begin what he described as a "dream job" that evolved with him over the course of three decades. He'd studied English in college but spent his summers working in the national parks, and he'd always wondered how those two sides of his experience would converge. Then he heard that GSMA was looking for a publications specialist. Kemp would eventually grow to manage the association's retail program as well with an ending job title of interpretive products and services director.
Kemp has written for a variety of journals and periodicals over the years and is the author of many books, including Trees of the Smokies, Great Smoky Mountains: Simply Beautiful, Great Smoky Mountains: A Visual Journey, We're Going to the Mountains, Great Smoky Mountains: Natural Wonder, National Park, and, perhaps most notably, Who Pooped in the Park?
GSMA is a nonprofit organization that exists to support the park, and its primary fundraising mechanism is the sale of books, maps and other materials at the bookstores it operates throughout the park. The sales support important park projects, and they also help visitors better and more safely enjoy their experience, taking home a lasting appreciation for what the park has to offer. The Smokies gets more than 10 million visitors each year, so it would be near impossible for park rangers to give individual attention to each one. Through GSMA publications, the thought is, visitors can learn about the park's explosive diversity of species and habitat and discover the best ways to explore it during their trip.
"I think more and more as our population becomes more urbanized, when people go on vacation and get out in the woods it's a very unfamiliar environment, and our publications and online resources help people learn about what they're enjoying," said Kemp. "And it also helps them enjoy the park safely."
The yet-to-be-selected resident writer will likely have a similar interest in conservation and public lands, but the exact form that interest will take is wide open. The writer could be a poet, an investigative journalist, a short story writer or pursue any other type of writing discipline. But whoever it is will have the advantage of ample time to write and reflect and the whole of the park archives to draw from.
Living in the park will give the writer plenty of opportunity to explore the park's wild places, such as Sugarlands Mountain.
"I've had the opportunity to administer other artist-in-residence programs in another place where I worked, and those experiences can be life-changing for the artists who participate in them," said Rematore. "So it's not something we do lightly because we know that it can really be a game changer."
While this will be the first year for the Smokies' writer-in-residence program, the park has hosted an artist in-residence program for some years. That program is open to artists of all types — musicians, craftsmen, composers, painters, sculptors, photographers, storytellers, performance artists, videographers and writers too — and done in collaboration with the Arrowmont School of Arts and Crafts. Writers could be selected through the program, but it's not focused on writing specifically.
"We saw an opportunity to basically expand this park's residence program by saying we want to create this writer-in-residence opportunity," said Rematore. "It was really the coming together of several ideas. One was to honor Steve (Kemp) and seeing an opportunity to do this through this park's residence program."
The selected writer will have more opportunity available to him or her than just the chance to sit in a cabin for six weeks. The writer will spend time with Kemp to "get a flavor of his view of things," said Rematore, have access to park archives and personnel and have the opportunity to host events and be published in GSMA works.
It's taken some time to plan and execute the residency, but GSMA intends to continue the program in perpetuity, with the 2018 writer-in-residence to be just one of many to come.
"There is the perception that a casual park visitor has about the programs and services and everything that's here, but then when you spend time day-to-day here contemplating it, you're here for more than just a vacation," said Rematore. "You're here to live here."