Archived Outdoors
The Naturalist's Corner: Flocking together
Wednesday, January 02, 2019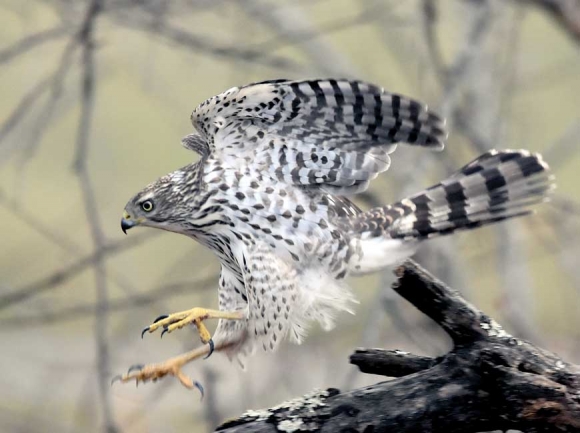 Immature Cooper's hawk from Lake Junaluska. Tim Carstens photo
Birding buddy and former subcontractor for my Forest Service point-count survey, Kirk Gardner, was in town for the holidays and managed to cobble together a group of birding buddies for a bit of birding.
We started at Lake Junaluska, around 8 a.m. last Thursday (Dec. 27.) It was a raw, cold morning with occasional rain and a blustery wind. The lake and environs seemed quiet, so it was kind of surprising when we tallied species at the end, around noon, and came up with 46 — Lake Junaluska is pretty birdy even on a bad day.
We watched an eagle swoop down and give the coots a big scare before regaining altitude and soaring off into the grey. A palm warbler was observed on the hillside in front of the Lambuth Inn and we also found a mallard X American black duck hybrid hanging with the usual suspects near the swan feeding station.
Four of us, Kirk, Tim Carstens, Vince Kloster and yours truly decided since we were already out and cold a quick trip to Kituwah to see if we could kick up a few sparrows would be the perfect way to end the day. When we arrived it was still grey, windy and misting rain. The gate was open and there were some people working on farm machinery under the shed and a group of people down at the river. We drove in and began birding. It was still a kind of a slow day and we had to work hard for birds, but we added about a dozen species to our day list. We had recorded song sparrow and white-throated sparrow at Lake J and we added swamp, field and white-crowned sparrows at Kituwah. We also found a small mixed flock of blackbirds that included red-winged blackbird, rusty blackbird, common grackle and brown-headed cowbird. We even managed to add a species of waterfowl when we flushed three wood ducks from the Tuckasegee River. Other additions to our list included pileated woodpecker, northern flicker and hermit thrush.
So we had around 58 species — not bad for a cold, raw late-December day. But the day's events weren't over. We headed back to the gate. We noticed the crowd had left the river and there were no vehicles at the shed. Then we noticed the gate was locked. We drove back around to the only other entrance and the gate there was locked as well.
We wound up calling tribal dispatch; they tracked down a key and sent an officer from the Cherokee Police to unlock the gate so we could get out. We asked why the gate was locked (since the Tribe acquired Kituwah, normal protocol has been for the gate to remain open from dawn to dusk.) The officer said the gate was locked because people had been four-wheeling on the roads — and for you fellow birders out there, he said the gates would remain locked, so if you're planning on birding Kituwah you should park outside and walk in.
(Don Hendershot is a naturalist and a writer who lives in Haywood County. He can be reached at This email address is being protected from spambots. You need JavaScript enabled to view it.)