Archived Reading Room
The unbelievable kindness of Mr. Rogers
Wednesday, January 02, 2019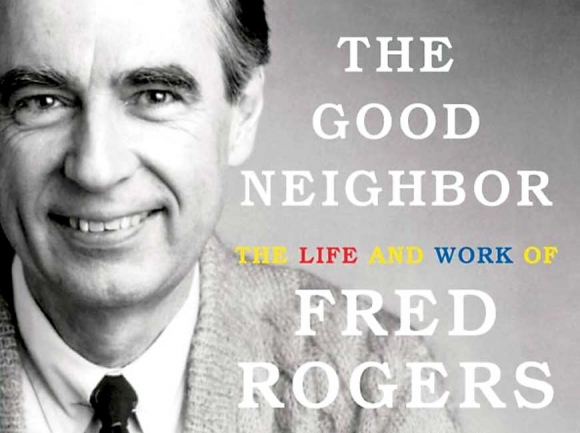 My online dictionary defines hagiography as "the writing of the lives of the saints, adulatory writing about another person, or biography that idealizes another person." The dictionary adds that the last two terms are "derogatory."
While reading Maxwell King's The Good Neighbor: The Life and Work of Fred Rogers (Abrams Press, 2018, 405 pages), that word kept coming to mind. Sometimes it seems Mr. Rogers, the host of television's Mr. Rogers' Neighborhood, floats off these pages wearing a halo and wings, strumming a harp and singing "It's A Beautiful Day In The Neighborhood." Was Maxwell King, former editor of the Philadelphia Inquirer, former CEO of The Pittsburgh Foundation, and one-time director of the Fred Rogers' Center for Early Learning and Children's Media, mesmerized by Rodgers? Could a nationally known figure, a star, really be this kind?
Apparently so.
As I read The Good Neighbor, my skepticism changed first to a grudging recognition that here was a truly good man, and then to full-blown admiration. Here was a man who had a vision for children and children's television, fought for what he wanted, stuck to his guns, and won most of his battles. Here was a guy who wrote the music and many of the scripts for his show, who brought out his puppets to entertain and edify the pre-school set, who received high praise from such varied figures as jazz musician Wynton Marsalis and historian David McCullough.
Here, too, is perhaps a living saint, though Fred Rogers might laugh at that title. Highly influenced by his upbringing in a wealthy, Presbyterian home in Latrobe, Pennsylvania, Rogers learned from an early age that people have a moral obligation to take care of one another whenever possible. His mother took her philanthropy personally, often sending food, toys, clothing, and shoes to local families in need.
After his graduation from high school, Rogers spent the next decade studying music, which he had loved since boyhood, theology, and early childhood development. In The Good Neighbor, King gives us extensive portraits of those mentors in each of these fields who influenced Rogers. In seminary, for instance, he met Dr. William Orr, "the chain-smoking seminary professor who focused on the New Testament, loved more than anything to debate theology with his students, particularly Fred Rogers, and came as close as anyone Fred had known to being a living saint."
Off the set, Rogers never lost his intense interest in children or his compassion for those in trouble. King recounts many incidents where Rogers might be walking down the sidewalk or eating in a restaurant, but would put aside everything if a child approached him. Some of this tenderness and feeling for children doubtless went back to his boyhood, when he was bullied at school for his chubby frame and his wealth.
His feeling for people of all kinds was one of his trademarks. Based on the recollections of one of Rogers' interns, who had gone with him to Boston to meet a key television executive, King relates this incident:
"A limousine had been hired to take them to them to the executive's home. When they got there, the limo driver asked Fred when he should pick them up after dinner. Instead, Fred invited him in, to the bewilderment of the hostess. After dinner, he sat up front in the limo with the driver, a man named Billy, to get to know him.
"Before the evening was over, Fred and the intern went back to Billy's house in West Roxbury to meet his parents. Fred came in and played the piano as people streamed in from around the neighborhood to listen. A few years later, when Fred learned that Billy was in the hospital dying, he called to talk with him and to say good-bye."
Of special interest to some readers, perhaps, is what co-workers on the set of Mr. Rogers' Neighborhood called "Freddish," the grammatical and vocabulary rules for writing for the show. Often what appeared to be simple sentences or phrases underwent extensive revisions because the writers lacked Fred Rogers' ability to get inside the mind of a 5-year-old. "It is dangerous to play in the street" undergoes eight modifications, finally ending up as "Your favorite GROWN-UPS can tell you where it is SAFE to play. It is important to try to listen to them. And listening is an important part of growing."
Fred Rogers also had a whimsical sense of humor, sometimes employing the voices of his beloved puppets — Daniel Striped Tiger, King Friday XIII, Lady Elaine Fairchilde, and others — to lighten a situation. In one incident, Arthur Greenwald, a writer for the show, ran out of gas on the highway while taking Rogers to a conference.
"… I finally flagged down a state trooper. I was really embarrassed. I said to Fred, as the state trooper took him and Margaret and their belongings into the car with the flashing light, "Oh, Fred, what would Lady Elaine say at a time like this?'
"And through the darkness, Lady Elaine's voice came back: 'She'd say, 'Oh, shit!'"
Fred Rogers wasn't, as King points out, "universally admired or understood, at least by some adults." Basil Cox, who once worked for Family Communication, a Rogers nonprofit, recollected that "He was constantly having to persuade people that he was real, in those days — constantly. Even later on, he always had his detractors, but — then I hesitate to say it, but I think early on they were in the majority, not the minority. He was just not believable to people."
The Good Neighbor makes Fred Rogers believable.
(Jeff Minick is a writer and teacher. This email address is being protected from spambots. You need JavaScript enabled to view it..)