Archived News
Cherokee debates ability to protest Council decisions
Wednesday, January 02, 2019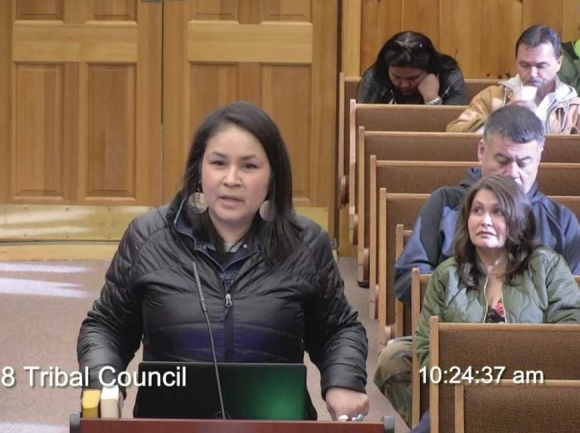 Birdtown community member Becky Walker presents her proposed ordinance to Tribal Council Dec. 6. EBCI image
An ordinance seeking to broaden the ability to protest decisions of Tribal Council is under discussion, with Tribal Council narrowly voting to table it when it was introduced during a Dec. 6 meeting.
Birdtown community member Becky Walker submitted the ordinance revising current protest legislation. Walker's legislation contains two especially notable changes from the law now on the books. Under the proposed ordinance, any enrolled member — not just an "interested party" defined as someone with a direct financial or property interest in the decision — could enter a protest of Council decisions, and the period to enter protest would be specified as 10 business days, not the 10 calendar days currently in practice.
"We are all interested parties," said Walker. "All of the enrolled members that have to abide by the laws and decisions of this Tribal Council, it is our inherent right."
The protest ordinance states that any "interested party" has the right to protest Tribal Council decisions; in June the definition of "interested party" was amended to mean someone with a "direct financial stake" in the outcome of a decision or a person whose "property interest" would suffer a "direct adverse effect" due to the protested action. Previously, "interested party" had been interpreted more loosely, with tribal members entering protests counting themselves as interested parties due to their overall interest in tribal government as members of the sovereign nation.
Walker's submission also specified that the 10-day deadline to enter a protest meant 10 business days, not 10 calendar days.
"I was going to submit a protest on something in September or October, and when I called TOP (Tribal Operations Program), I was told those 10 days had ended, and those 10 days included four weekend days," Walker said.
Because Tribal Council is always on a Thursday, that's typically how it's going to be if the 10 days include weekends.
"That just doesn't make any sense," said Walker.
Councilmembers expressed support for clarifying the 10-day issue but were more hesitant when it came to the other amendment, which would change "interested party" to instead read "enrolled member."
"The Charter was amended to allow first-generation heirs to hold their enrolled parents' land, and if there's a dispute somehow — which the charter allows them to posses that after their parents' death — and if we put 'enrolled members' that's going to eliminate their opportunity to protest if something was to come up," said Vice Chairman David Wolfe, of Yellowhill.
Principal Chief Richard Sneed, meanwhile, took issue with Walker's assertion that restricting the ability to protest to "interested parties" denies tribal members' right to a redress of grievances guaranteed under the Indian Civil Rights Act. Tribal members have ample input into the front end of the law-making process, he said. They can put forward referendums and they can challenge decisions in court.
"To try to include the ICRA in this and say that there's no redress of grievances or that the people's voice is somehow being quashed in this is completely false," he said.
Hannah Smith, an attorney with Cherokee's Office of the Attorney General, added that the "interested party" definition found in the ordinance is based on "fundamental aspects of judicial principles" and aims to allow "people who have a private individual interest that has been decided upon by the tribe" to appeal that decision.
Sunshine Parker offered her legal opinion as well. Parker manages the tribe's Family Safety Program but is also a licensed attorney.
"I think it's going to open a door that you all aren't prepared to open at this point," she told Council. "You're really opening yourself up to anybody who has a personal issue with a person. Anybody who doesn't like anything that you pass in here is going to be able to protest that."
Walker acknowledged that there were differences of opinion — specifically, she said she understood the need to allow non-members with property interests to protest — and requested that Council schedule a work session on the issue.
Councilmember Albert Rose, of Birdtown, moved to table the ordinance for a work session with a second from Councilmember Lisa Taylor, of Painttown. Councilmember Tom Wahnetah, of Yellowhill, moved to kill it, with a second from fellow Yellowhill member Vice Chairman David Wolfe. Rose's motion prevailed, with six council members voting for and six against. Due to the values of the weighted votes given each representative, however, the move to table won out.
Voting to table were Councilmember Jeremy Wilson, of Wolfetown; Councilmember Richard French, of Big Cove; Councilmember Boyd Owle, of Birdtown; Councilmember Bo Crowe, of Wolfetown; Taylor and Rose. Voting against the move were Councilmember Tommye Saunooke, of Painttown; Chairman Adam Wachacha, of Snowbird; Councilmember Bucky Brown, of Snowbird; Councilmember Perry Shell, of Big Cove, Wolfe and Wahnetah.
The ordinance is not included on the current agenda published for the Jan. 10 meeting.
Editor's note: This story was reported using online meeting videos, as Tribal Council's April 2018 decision to ban non-Cherokee media from its chambers prevents The Smoky Mountain News from attending in person.