Archived Outdoors
Portal in the snow
Wednesday, December 19, 2018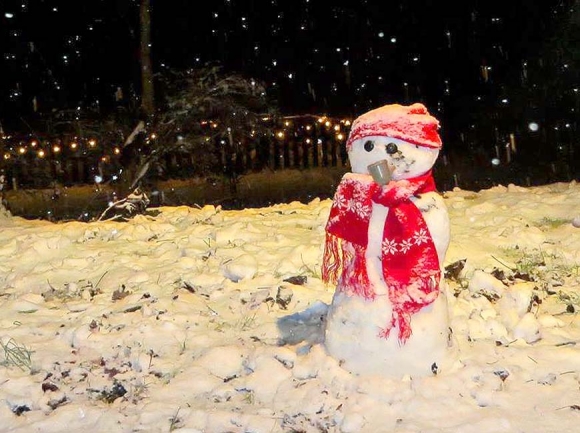 With snow comes the snow people. Don Hendershot photo
I don't know if our recent ancestors were better weather readers than we, or if they simply knew, by late November, they should be prepared for winter. Nowadays we wait for forecasts from meteorologists, and likely rely on a little intuition as well. But by Thursday (Dec. 6) last week almost everyone was onboard with the idea North Carolina was dead in the sights of a major winter storm.
We had been keeping abreast of forecasts and the consensus was, the storm would hit us Saturday night. We began prepping — making sure we had batteries for flashlights, drinking water and ice-melt for the sidewalk and deck. By Friday night, the only two primary concerns were stacking copious amounts of firewood where it was readily available and filling the tub with "flush" water — our water comes from a well and with no electricity there is no water. We felt we were in good shape with plenty of time for those tasks on Saturday.
Imagine our surprise when we got up at 7 a.m. Saturday morning, started coffee and looked out to see — it was snowing. Well, coffee and a light breakfast and we quickly began stacking wood, first in the inside cubby near the fireplace and then nearby on the deck. Then after everyone had showered we filled the bathtub with water and went about our day.
There were periods of snow, then rain, then snow throughout the day, turning to a steady snow by dark. Around 11 p.m. with about six inches of wet, heavy snow down we lost power. I went to the living room, built a fire and settled onto the couch, where I would spend four nights tending the fire.
We were at a disadvantage compared to our recent ancestors who likely had wood stoves/heaters for heat. A closed system you can load with wood and "damp" down burns slowly, allowing one to get a good six or eight hours of sleep without tending the fire. Our fireplace is utilitarian, built into a large rock wall with vents allowing warm air into the room. But it is not closed, other than with glass doors, so wood must be added every two to three hours.
The fireplace will keep the front of the house livable – maybe around 60 degrees – in cold weather, but more importantly will keep the entire house and basement above freezing, preventing water pipes from freezing. We also have a small portable propane heater if we need heat in the bedroom or bathroom.
Our preparations hit a bit of a snag when I set up my old Coleman camp stove to cook breakfast Sunday morning. This is a two-burner stove my dad used at the camp when I was 6 or 7 years old. It was a workhorse, cooking up a storm. However, I hadn't used it since 2009 — last time a snowstorm knocked our power out for a few days — and the gasket that allows you to pressurize the fuel tank had dry-rotted and the tank wouldn't hold pressure. So that left us with the grill for cooking and for heating water for dishes, etc. It was a little awkward but it worked.
Come Monday, I was in a routine and that's when I began to think about what winters must have been like in the not-too- distant past. By 5 p.m. the headlight was on and it would be 8 a.m. before it was light enough to see without it in the house. The day was basically filled with the chores of fire tending, shoveling snow, food prep and dish washing — and romping in the snow if you were a kid. Then back to the couch to keep the home fire burning through the night.
I know, I'm weird, but I felt a kind of connection, living on Nature's time instead of flipping a switch and retreating to man-made light and heat or jumping in the car to join throngs on the go. Instead, when the sun went down it was dark; a nice quiet dark, time to stoke the fire for warmth, maybe talk to an owl and get a little rest. Then when the sun came up it was time to get the day's chores done and maybe take a walk in the fresh white snow and wait again for the long, quiet night.
(Don Hendershot is a naturalist and a writer who lives in Haywood County. He can be reached at This email address is being protected from spambots. You need JavaScript enabled to view it.)