Archived News
Resolution passed to dissolve Qualla Housing
Wednesday, December 19, 2018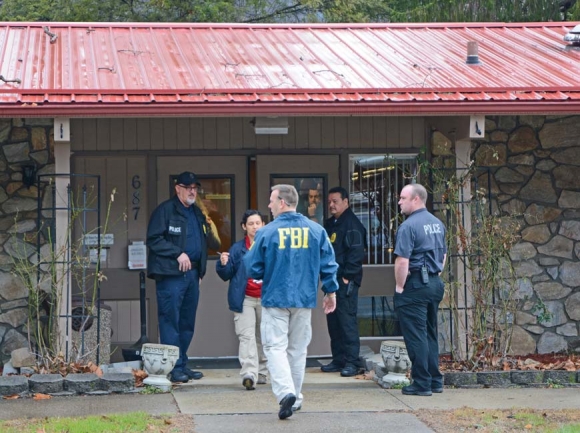 FBI agents raid the Qualla Housing Authority in February 2017. Holly Kays photo
The Cherokee Tribal Council took the first step toward dissolving the Qualla Housing Authority with a resolution passed Thursday, Dec. 6.
The resolution outlines several drastic operational changes to an organization that has come under fire in recent years for allegedly mismanaging federal dollars, failing to keep records of important transactions and bending the rules regarding types of services covered and maximum loan amounts.
Once it is signed into law, the resolution will mean that the tribe's Division of Housing, not Qualla Housing, will be the entity receiving any future housing funds from the U.S. Department of Housing and Urban Development.
The resolution also outlines other changes, stating that Qualla Housing will "cease to exist as a body politic and corporate and as a public body" and that all its property, funds, taxes, debts, judgments, liens and other assets or liabilities will fall to the Eastern Band of Cherokee Indians. However, actually doing away with Qualla Housing will be a two-step dance.
Passing the resolution satisfied HUD's requirements to change the entity receiving funds on the tribe's behalf. But Qualla Housing's role is codified in tribal law, so if Tribal Council wants to go through with everything that's laid out in the resolution it will have to approve an ordinance change as well.
"If you pass this (resolution) today and the ordinance doesn't pass, I guess we're back to square one again," Principal Chief Richard Sneed said when the resolution was discussed in an Oct. 15 Council session.
The draft ordinance was deemed read and tabled during the Dec. 6 Tribal Council session — tribal law requires that ordinances sit for 25 days after being initially presented before Council votes on them. Tribal Council could pass the ordinance at its next meeting, slated for Jan. 10, 2019.
"The services that Qualla Housing provides today, they're not going away," said Housing Secretary Travis Smith. "We'll absorb that also and we'll still offer those services. None of those services are going away."
Council members agreed that tribal members would be better served in the long run by doing away with Qualla Housing.
"This is not working as is," said Councilmember Tom Wahnetah, of Yellowhill. "We need to get our people in homes, and I think this is the right direction to do that. With or without federal funding, we have to build our people homes. And I think this is a step in the right direction."
Tribal Council has been considering changes to Qualla Housing for months, voting to table the resolution in October and again in November. On those occasions, Sneed told Tribal Council that the merger was necessary because the growth of the casino and accompanying per capita payments has made many tribal members ineligible for federal housing assistance — as a result, Qualla Housing has been building only a couple homes per year despite receiving millions from the federal government on an annual basis. Instead of building homes, it's been focusing its efforts on rehabbing and renting out properties that, Sneed said in November, "should have depreciated out years ago." By merging Qualla Housing services with the tribe's housing department, he said, the tribe would save money and better serve its people's housing needs.
Qualla Housing has also failed to use incoming mortgage payments appropriately, Sneed said in October. The authority is supposed to put revenue from those payments into a revolving loan fund to provide future mortgages but has instead been spending the payments to operate the program.
The effort to dissolve Qualla Housing comes on the heels of some troubled years for the agency, which in October 2016 received a letter from the FBI informing then-director Charlene Owle that Qualla Housing was under investigation for "possible criminal conduct related to certain loans and loan applications, among other matters" and that destroying pertinent documents would be considered a federal crime. Agents raided Qualla Housing offices in February 2017, removing two U-Hauls full of documents. According to then-Principal Chief Patrick Lambert, the raid took place following multiple reports of document shredding.
In May 2017, days before the impeachment proceedings commenced that would culminate in his removal from office, Lambert released a forensic audit his administration had commissioned from RGL Forensics to look into alleged wrongdoing at Qualla Housing.
The 210-page document contains a multitude of examples in which Qualla Housing — the authority is overseen by a six-member board composed of Tribal Council members — had allegedly bent the rules, broken the law and failed to keep proper records. Red flags included questionable business trips Owle went on with Qualla Housing funds, a laundry list of accounts with suspicious charges and poor internal controls.
Owle was never fired from her position but eventually resigned earlier this year. No charges have yet been filed related to activities at Qualla Housing, but that doesn't mean that the investigation is closed.
Lambert had attempted to begin the process of dissolving Qualla Housing when he was chief in 2017, but the resolution was repeatedly tabled and eventually disappeared from the agenda.
This month, 11 of the 12 council members voted to pass the resolution, with Councilmember Bo Crowe, of Wolfetown, the only one opposed. The resolution is still waiting on a signature from Sneed, who told The Smoky Mountain News via text message that he does intend to sign it.
Editor's note: This story was reported using online meeting videos, as Tribal Council's April decision to ban non-Cherokee media from its chambers prevents The Smoky Mountain News from attending meetings in person.