Archived Arts & Entertainment
Choices and changes: A conversation with Sierra Hull
Wednesday, December 12, 2018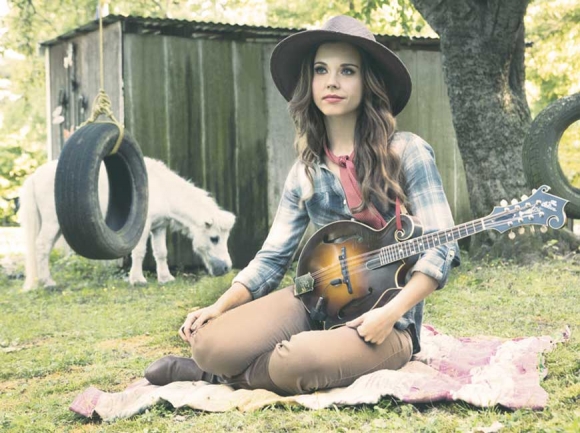 Sierra Hull.
Though part of the scene most of her life, singer/mandolinist Sierra Hull has been making some big waves in the world of bluegrass in recent years.
At 27, Hull has received the "Mandolin Player of the Year" award from the International Bluegrass Music Association the last three years in a row. Before that time, no other female musician had ever been given the honor in the decades-old history of the IBMAs.
The awards are not simply the culmination of a lifetime of work. It's more so the line in the sand between her youthful immersion in the genre and her place as one of the great, defining figures in the modern era of that "high, lonesome sound."
Signing to Rounder Records at just 13 years old, Hull has played seemingly every single backyard pickin'-n-grinnin' session and bluegrass barbecue festival stage from coast to coast, soaking in the rich history and deep appreciation of the beloved music.
And yet, for all of her respect and appreciation of bluegrass, Hull is continually looking toward the horizon, a place where she can break new ground — as a female musician, but, more importantly, as an artist in the truest sense of the word.
Smoky Mountain News: When you look at the current landscape of the bluegrass music, what do you see? Because some people say that it's changing, and some people say it's business as usual…
Sierra Hull: I definitely think it's changing, but I think that's music in general. It has been changing since before I was even a musician. To me, you can tell that from even just going back and listening to albums and hearing how the music has changed, say, since Bill Monroe's day. And how his music changed as it became what we think of as bluegrass today. And what we think of as "bluegrass today," I feel like everybody thinks of that word as meaning something slightly different depending on what section within bluegrass music you grew up in.
SMN: It's such a weird genre, because it's so particular in its ways…
SH: Yeah, it is. I also think, though, that a lot of my generation, a lot of my peers, grew up loving bluegrass music and that sort of five or six-piece band format, which is what I think of when I think of bluegrass music.
But, I feel that genre is becoming less and less important for most of my generation. Not that we don't love bluegrass, and a lot of my friends grew up in the world the same as me, but as far as worrying about what's considered "bluegrass," it feels like it's becoming more inclusive than ever before, which I think is very healthy. I do, because it's important for the younger musicians to play good music, but yet be accepted by the wonderful community and group of musicians that I think of when I think of bluegrass.
I love the music itself, but getting to be part of that community and the spirit of it was such an exciting thing to be part of as a young musician. I want the next generation, even if they what they're playing isn't the most traditional thing in the world, that they can be welcomed within the bounds of that word ["bluegrass"].
SMN: Creatively, I would think it wouldn't be fun to be pigeonholed rather than just "serve the song."
SH: Definitely. And when I say it's becoming less and less important to my generation, I do feel that, in a healthy way, that's the case. People are just trying to think about what kind of music do [they] want to play, what kind of songs do [they] want to sing, rather than worrying about if it fits within the bounds of a particular thing.
SMN: Yourself, Molly Tuttle, Becky Buller and Flatt Lonesome are really breaking some new ground in terms of female performers in the genre. Is it that there are more prominent female artists today or that the door is opening more, or is it both?
SH: It may be a little bit of both, honestly. I think people are more aware of it perhaps more than they once were. But, I'm also seeing more and more females taking part than ever before. I'm totally aware of the fact that, yes, my whole life I've looked around and many times [I have] been the only female in a room in a jam or the only female on a bill at a festival for an entire weekend. And I know a lot of my fellow ladies have felt that way.
But, I'm a big believer that, first and foremost, you need to be the best musician you can be, regardless of male or female. There's more women out there, so to speak, to earn a seat at the table than ever before. Women are digging in and are deciding that this is what they want to do — inevitably we're going to see these musicians that are earning their place.
Want to go?
Acclaimed bluegrass singer/mandolinist Sierra Hull will hit the stage for a special evening, "A Bluegrass Christmas with Sierra Hull," at 7:30 p.m. Friday, Dec. 21, at the Smoky Mountain Center for the Performing Arts in Franklin.Tickets start at $15 per person. For more information, call 866-273-4615 or visit www.greatmountainmusic.com. To learn more about Hull, visit www.sierrahull.com.