Archived Arts & Entertainment
This must be the place: 'If everything could ever feel this real forever'
Wednesday, December 12, 2018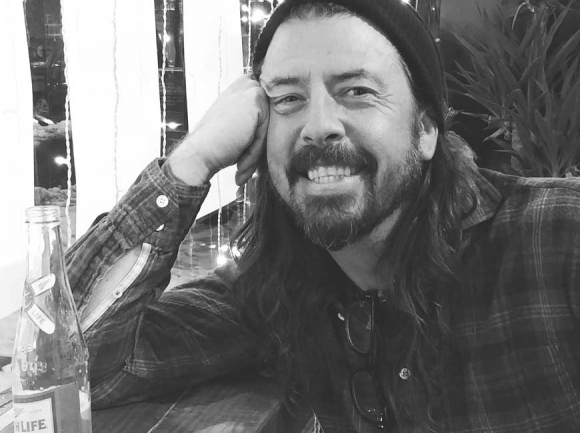 Dave Grohl. Garret K. Woodward
As a Rolling Stone magazine subscriber since I was in ninth grade, it has my biggest dream as a writer to get a piece — just one single article — published by them. Well, as of this week, I've now had two pieces published by Rolling Stone. And it all came completely out-of-nowhere.
When I moved to Western North Carolina in 2012 to work for The Smoky Mountain News, I quickly befriended a brewery owner in our backyard. He's now considered one of my closest friends.
Well, when he was in Nashville, Tennessee, doing distribution work, he befriended a talented up-and-coming musician, Jamie Kent. The singer-songwriter would then come and play my buddy's brewery from time-to-time, to which Kent and I hit it off. Somehow, in our rollicking conversations, I told Kent my ultimate dream of being published by Rolling Stone. He informed me one of his good friends in Nashville is a senior editor for the magazine. I told Kent, "Well, maybe someday that editor and I will meet."
And a lot of time went by. Like two ships passing in the night, the Rolling Stone editor would be in Asheville when I was out of town or he was not around when I was in Nashville. Oh, well, I figured. Someday. Then, this past summer, Kent played our mutual friends' wedding at his brewery, a ceremony where I was also a groomsman.
Before he left town, Kent gave me one of his band T-shirts. It was this all-black shirt. About a month later, I was randomly asked if I wanted to go to a show at Pisgah Brewing in Black Mountain. Yep. And the only clean shirt I had left was Kent's, and it was perfect to wear on a hot, sweaty day where one can hide perspiration behind the black design.
While in the audience, this guy tapped me on the shoulder. He goes, "Hey, man, Jamie Kent? He's a good buddy of mine." Mine, too, I replied. I introduced myself. He told me his name. I go, "Wait, are you the guy who is an editor at Rolling Stone?" He was. I gave him my number, saying if he ever wanted to work together, well, call me.
Several months go by and really no word from Rolling Stone. I wasn't going to get my hopes up. But, about a week ago, I get a message from him, "Do you want to cover Warren Haynes' Christmas Jam for Rolling Stone?" I was shocked. Yes. Onward to the U.S. Cellular Center in Asheville this past weekend as a Rolling Stone correspondent.
From this past Thursday through Saturday night, I ran all around the arena, gathering quotes from beloved musicians and jotting down observations for my feature article. It was an overwhelming spectacle of lights and sound — physically and emotionally.
And yet, the one person I wanted to interview, singer/guitarist Dave Grohl (Foo Fighters/Nirvana), the main headliner, had eluded me the entire time. I never seemed to cross paths with him. As a longtime music journalist, and one whose life has been greatly shaped by Grohl's music, he's remained atop my "Interview Wish List" since the beginning of my career — I was Captain Ahab, Grohl was my Moby Dick.
But, nevertheless, I awoke early Sunday morning, hazy and bleary-eyed from the melodic chaos, poured myself a strong cup of coffee, sat down and cranked out my article to be submitted and posted online. By the afternoon, it was published on Rolling Stone's website for all to see. I was so overjoyed my eyes began to water on multiple occasions most of the day, and still now as I write this.
By late Sunday afternoon, my phone rang. It was a member of the Christmas Jam production. Apparently Grohl and Haynes were snowed in and couldn't fly home, so they were going to do a surprise show at The Orange Peel.
I jumped on the opportunity and found myself in the sold-out Asheville venue by that evening. The editor at Rolling Stone found out I was at the show and asked if I could send another piece to them by Monday morning to be posted — the once-in-a-lifetime show was too important to not be documented. No problem.
The show ended and immediately thereafter a dear friend and I walked down to Buxton Hall Barbecue. His buddy, the restaurant owner, was going to open to establishment just for us and some musicians to eat a late-night meal.
And there I was in this barbecue joint, only to see a transport van roll up. Out pops Warren Haynes, Dave Grohl and the rest of the musicians who played that night. I introduced myself to Grohl. He goes, "Rolling Stone? Did you write that feature that was posted today?" Yes, I did. "Dude, that was a great article. I love how you wrote about our guitarist, nobody gives him enough credit."
I then asked Grohl if he wanted to give me some quotes for the surprise show article. "Definitely," he smiled. We grabbed a couple beers and found a quiet corner to interview. Fifteen minutes later, I hugged him in sincere gratitude. I had now made a new friend. I was living — and will continue to live — my dream in real time.
Life is beautiful, grasp for it, y'all.
Hot picks
1 The annual "Lights & Luminaries" will return to the streets of downtown from 5 to 9 p.m. Dec. 14-15.
2 Lazy Hiker Brewing (Franklin) will host Rats Sabbath (Black Sabbath tribute) at 8 p.m. Saturday, Dec. 15.
3 Author Y.C. Harper will host a reading and signing of her debut novel Death of a Publisher at 3 p.m. Saturday, Dec. 15, at Blue Ridge Books in Waynesville.
4 A special stage production of "A Tuna Christmas" presented at 7:30 p.m. Dec. 14-15 and 17, and at 4 p.m. Dec. 16 at the Smoky Mountain Community Theatre in Bryson City.
5 "A Christmas Carol" will be staged at 7:30 p.m. Dec. 14-15 and at 2 p.m. Dec. 16, at the Haywood Arts Regional Theatre.