Archived Reading Room
Making a small dent in the book pile
Wednesday, December 12, 2018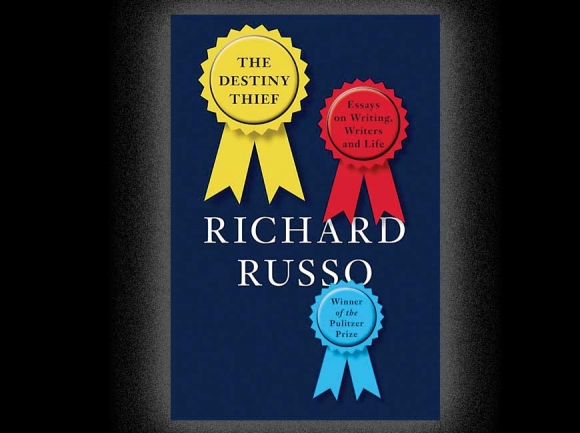 So many books, so little time.
Many booklovers may have uttered that old saw with a sigh, but in my case these words have never been truer. On my spare desk a stack of books sits waiting for review, three more wave to me from a bedside stand, and two are calling to me from the steps leading from my apartment to the upstairs. Here are books from three different libraries, books sent in the mail for review, books picked up from the library sale. In addition, I am still working my way through Will and Ariel Durant's The Story of Civilization, trying to read at least half an hour every day in order to finish the 11-volume series by the end of the year.
Time to get busy.
Let's start with Dear Fahrenheit 451: Love And Heartbreak In The Stacks: A Librarian's Love Letters and Breakup Notes to the Books in Her Life (Flatiron Books, 2017, 244 pages). Here librarian Annie Spence writes notes to the books in her life — not to the authors, but to the books themselves. Spence seasons these mini-reviews with a ribald humor that often had me laughing aloud. Her comments on librarians and library patrons are equally amusing. Moreover, she's unabashed in her penchant for the silly, even daring to indulge in puns. Here, for example, she ends her note to Cornzapoppin, a book of popcorn recipes headed from the library shelves to the used book sale: "All right, Corny. I 'butter' be going. Stay A-maize-ing, Annie."
At one point, she writes to Shel Silverstein's The Giving Tree. As a girl, Spence loved this story of a boy and the tree that keeps "giving and giving and giving" to him, but as an adult Spence says: "Then the punk comes and takes all her leaves and apples. In the end, I think we're dealing with a severe case of low self-esteem and an unreliable narrator…You took from me, Giving Tree. You took and you took and you took. And I'm still giving, but now I'm giving you up. How Do You Like Them Apples?"
In addition to relishing Annie Spence's spicy wit, I found in Dear Fahrenheit 451 mention of dozens of books and authors unfamiliar to me. I kept a running list of the ones that sounded interesting, and will eventually ferret them out in the library.
Below is my own short note to Dear Fahrenheit 451 a la Annie Spence:
Greetings Dear Fahrenheit 451,
Thank you for giving me an entire platoon of authors to investigate. Thank you for making me laugh. Any book that brings laughter is a winner.
Dear Fahrenheit 451, I hope you have "blazed" your way into the hands of other readers. Tepid wit compared to the fiery furnaces of your humor, but I am a mere reviewer and you are the bright star. I will end with that valediction you gave to your Roget's College Thesaurus (Mine stands at my elbow every time I sit at this desk),
With Intimacy, Deep Affection, and Ardor,
Jeff
Next up is Richard Russo's The Destiny Thief: Essays on Writing, Writers and Life (Alfred A. Knopf, 2018, 205 pages). While I'm not sure we need more books on writing, even general readers will find gold in Russo's nuanced remarks on comedy vis-à-vis politically correctness, his tales from his days as a university teacher, his life-embracing address to the graduates of Colby College, and the chapter titled "Imagining Jenny," in which he discusses the transition of his friend Jim into Jenny. In "Jenny," Russo gives us a fine and honest account of the transgendered, their conflicts, and the effects of this change on those who love them.
In addition to these high points of the book, I am grateful to The Destiny Thief for bringing up novelist Jon Hassler. In the chapter "What Frogs Think: A Defense of Omniscience," Russo discusses Hassler, who died in 2008, as a master of omniscient narration. Russo's remarks — I had read and enjoyed a few of Hassler's novels years ago—caused me to add Hassler to the list I'd begun when reading Dear Fahrenheit 451.
Though I have lost interest in reading books by political commentators of any ideological stripe, I picked up Pete Hegseth's In The Arena: Good Citizens, a Great Republic, and How One Speech Can Reinvigorate America (Threshold Editions, 2016, 285 pages). In The Arena takes its title from a speech Theodore Roosevelt delivered in April of 1910 at the Sorbonne in Paris. I had previously read part of the speech — the famous lines about the man in the arena — and was interested in reading Roosevelt's address in its entirety while getting Hegseth's take on it.
Hegseth, a graduate of two Ivy League schools, a combat veteran, and a Fox News contributor, carefully dissects Roosevelt's speech, explaining that much of what Roosevelt said about citizenship remains as true today as it was a century ago. At the end of In The Arena, Hegseth offers "A Prescription: Advancing Citizenship in a Republic," a chapter in which he includes specific remedies designed to strengthen American citizenship. Progressives would likely disagree with most of Hegseth's prescriptions, and even many conservatives would oppose his ideas, especially his advocacy for expanded involvement in the Middle East.
Yet some of his suggestions for the improvement of our republic strike me as laudable. Who would find fault with teaching citizenship and the Constitution more ardently in high school, requiring students to pass a test similar to those we require of our immigrants who want to become citizens? Who would oppose getting rid of gerrymandered political districts or turning Election Day into a nation holiday "to foster a shared civic experience? Other than government bureaucrats, who would deny that "America needs civil service reform across the federal government?"
Three very different books, all of them with some value.
Next pile, please.
(Jeff Minick is a writer and teacher. This email address is being protected from spambots. You need JavaScript enabled to view it..)