Archived News
AG looks to protect WNC's interest in Mission sale
Wednesday, December 12, 2018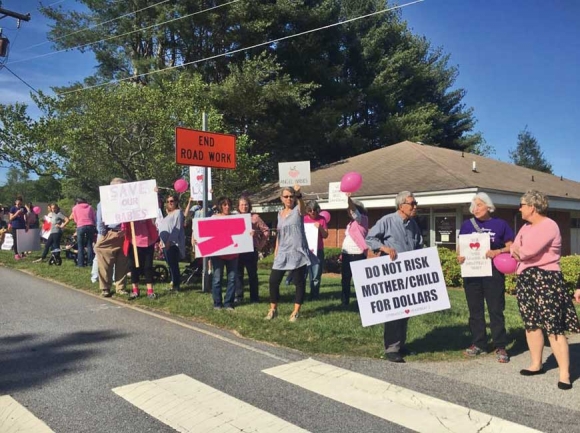 Residents of Franklin have been especially concerned with Mission's sale to HCA since Mission shut down the labor and delivery unit at Angel Medical Center last year. Donated photo
Attorney General Josh Stein recently issued a press release discussing his ongoing review of HCA's proposed $1.5 billion purchase of the nonprofit Mission Health system.
"Since July, my office has been hard at work requesting and reviewing information from Mission and HCA, which has been provided on a rolling basis," Stein said. "I have also heard from hundreds of people who have contacted me — including nearly 200 letters and emails from people in Western North Carolina. In fact, in the last three months my office has received more letters and emails about this proposed sale than any other topic."
Franklin Mayor Bob Scott and Highlands Mayor Patrick Taylor recently made a trip to Raleigh to speak to Stein's office about their concerns with for-profit health giant HCA purchasing Mission, which includes Angel Medical Center and Highlands-Cashiers Hospital in Macon County. Since the sale was announced in the spring, these mayors have had questions and concerns about how the purchase will impact health care services in their rural communities.
Since Mission will be transitioning from a nonprofit to a for-profit operation, the proceeds from the sale have to be placed into an independent nonprofit foundation to continue the mission of improving health care for Western North Carolina. The Dogwood Health Trust has already been established, but people are worried that Mission Health communities outside of Asheville won't be well-represented on the board. So far the board doesn't seem independent from Mission Health considering it's made up of mostly people from Buncombe County who have previous ties to Mission Health's Board of Directors. Out of the 11 people appointed to the board thus far, only a couple reside west of Buncombe — Michell Hicks, former chief of the Eastern Band of Cherokee Indians, and Sam Lupas, a Cashiers real estate broker and developer.
"Second, the people's longtime and substantial investment in the healthcare system must be fully preserved in the Dogwood Health Trust, the new foundation. Third, the board of the Dogwood Health Trust should represent the full diversity of western North Carolina and remain connected to the public," Stein said.
Another concern is whether the contract agreement between Mission and HCA contains enough protections of critical services now offered at WNC hospitals.
HCA has committed to maintaining key clinical services for at least five years and keeping open all rehabilitation and acute-care hospitals for a minimum of 10 years and not to sell any rehabilitation or acute-care hospital for a minimum of 10 years. HCA has also committed to investing $430 million over five years in capital expenditures, which includes the completion of the Mission Hospital for Advanced Medicine, building a replacement hospital for Angel Medical Center in Franklin and building a new behavioral health hospital.
"My review focuses on three main issues. First, the people of western North Carolina deserve greater certainty about HCA's commitments to continue to provide needed healthcare at Mission Hospital — and especially — the other five rural hospitals in the system," Stein said. "I will continue to get answers and work with the parties involved. I want to ensure that there are substantial protections for healthcare in western North Carolina, that Mission's assets continue to be used for a public purpose, and that the Dogwood Health Trust is independent and representative."
Under statute, the Attorney General has the right to review any transaction in which a nonprofit corporation sells substantially all of its assets. The Attorney General has dedicated substantial time and resources in carrying out this responsibility regarding Mission Health System's sale. Stein has not indicated whether he will make a final decision on the sale by the end of the year or not.
The state Justice Department is still accepting public comment on the proposed sale of Mission Health to HCA. Call 877.5NOSCAM or visit ncdoj.gov/complaint.