Archived News
Haywood schools Robothon inspires coding and creativity
Wednesday, December 12, 2018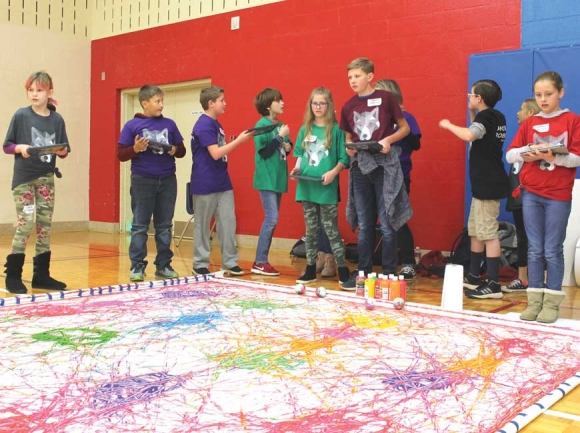 Fourth and fifth grade AIG students from across Haywood County compete in teams at the inaugural Wolfpack Robothon. Robots were used to paint a large canvas at one of the day's most popular activities. Donated photo
More than 150 Haywood County Schools fourth- and fifth-grade students chased after zooming robots at the Wolfpack Robothon on Friday, November 30.
The Wolfpack Robothon, held at the Hazelwood Conference Center, was a collaboration between Haywood County Schools' Academically and Intellectually Gifted (AIG) program, Haywood Early College, and Haywood County Schools' Instructional Technology Center (ITC).
The Wolfpack Robothon proved that play is a powerful learning tool for students. Laughter echoed in the old gymnasium as students raced to code their robots to complete a variety of tasks. Coding has become a popular buzzword in education over the past few years as it has been incorporated into elementary, middle, and high school curriculum. Coding is essentially writing instructions for a computer to perform.
Many would not think to describe coding robotics as a creative process, but dozens of students at the Robothon said otherwise.
"I like coding because I can change the colors, speed, and distance traveled of the robot," said Stevie Trogdon, a fifth-grader at Hazelwood Elementary. "My favorite thing we've done today is the obstacle course because we're racing and having to code at the same time."
Students were divided up into teams upon arrival and began the day with a "Mission to Mars." Teams had to create a rover that would haul their supplies across Mars — the gymnasium. The students on Earth — the conference room, had to communicate back and forth with their Mars counterparts to code their Spheros, a robot that rolls around and is controlled by an app on a tablet, to make the trip.
During the second half of the event, students competed in the Sphero Olympics. Students coded the robots to go straight, dodge obstacles, flash colors, and even create a giant painting.
The idea of the Wolfpack Robothon was born out of a collaboration between Haywood Early College, AIG, and ITC. HEC donated several iPads to the county's AIG program. When Belinda Trantham, AIG director, went to pick up the donation, she and Haywood Early College Principal Lori Fox began brainstorming ways to expose robotics to more elementary-aged children. They met with ITC staff and Robothon began to take shape.
Each group spent hours planning and gathering materials. HEC students, as well as some of the school's faculty, volunteered to work at each station during the event.
"We have a real sense of community at Haywood Early College, and our students enjoy sharing their love of technology with others," Fox explained. "We wanted to reach out to our elementary schools and share a day of enrichment with them using our resources."
With the palpable excitement and adrenaline in the air of the gymnasium, it was not surprising to hear the Robothon described as the "best day ever" by several of the student participants.
Fox explained that coding was actually only one step of the Robothon. Along the way, students had to problem-solve, design, and test before they could execute a code. Even then, a code might not work. Students then had to have the patience to start from the beginning to correct the code until the robot worked correctly.
"Coding encourages critical thinking and helps develop problem-solving skills," Trantham said. "We want our students to graduate with a usable understanding of technology so that they can not only use it, but they can create it."
Proficiency in coding allows students to understand the technology shaping the world. Students are learning coding beginning in elementary school, so they can build their knowledge and skills each year.
Something that seems dull on a white board, suddenly comes to life when a teacher puts a robot on the table and asks students to code different-sized triangles or navigate an obstacle course.
"Our AIG program is always exploring new technologies in the realm of creative play and learning," Trantham said.
Haywood County Schools' educators are actively trying to create STEM-based lesson plans that engage students and make the subjects more interesting. Robotics are a guaranteed way to capture the attention of any students.
Trantham says that the AIG department hopes to make the Wolfpack Robothon an annual event for elementary schools and is currently working to plan a robothon in the spring for middle school students.