Archived News
Franklin looks at greenway connection
Wednesday, December 12, 2018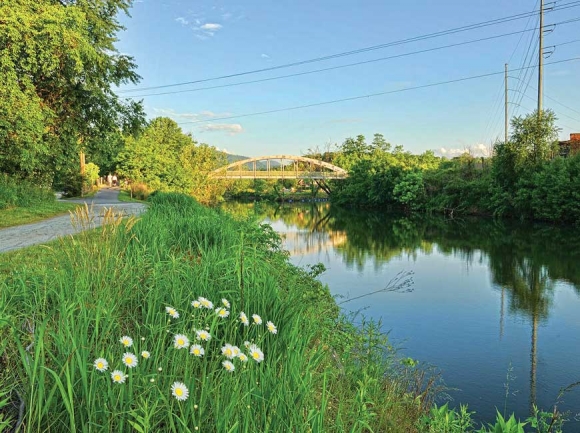 Now that the N.C. Department of Transportation has completed a new bridge over the Little Tennessee River in downtown Franklin, the town council is discussing ways to connect the pedestrian walkway to the greenway.
Some of the Franklin Town Councilmembers said they were under the assumption the bridge project included plans to connect the pedestrian path on the bridge to the greenway property on the other side of East Main Street.
"I'm not the only person who imagined the plan of the beautiful new bridge and walkway aligning with a walkway to go under the bridge to connect to the greenway," said Councilmember David Culpepper during a Dec. 3 board meeting.
"I thought it was happening too with the redesign," said Councilmember Brandon McMahan. "I really want to see it done."
Making Franklin more pedestrian friendly has been a top priority for the town in recent years with plans to improve sidewalks, add more bike paths and make more connections to the greenway. While the $3.5 million bridge replacement project did not include funds to add a walkway under the bridge and over to the greenway park, the town still hopes to make it happen.
"DOT seems to think we were going to put a walkway und the bridge so they left it for us to complete and I'd like to see it completed," Culpepper said.
Town Engineer Nathanael Moore handed councilmembers a map showing preliminary designs of how the town could complete the project. While the gravel walkway project could be done in-house using town crews, he said the town would probably need to reach out and coordinate with other agencies, including the Army Corps of Engineers since it would include grading within a floodplain, DOT and Macon County commissioners since the county owns the greenway property.
Culpepper said he already found someone to donate 16 tons of gravel for the project, though much more will be needed.
"There's room down there for picnic tables and landscaping — this would also be a first step connecting to Nikwasi (Mound)," he said.
McMahan mentioned the town should reach out to Lowe's Home Improvement because the retailer is often looking for beautification projects that would help the community.
Councilmember Barbara McRae is also involve in a joint initiative between the Franklin and Cherokee communities to develop a driving tour along the Nikwasi-Cowee corridor to highlight the history of Nikwasi Mound, which sits close to the new bridge, and Cowee Mound.
"Anyway we can dress up that area would be great," McRae agreed.