Archived News
Stalemate leaves homeless caught in the middle
Wednesday, December 12, 2018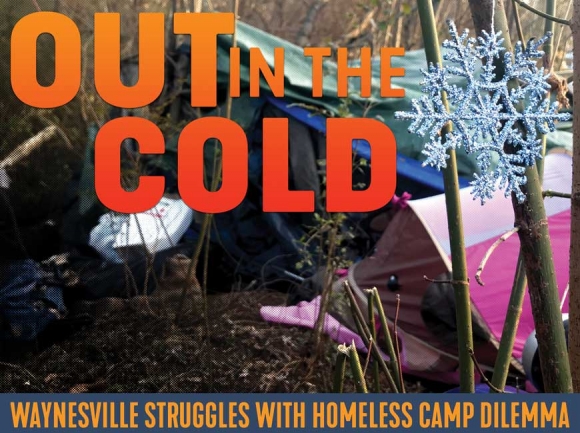 Not far from the historic homes nestled along Waynesville's Church Street sits a small plot of land that's home to a typical Haywood County family — Ronnie Hicks, his girlfriend Sassy and their dog.
"We moved here about a year ago," said Hicks. "My sister lived up here, and I migrated from Bryson City."
What's atypical is that the three of them are technically homeless and live on the garbage-strewn lot beneath a large tarp with a wood stove heater.
"You get caught up going to the soup kitchen, surviving, and it takes the place of walking around looking for a job when you're just trying to survive in one place," he said, noting that he hasn't checked in at the area's only shelter, Pathways, because they don't accept dogs.
Hicks said he's a truck driver by trade, and has had a hard time finding work because of a few traffic violations, and an even harder time finding work because of the lack of transportation, so he's grateful that property owner Ron Muse has let them stay.
"He sent word that I can stay here and that the press and the cops was coming, so I should clean it up," he said. "Then the city came and said we couldn't live here."
Hicks is caught in a dispute between Muse and the Town of Waynesville, which wants Hicks gone.
"The main thing — this is a grudge, see," said Ron Muse, who owns the 1.5-acre parcel on Richland Street. "They got a grudge with me because I wouldn't cooperate with them."
A 1.5-acre parcel just off Church Street has been a source of contention between its owner and the Town of Waynesville. Haywood GIS photo
Muse purchased the lot, which is zoned residential, for $13,000 in 1990. Since then, he said he's tried to have it rezoned to commercial so he can construct a mini-storage facility but hasn't had much luck with Waynesville officials in that regard.
"I've been trying for 25 years to find a use for that lot, this has been the only use that's worked out," he said. "Over that time, it's been a homeless jungle. The town, with their actions, have maintained this as a homeless jungle for 25 years."
Muse said he was offered $85,000 for the property a few years ago, contingent on a favorable zoning action that hasn't materialized.
"I'm kind of getting sore about this," he said. "There was a murder on the adjoining lot. A guy died in a car over there, and he laid there for days. If [the town] thinks there can be successful residential here, they're sick."
But as of Dec. 10, city officials haven't been able to evict Hicks because Muse won't sign a warrant for trespassing.
"I won't run them off," he said. "I don't care how long this stalemate goes on."
The encampment is somewhat secluded, and although its entrance can be seen from the street, many people drive by it each day without knowing it's even there.
"Only commercial development has ever succeeded in cleaning up hobo camps like this," he said. "And there's not a better lot in Haywood County for a hobo camp-out."
Muse said he hadn't been fined, and Waynesville Town Manager Rob Hites said he had no knowledge of any fine or citation being issued to Muse, but instead Hites said he believed that the town sent a letter telling Muse the parcel was technically considered a campsite and therefore violated town zoning.
Hites said Muse then allowed the town to clean up much of the trash on the lot, and that its residents had gone.
A large tent with a wood-burning stove is home to two people and a dog, for now. Cory Vaillancourt photo
"As of a few weeks ago they were in compliance," Hites said.
When informed Dec. 11 that Hicks was again living on the property, Hites said that the town would again have to take action.
"What we do is, we issue a violation and give [Muse] a chance to abate that," he said. "If he does not, we will abate it for him and charge him our cost."
Abatement in this case, according to Hites, means removing any debris and getting rid of any buildings or structures on the lot, usually with backhoes or front-end loaders.
While it's not yet clear what the final resolution will be, for now it's status quo. However it shakes down, Hicks said he doesn't want to be around for it.
"I don't know what they're going to come up with the terms of us staying, but people are out there fundraising right now, trying to get us a scooter," he said. "And we're on the list for housing with Meridian, hoping to hear by the end December. If we get transportation and that happens, that's a step in the right direction. "I should be working here before too long."