Archived News
Winter Storm Diego prompts state of emergency in Haywood County
Sunday, December 09, 2018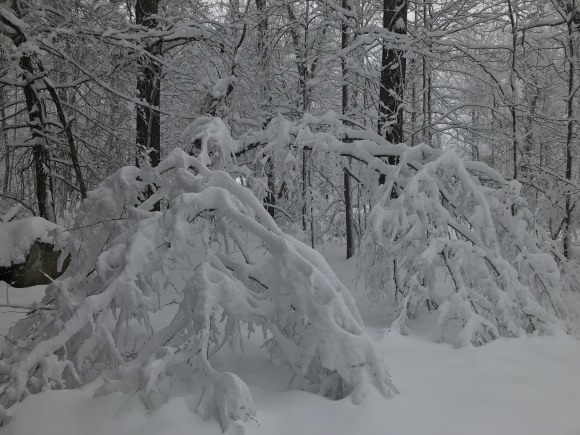 A tree in Maggie Valley sags under the weight of snowfall accrued during Winter Storm Diego Dec. 9.
Cory Vaillancourt photo
Around a foot of heavy, wet snow that started yesterday afternoon and continued through the night brought down trees, snapped power lines and made travel impossible for some, prompting Haywood County Board of Commissioners Chairman Kevin Ensley to declare a state of emergency as of 8:15 this morning.
Maps from Duke Energy show more than a hundred separate outages affecting at least 4,000 Haywood County customers, who remain without power as of about 11 a.m.
According to Accuweather.com, more than 200,000 are without power in the Carolinas, Georgia and Virginia.
Asheville Regional Airport remains open, although most arrivals and departures have been cancelled, especially those scheduled for the morning and early afternoon.
The North Carolina Highway Patrol said that more than 1,000 calls for service and 500 collisions related to Winter Storm Diego had already occurred.
Town of Canton Mayor Zeb Smathers issued a similar emergency declaration as of 10:30 a.m. today, following the lead of North Carolina Governor Roy Cooper, who placed the state under a similar declaration Dec. 7.
Dr. Bill Nolte, superintendent of Haywood County Schools, said in a press release issed at 11:19 a.m. that county schools would be closed on Monday, which will be an optional day for employees who may work if travel conditions permit.
The Dec. 10 school board meeting has also been moved to Thursday, Dec. 13.
Although the snow had tapered off somewhat as of 11 a.m., forecasts from the National Oceanic and Atmospheric Administration call for an additional 3 to 5 inches during the day today, with a high near 32 degrees. After 3 p.m., freezing rain is likely.
A winter storm warning remains in effect until noon on Monday across much of the region, including several counties in north Georgia, upstate South Carolina and most of Western North Carolina.
Residents are urged to avoid unnecessary travel if possible, and to check on friends, neighbors and the elderly.