Archived Opinion
Finding anchors in seasons of change
Wednesday, December 05, 2018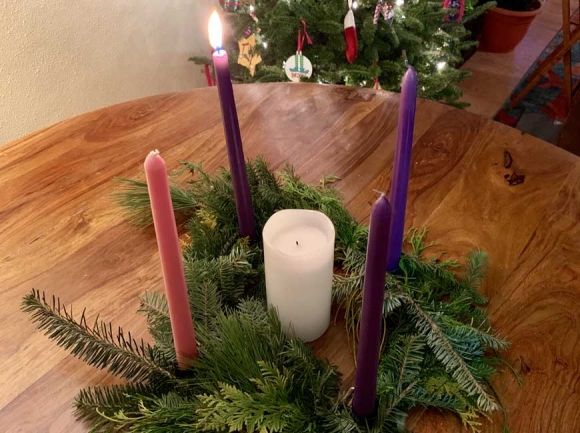 When the winds rage the sea, we look for an anchor.
As my life continues to unfold, I'm learning there are things over which I have little control. Like any human, I at first try to manhandle situations. Every single time, I try to come up with a solution or fix the issue before I realize God and the universe have other plans. I'm working hard to stop this and rather, approach each day with curious expectation.
With it being the third December after my mom's passing and the second after separation/divorce, a lot feels different when compared to several years ago. Luckily, I'm an optimist by nature so while the hard emotions come, sometimes in full force, I don't let them overtake me completely. At the start of this season, those dark feelings and desire to control started creeping up, but I'm keeping them at bay.
But to do this, I had to find some anchors.
When you go through a divorce, one parent doesn't get to keep all of the Christmas traditions while the other sits and twiddles his or her thumbs. Granted, I would love to hoard all the festive fun to myself, but I realize this isn't fair.
It's hard to give up longstanding traditions, but the main thing is my children still experience them, no matter which parent is driving them to the event or behind the lens of a camera. And better yet, some traditions can be shared or bounced from house to house. Once I realized all of this, the heaviness in my heart dissipated a bit.
Decorating our Christmas tree was an obvious anchor. It's different than before. This year there was no tree farm experience or grandiosity in setting up the tree. I needed help transporting the tree and situating it in the stand, so my boyfriend helped me do all of that before the boys came back to my house this past Sunday. They weren't upset that we didn't pick out the tree together. They were just excited that I still got a real tree instead of an artificial one.
We spent Sunday evening wearing reindeer antlers and Santa hats listening to Christmas music and decorating our tree. I love my little house in Maggie Valley and whether I live in it indefinitely or not, I know I'll look back on our little trio stringing lights and hanging ornaments with a smile on my face and nostalgia in my heart. And much gratitude for the help I received getting the tree up and ready. I could not have done that part myself.
A shared anchor has been our Elf on the Shelf named Frisbee. We adopted our elf when my 9-year-old was a toddler, so he's been part of the family for a long time. He likes to fly from one house to another, so no matter where the boys wake up, Frisbee is there doing something silly or funny. I believe this brings some fluidity to the fact they have to go back and forth. It may be different when they are older but at ages 6 and 9, it's important for everything not to feel so dichotomous.
A third anchor has been our Advent wreath. My faith is dear to me and I work hard for my boys to see that. Before adulthood, I never thought about the season of Advent nor did I own an Advent wreath. Now that I understand Advent to be a time of preparing and reflecting, leading up to the joy of Christmas Day, I love embracing it and helping my boys understand the holidays aren't just about presents and parades.
This past Sunday was the first Sunday of Advent. We lit the candle of hope. Each night this week, we'll light the same candle, talk about our hopes and say a prayer. In the following weeks, we'll light a second candle for peace, a third candle for joy and a fourth candle for love. Finally, we'll light the candle in the middle on Christmas morning. Even when the boys are with their dad, I will continue the candle lighting ritual on my own.
It's so true that when life feels tumultuous, we grab onto things that feel sturdy and normal. Throughout every experience over the past three years, this has been my saving grace. Further, the pride I have for my boys' ability to deal with change is indescribable. Their strength and understanding overwhelms me daily.
As outsiders, it's easy to make assumptions about divorced parents or broken homes. I admittedly did it myself before I was the one in the hail storm. As with anything, it's hard to imagine the gravity or enormity of a situation until you've experienced it. Now I understand.
A wise woman in my life often says, "Nothing is as bad as it seems." I try to keep that mantra in mind at all times. Instead of looking at each set of 24 hours as a set of obstacles or tasks to be accomplished, I work to view each day as an adventure full of new experiences and little surprises. I've found this change in perception can mean everything when it comes to happiness.
(Susanna Barbee is a columnist, editor and marketing specialist for The Smoky Mountain News, Smoky Mountain Living and Mountain South Media. This email address is being protected from spambots. You need JavaScript enabled to view it.)