Archived Outdoors
Sochan in springtime: Cherokee looks to reclaim plant gathering traditions in the Smokies
Wednesday, December 05, 2018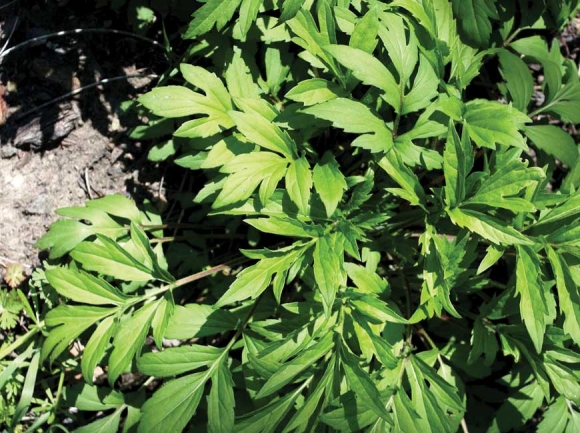 Sochan leaves emerge from the ground in early spring. NPS photo
For centuries and even millennia, the early spring greens of the sochan plant have served as a celebration of spring for the Cherokee people. If a proposal now out for public comment meets approval, in a few months tribal members could hold that celebration with greens harvested in the Great Smoky Mountains National Park.
"Our culture is not linear. It's more circular, and going back to places like the park, to where we once inhabited and lived and collected, it takes on a different meaning of spirituality," said Tommy Cabe, forest resource specialist for the Eastern Band of Cherokee Indians and a sochan gatherer himself. "It takes on a different meaning of who we are as Cherokee."
Before Europeans arrived in the Southern Appalachians, the Cherokee nation was expansive, covering portions of eight states and including all of what is now the Great Smoky Mountains National Park. But a series of treaties and forced removals shrank that territory dramatically, and since the park was created in 1934, it's been illegal for anybody — including Cherokee tribal members — to gather plants or plant parts in its boundaries.
Sochan gathering has been an important part of life for Cabe, who can remember seeking the plant out with his mom and her sisters from a young age.
"We all gathered up there on the (Qualla) Boundary, and I always felt like we were kind of limited," he said.
Because right up against the edge of the Qualla Boundary is the Great Smoky Mountains National Park, 831 square miles of wilderness that must surely contain some impressive stores of sochan and other culturally important plants as well. When he was older, Cabe started to fly fish in the park, and as he cast his line through the water he'd see sochan growing along the banks. It would have been illegal to cut, so he let it be. But it wasn't for lack of desire.
"I wanted to so bad," he said. "But I never did."
The proposed agreement
As far as Cabe knew, that would be that for years and decades to come. But a 2016 federal rule opened the door for tribes like Cherokee to reclaim their traditions on national park lands. The rule allowed federally recognized tribes to ask the National Park Service to enter into an agreement that would allow them to gather and remove culturally important plants and plant parts. The EBCI was quick to seize the opportunity.
"Right after the final rule was finalized and published, we had a meeting with the tribe, in August 2016, to start discussions on how to go about the process outlined in the final rule," said Mark Collins, environmental protection specialist for the park. "Soon after that the tribe submitted a formal letter to the superintendent requesting to gather."
That request triggered a process that is only now, more than two years later, nearing its conclusion. In order to let tribal members gather sochan, the park had to come up with a specific proposal, including numbers of permits and regulations governing where and how much people could gather. It had to have data showing that the proposed gathering wouldn't harm the natural environment the park is charged with protecting, and it had to go through an environmental assessment under the National Environmental Protection Act to vet the proposed rules and findings of expected impact — because the Park Service didn't have funding to complete that process, the tribe appropriated $68,100 to make it happen.
"Frankly I'm kind of pleased and impressed with how well it has worked," said Collins. "It seems like it's taken a while to get where we are, but I don't think it was because of any controversy. It's just that's the way it is when two governments try to work together. But I feel like it's been a good, cooperative effort."
The park left it up to the tribe to develop a draft gathering agreement, and very little changed between that original proposal and the system outlined in the draft environmental assessment now out for public comment.
According to the proposal, an initial 36 tribal members — to be selected through their community clubs — would be given gathering permits. All permitees would be required to go through a training, providing an overview of gathering regulations, sochan identification, acceptable gathering methods, the EBCI's cultural connection to the plant and food preparation methods.
Permitees would be allowed to bring along up to five unpermitted people when they gather, but would always be limited to gathering a half-bushel of leaves per day, with a weekly maximum of one bushel and an annual maximum of 12 bushels. Gathering would be allowed only in areas within 100 meters of official roads, trails or along the park's border with tribal land, and gathering activities would have to remain out of sight of high visitor use areas like roads and trailheads. Gatherers would then have to submit a weekly sochan gathering report to the EBCI Natural Resources Department throughout the gathering season, to run from March 1 to May 31.
The EBCI would forward those reports to the park, and the two organizations would hold weekly conference calls throughout the season to discuss monitoring activities, results and concerns. The park would monitor throughout the season, working to see if gathering hurts sochan populations or adversely impacts other plant species due to trampling. A 20 percent decline of sochan within a gathering unit would trigger a suspension of sochan gathering within that unit.
To finalize the agreement, park staff will need to review the comments and deliver a finding of no significant impact. That finding will then have to be signed off on by Smokies Superintendent Cassius Cash and NPS Regional Director Bob Vogle. Approval would give the EBCI the go-ahead to identify permitees and create a training program. If all goes smoothly, the first permit-holders could start hunting sochan in March. The agreement would be good for five years.
Joe-Ann McCoy (left) and Joe-Ann McCoy (left) and Tommy Cabe harvest sochan seed late in the season. Donated photo
'Like a testimony'
While the plan contains provisions for what to do if gathering is found to damage the sochan population, that's an unlikely outcome. Even before the 2016 rule was finalized, Cherokee has been conducting research on sochan growth and harvest with Joe-Ann McCoy of the N.C. Arboretum in Asheville. Those results were key to the current proposal.
Traditional Cherokee sochan harvest follows a specific method. When the first spring leaves come up — known as the "turkey foot," the first leaves come in a set of three — the Cherokee cut them off and leave the root intact. According to McCoy's research published earlier this year, a study comparing plants in which the turkey foot was harvested to those on which no harvesting occurred not only showed that harvesting didn't harm the plants but indicated that it could benefit them.
"The results of the sochan leaf gathering study did indicate that there was an increase in sochan stem size, flowering and fruiting as a result of the removal of a portion of the early spring leaves," said a summary of the research in the environmental assessment.
"These changes could be interpreted as a response to stress, potentially from the removal of a portion of the spring leaves. Studies have indicated that various stressors such as flooding can result in more plant growth."
For Cabe, seeing the centuries-old traditions of his people validated by modern scientific research is a gratifying thing.
"It's like a testimony to see our way of life, our way of harvesting these plants is not detrimental to the plant," said Cabe.
Work to be done
Sochan is an important plant for Cherokee people, but it's not the only important plant. Going forward, the EBCI plans to continue working to secure gathering agreements for other culturally vital species. Sochan was viewed as a good starting point because it's relatively common and hardy, and the tribe already had research underway that could be used in the environmental assessment.
The tribe is currently funding research to evaluate traditional methods of harvesting ramps and is interested in an agreement to harvest mountain salad — the name given to an assortment of early spring leaves cut from various plants. While ramps are well known to suffer from overharvesting, the Cherokee method of harvesting is said to be sustainable for future generations.
"We all hold our breath for ramps, because there's a lot of concern that ramps are going to be one of those commodities that's going to be very rare if we don't do something quickly," said Cabe. "With sochan being the first plant, I think it eases everybody's concerns and brings more ideas to the table."
While the ramp research has been going on for about five years now, it's taking longer than expected to reach its conclusion due to the ramp's life cycle and various environmental factors. It could be another three to five years until the research is over.
In the meantime, the tribe may look at a potential agreement for mountain salad, though that has its own challenges, since mountain salad doesn't involve just one species but a varying recipe composed of several species.
"There are different plants that could be considered mountain salad for different people, so what we need to do is get out to the community and say, 'What are potentially the plants that can be listed in a mountain salad, but let's not get crazy,'" said Cabe.
Regardless of what comes next, what's come already is certainly an accomplishment — if the agreement is approved, the EBCI will be the second tribe nationwide to establish a gathering agreement with the National Park Service.
That's an achievement that will benefit not only the tribe, but the land that has birthed it, said Cabe.
"I know there are people that are just strict preservation of the landscape and don't think anybody should do anything in the park," said Cabe, "but in the eyes of the natives it's pretty much a sin to not work within the landscape … If we don't start thinking about management and sharing some of these things about sochan, what does it mean for the future of the plants?"
What is sochan?
Sochan, Rudbeckia laciniata, is an herbaceous perennial plant that grows and spreads from its roots. Its early spring leaves were traditionally gathered by the Cherokee, and mature plants reach 3 to 10 feet, producing yellow flowers from July through October.
Be heard
An environmental assessment laying out a proposed policy that would allow Cherokee tribal members to gather sochan in the Great Smoky Mountains National Park is available for public comment through Dec. 13.
The document lays out the proposed agreement, as well as a plethora of background information and the scientific basis for its assertion that the agreement would not adversely impact park resources. It is available at www.parkplanning.nps.gov/grsm, along with a portal for comments.